Performance | Polyphonic Overground
A durational performance by NIC Kay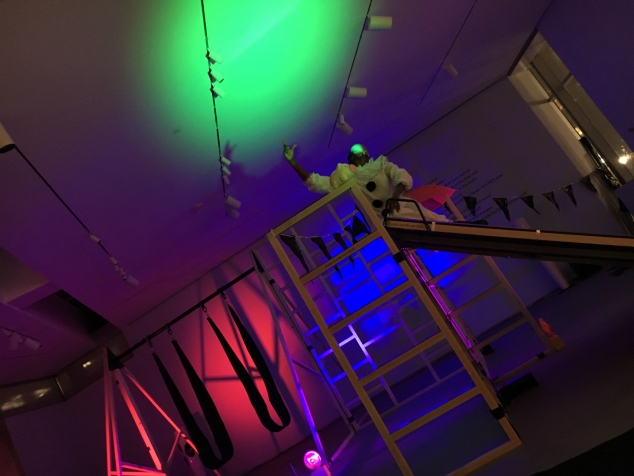 NIC Kay
click image to enlarge
NIC Kay

click image to enlarge

NIC Kay

click image to enlarge

NIC Kay

click image to enlarge
Program Details
Thursday, February 1, 2018 - 3:00 pm to 8:00 pm
Free with Pay-What-You-Wish Admission
2nd floor galleries at MAD
Thursday, February 1, 2018 - 3:00 pm
Program Description
Presented by At Play performing artist-in-residence NIC Kay, Polyphonic Overground is a durational performance activating the site of Studio PSK's Polyphonic Playground, installed at MAD as part of the exhibition Sonic Arcade: Shaping Space with Sound. Featuring performances by NIC and an invited group of collaborators throughout the evening, Polyphonic Overground is inspired by children's television shows and the sociological concept of "parallel play."
Utilizing an array of lights, audio effects, props, costumes, and toys, NIC and their fellow performers will intervene in MAD's second-floor gallery, producing a visual and sonic installation that doubles as the "set" of a children's TV variety special. Influenced by the potential of sound to act as a conduit for collective memory, Polyphonic Overground explores such themes as childhood and failure.
Polyphonic Overground is presented as one of two events marking the culmination of NIC's At Play residency at MAD. On Thursday, February 8, from 6 to 9 pm, NIC will screen a short video in MAD's sixth-floor classroom that they produced while in residence, featuring the sites and sounds of Sonic Arcade.
NIC Kay is a native of the Bronx. Often incorporating digital video and audio into their performances, NIC is obsessed with the act and process of moving or changing place, the production of space and position, and the clarity or meaning gleaned from shifting perspectives. NIC was a 2017 Van Lier Fellow at Movement Research at Judson Memorial Church in New York City, with whom they debuted their new group work Get Well Soon! in December 2017. Leading up to that performance, NIC presented excerpts of the work, titled Exercises in Getting Well Soon!, at the Institute of Contemporary Arts in London; the Current Sessions in New York City; Front/Space in Kansas City, Missouri; and ACRE Projects, Gallery 400, and Arts Incubator in Chicago. Following their residency at MAD, NIC will be in residence at Pioneer Works in Brooklyn from March through August 2018.