Performance | Julianne Swartz's 'Sine Body' with Estelí Gomez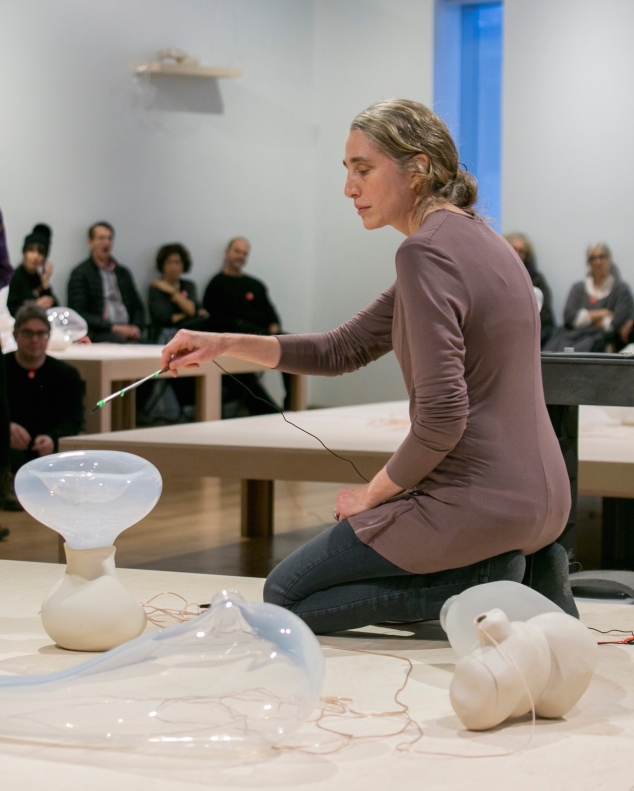 Julianne Swartz
click image to enlarge
Julianne Swartz

click image to enlarge

Julianne Swartz

click image to enlarge

Estelí Gomez

click image to enlarge
Program Details
Sunday, February 11, 2018 - 4:00 pm to 5:00 pm
SOLD OUT
5th floor galleries at MAD
Sunday, February 11, 2018 - 4:00 pm
Program Description
Join artist Julianne Swartz and Grammy Award–winning soprano Estelí Gomez for a 45-minute performance activating Sine Body, Swartz's installation of sound-generating ceramic and glass vessels included in Sonic Arcade: Shaping Space with Sound.
Each vessel in Sine Body produces a specific sound, a pure Sine tone, which resonates optimally in that particular body. To generate the sounds, Swartz uses an electronic feedback process that reads the air mass in each glass and ceramic vessel in order to locate, generate, and amplify pure frequencies. For this program, Swartz will briefly discuss the ideas behind her work and activate individual sculptures, allowing visitors a chance to hear the isolated pure tones.
Alongside Swartz will be vocalist Estelí Gomez, who will harmonize and follow the resonant frequencies with her voice. Together, Swartz and Gomez will create spatialized sound patterns in the gallery through the overlay of vocal and electronic tones.
Please note: Due to the nature of this performance, we will not be able to allow late entry. Please plan to arrive before 4:00 pm.
About the Artists
Praised by the New York Times for her "clear, bright voice," Estelí Gomez is a stylish interpreter of early and contemporary repertoires. An original member of the vocal octet Roomful of Teeth, she has appeared as a soloist with the Seattle Symphony and the Louisiana Philharmonic; as part of the Kennedy Center's KC Jukebox series and the New York Philharmonic's CONTACT! series; and in concert with Bach Collegium San Diego, the Kingsbury Ensemble, and Mountainside Baroque. Gomez has performed as soprano soloist in Handel's Messiah in Poland, Japan, Canada, and the US and can be heard on numerous albums, including the Grammy Award–winning albums Render and Sing Me Home. She has taught solo residencies at Peabody Conservatory, the University of Missouri–Kansas City, and the University of Oregon. She currently travels and performs full-time.
Julianne Swartz lives and works in Stone Ridge, New York. She combines tangible and intangible materials as well as existing and self-made technologies to create sculpture and installations. Her work focuses on ephemeral experiences pertaining to light, air, and sound, often involving audience engagement. Swartz has exhibited at venues including Tate Liverpool, the Whitney Museum of American Art, the New Museum, the Jewish Museum, MoMA PS1, the Indianapolis Museum of Art, the Israel Museum, the Massachusetts Museum of Contemporary Art, and the Art Gallery of Western Australia. She was a recipient of the Anonymous Was a Woman fellowship in 2015.