Glass in Flux: Beth Lipman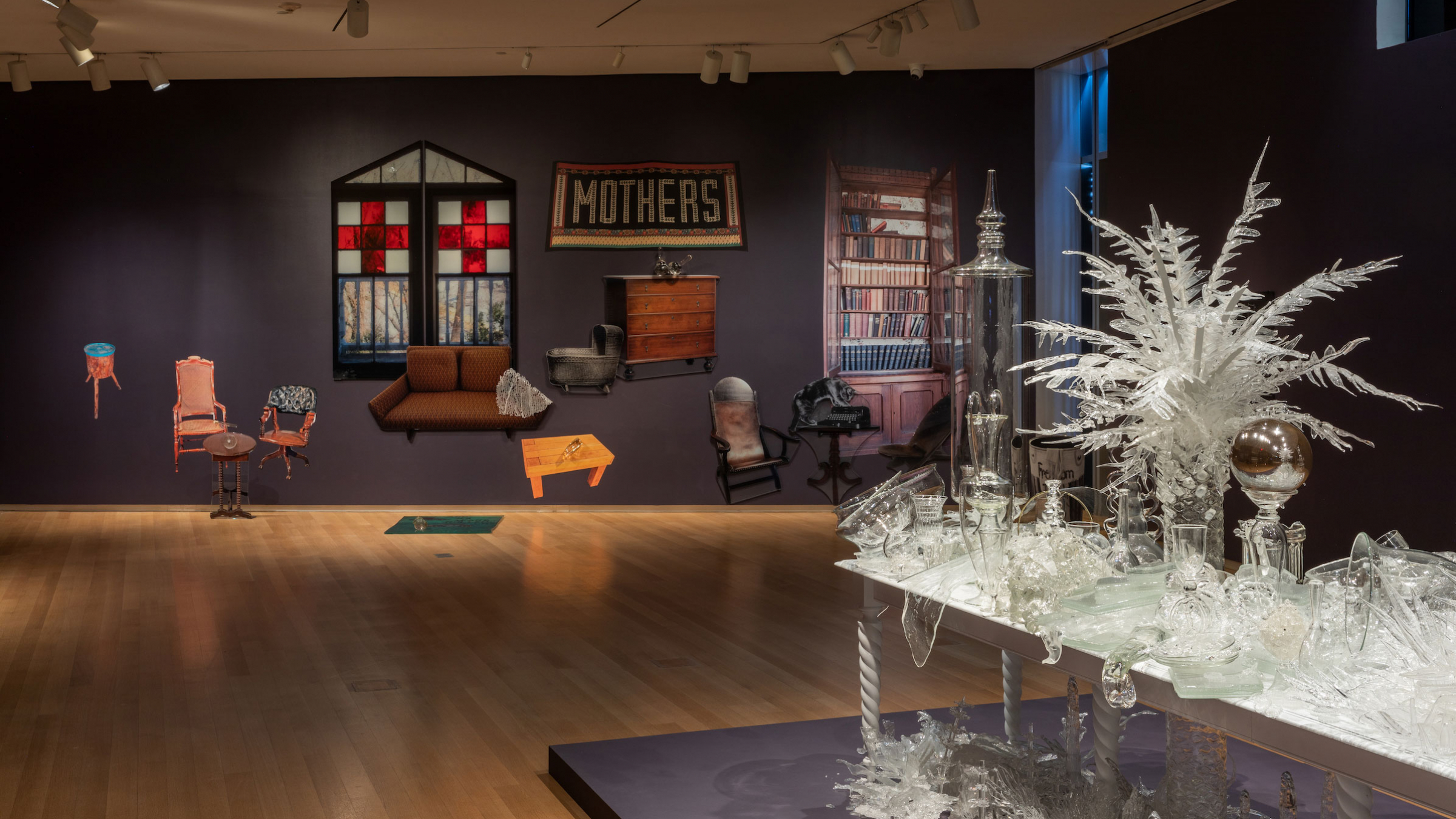 Join us for Glass in Flux, a virtual program series hosted by collections curator Samantha De Tillio exploring interdisciplinary practices in contemporary glass. In this edition, De Tillio is joined by artist Beth Lipman, whose mid-career survey, Beth Lipman: Collective Elegy, is currently on view. The program will include a screening of the short documentary A Film about House Album, which provides an in-depth look at the artist's ongoing project House Album. The screening will be followed by a conversation between De Tillio and Lipman about House Album and Beth Lipman: Collective Elegy, a guest appearance by the filmmaker Atesh Atici, audience Q&A, and a sneak peek at the newly released exhibition catalog.
In House Album, photographs of furniture or objects that memorialize important events or notable figures from American history are sandwiched in between flat glass panels and arranged and layered alongside sculpted glass and vinyl to evoke a three-dimensional interior of the artist's imagining. By bringing together disparate artifacts, the artist challenges the existence of a single historical narrative, which is traditionally written from the perspective of those in power, and explores what it means to be American today.
Ticket purchasers will receive an email confirmation. Please follow the link under "Important Information" to complete your registration with Zoom.
About the artist
Born in Philadelphia, Beth Lipman is a multidisciplinary sculptor living and working in Wisconsin. She earned her Bachelor of Fine Arts from Tyler School of Art, Temple University in 1994. Lipman has received numerous awards including the USA Berman Bloch Fellowship, Pollock Krasner Grant, and a Louis Comfort Tiffany Foundation Grant and was recently inducted into the American Craft Council's College of Fellows. Lipman's work has been widely exhibited at institutions such as Ringling Museum of Art, Sarasota, FL; ICA/MECA, Portland, ME; RISD Museum, Providence, RI; Milwaukee Art Museum, WI and Gustavsbergs Konsthall, Gustavsberg, Sweden. Lipman's work is in the collection of over 30 museums, including the Smithsonian American Art Museum, Washington, D.C.; North Carolina Museum of Art, Raleigh, NC; Des Moines Art Center, IA; Brooklyn Museum of Art, NY; Kemper Museum for Contemporary Art, Kansas City, MO; and the Jewish Museum, New York, NY.
Atesh Atici is a Turkish/German filmmaker who immigrated to the United States in 2017 and has since been living in Milwaukee, WI. Atici is drawn to individuals who have developed special skills and have come to process the world in unique ways. He aims to gain insight in the philosophical concepts that drive them and present his findings in a nonlinear narrative structure to involve the viewer in the experience of that exploration. He employs somewhat uncommon filming techniques and equipment to make his images appear almost as if they were memories instead of harsh recordings of reality.
Image—An installation view of House Album on view in Beth Lipman: Collective Elegy. Photo: Jenna Bascom
Please review our health and safety protocols before you arrive. MAD strongly recommends all visitors six months and older are vaccinated against Covid-19 and visitors ages two and up wear face coverings, even if vaccinated. Thank you for your cooperation.