Communal Crocheting with Sheila Pepe and Jacob Olmedo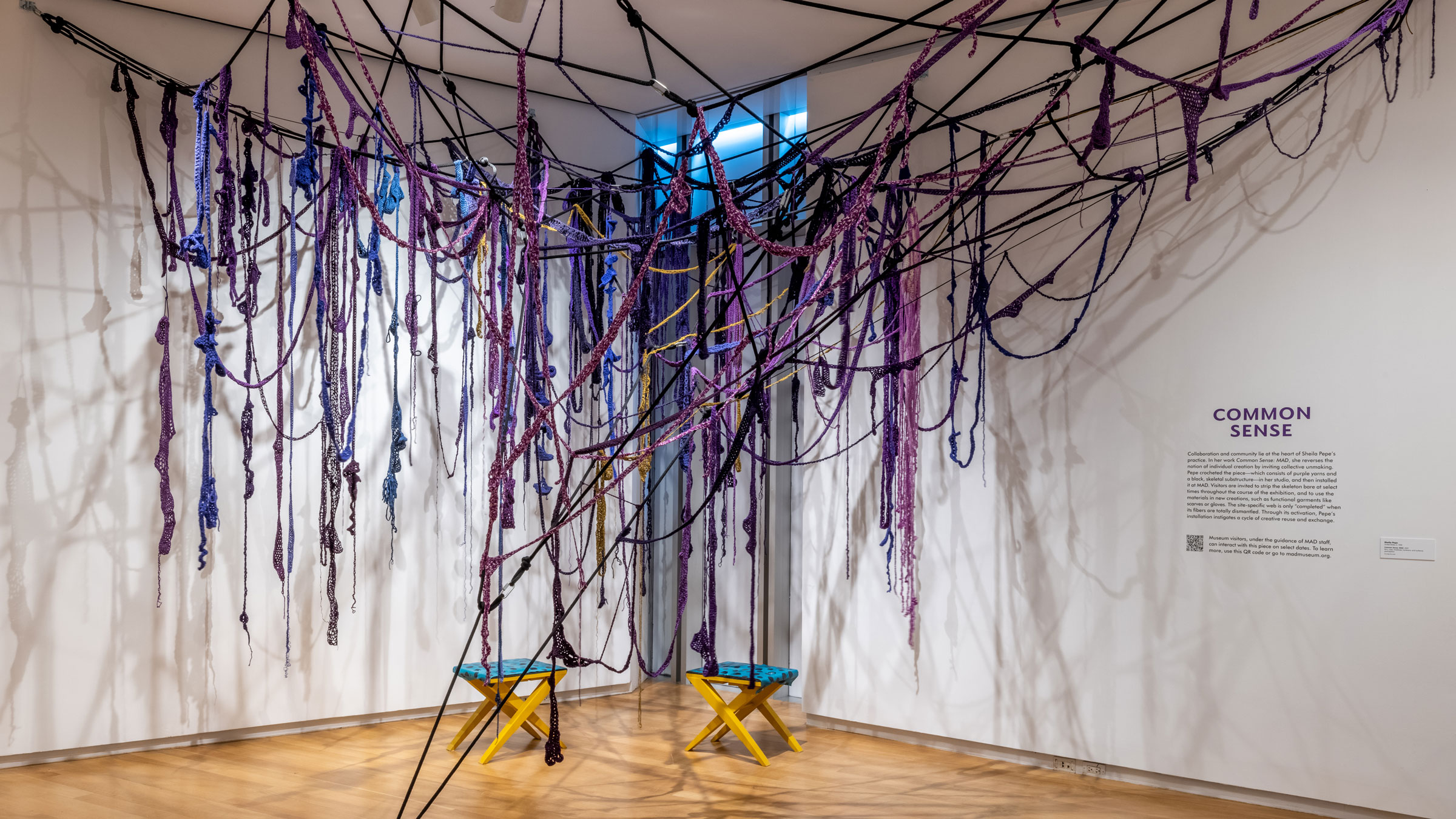 Join artist Sheila Pepe and Artist Studios resident Jacob Olmedo for some creative unraveling and crocheting in the exhibition Carrie Moyer and Sheila Pepe: Tabernacles for Trying Times. For this in-gallery workshop, participants will unravel and reuse yarn from Sheila Pepe's Common Sense, activating and contributing to the site-specific installation's completion. In addition, Pepe and Olmedo will teach basic crocheting techniques for making circular forms, mirroring the continuous nature of making, un-making, and recreation that forms the heart of Common Sense.
About the artists
Sheila Pepe is best known for her fiber-based, site-specific installations that challenge notions of domestic crafts and "women's work." These web-like structures intervene in architectural spaces and galleries, creating volumes, lines, and shadows that are subject to the changing conditions of the environments they occupy. Part of Pepe's commitment to feminist politics is her long-standing engagement with collective making. In 2007 she undertook several ambitious collaborative projects, including Liquid Sky at MoMA PS1. Pepe's other collaborations have reversed the terms of making and invited collective unmaking. In her Common Sense series, participants are encouraged to unravel her textile installations and use the materials for their own purposes.
A 2021 MAD Artist Studios resident, Jacob Olmedo intertwines textiles, objects, wearables, and hydroponics to convey social and environmental commentary stemming from his own circumstances and identity as a queer artist, the son of a Mexican-immigrant father, and a climate activist. He uses nature as a symbol of a privilege in shortage created by the climate crisis, and the ultimate form of life and commonality that connects all people. His labor-intensive methods combine crocheting and knitting with electronic tufting and mold-making to create scenic installations of disembodied figures and topographical landscapes that relay ideas of privilege in the context of access to land and minority bodies. During his MAD residency, Olmedo is continuing his recent textile work exploring themes of heritage, social hierarchy, and activism. Olmedo received the 2020 International Talking Textiles Award and earned his MFA and BFA from the Parsons School of Design. He has recently exhibited at Mana Contemporary, Gregg Museum of Art and Design, and NYC Design Week.
More about Common Sense
Collaboration and community lie at the heart of Sheila Pepe's practice. In this site-specific installation, she reverses the notion of individual creation by inviting unmaking. Pepe crocheted the piece—which consists of purple yarns and a black, skeletal substructure—in her studio, and then installed it at MAD. Visitors are invited to strip the skeleton bare at select times throughout the course of the exhibition, and to use the materials in new creations, such as functional garments like scarves or gloves. The site-specific web is only "completed" when its fibers are totally dismantled. Through its activation, Pepe's installation instigates a cycle of creative reuse and exchange. Common Sense installations, begun in a collaboration with curator and museum director Elizabeth Dunbar in 2009, have been activated around the world at venues in Austin, Boston, Chicago, Houston, Tbilisi, and Athens.
Please review our health and safety protocols before you arrive. MAD strongly recommends all visitors six months and older are vaccinated against Covid-19 and visitors ages two and up wear face coverings, even if vaccinated. Thank you for your cooperation.