Performance | Amp Dance (One)
Steven Reker with Matt Evans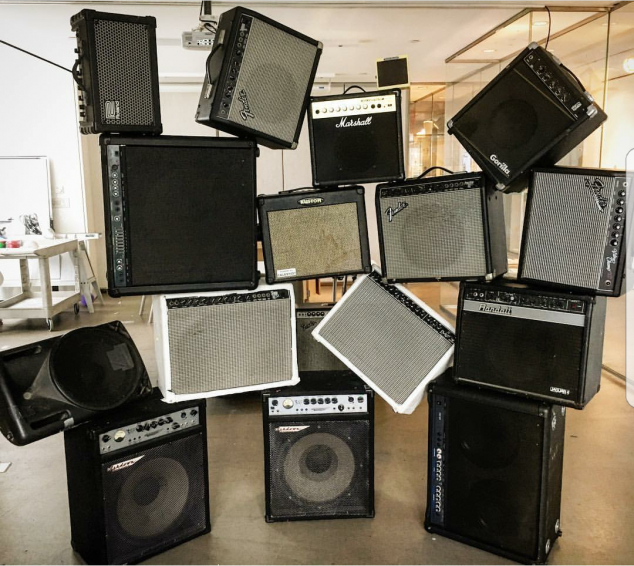 Steven Reker
click image to enlarge
Steven Reker

click image to enlarge

Steven Reker

click image to enlarge

Steven Reker

click image to enlarge
Program Details
Thursday, December 7, 2017 - 7:00 pm to 7:30 pm
Free with Museum Admission
5th floor galleries at MAD
Thursday, December 7, 2017 - 7:00 pm
Program Description
Amp Dance (One) is a twenty-minute performance featuring At Play artist-in-residence Steven Reker with musician Matt Evans, who will use an array of amps as modular units within an evolving composition. Having collected over a dozen amps from friends and collaborators, Reker and Evans will simultaneously compose an experimental soundscape while arranging, and rearranging, the amps in a number of sculptural formations.
Reker and Evans will explore the reciprocal nature between their musical composition and the arrangement of the amps through a sequence of temporarily inhabitable moments. This process reveals how the physical organization of the equipment builds and affects sonic experiences. Ever-changing and producing multiple shifts in perception, Amp Dance (One) features acts of adaptability and endurance inspired by the physicality and instability of live performance.
Matt Evans is a Brooklyn-based percussionist and composer who frequently works in cross-disciplinary contexts, playing in bands, performing with new music ensembles, and producing performances that integrate music and movement. He co-leads, performs, and records with projects including Tigue, Open House, Bearthoven, Rokenri, Man Forever, Ensemble Signal, Contemporaneous, and Private Elevators.
Steven Reker is a Brooklyn-based composer and performer. He has presented his work at the Kitchen, New York Live Arts, Baryshnikov Arts Center, Brooklyn Academy of Music, Lincoln Center's American Songbook, Skirball Cultural Center, New York City Center, Performance Space 122, and many other venues in the United States. He has collaborated or worked as a composer/performer with artists Robert Wilson, David Byrne, Jodi Melnick, Zac Pennington, Bill T. Jones, Yasuko Yokoshi, Miranda July, Fred Thomas, and Annie­-B Parson.