Talks | Open Studio Visit: Maria Hupfield with Lowery Stokes Sims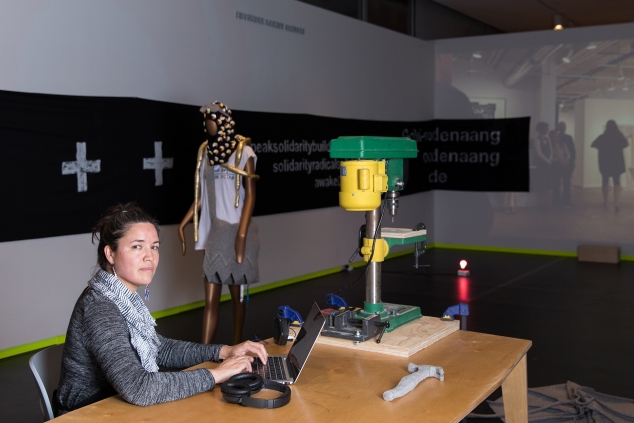 Maria Hupfield
click image to enlarge
Maria Hupfield

click image to enlarge

Maria Hupfield

click image to enlarge

Lowery Stokes Sims

click image to enlarge
Program Details
Thursday, December 14, 2017 - 6:30 pm to 7:30 pm
Free with Pay-What-You-Wish Admission
3rd floor galleries at MAD
Thursday, December 14, 2017 - 6:30 pm
Program Description
Receiving critical feedback from trusted peers and professionals is essential to any artist's studio practice. For this program, curator and historian Lowery Stokes Sims will lead an hour-long public discussion in the gallery-situated studio of Maria Hupfield, currently featured as an artist-in-residence in Cycle 2 of Studio Views: Craft in the Expanded Field.
Working on site to complete a new large-scale installation and performance, Hupfield has invited Stokes Sims as a trusted advisor to the Museum to discuss her work. Their conversation will cover the conceptual and historical underpinnings of Hupfield's work, while also exploring the work's formal, technical, and material dimensions. Visitors are invited to observe the conversation, after which they will have the opportunity to take part in a short Q&A.  
About the Panelists
A specialist in modern and contemporary art, craft, and design, Lowery Stokes Sims, PhD, retired as Curator Emerita from the Museum of Arts and Design in 2015. During her time at MAD, she served as the Charles Bronfman International Curator and the William and Mildred Lasdon Chief Curator, having previously served on the education and curatorial staff of the Metropolitan Museum of Art (1972–1999) and as Executive Director, President, and Adjunct Curator for the permanent collection at the Studio Museum in Harlem (2000–2007). At MAD, Sims co-curated Second Lives: Remixing the Ordinary (2008) and Dead or Alive: Artists Respond to Nature (2010); curated Against the Grain: Wood in Contemporary Art, Craft, and Design (2012); and conceived and co-curated The Global Africa Project (2010–2011) and New Territories: Laboratories for Design, Craft, and Art in Latin America (2014). She is currently serving as a guest curator for exhibitions at the Caribbean Cultural Center African Diaspora Institute, the Lyme Academy College of Fine Arts, the McNay Art Museum, Grounds For Sculpture, the Craft and Folk Art Museum, and the Cincinnati Contemporary Arts Center.
Maria Hupfield activates her creations in live performance. She is interested in shared moments that open spaces for possibility and new narratives. In her work, these moments of connection are recalled and grounded by coded and recoded hand-sewn industrial felt creations. She is deeply invested in intersectionality, indigenous feminisms, race, gender, and class. Hupfield is a member of the Anishinaabe Nation at Wasauksing First Nation, Ontario, Canada. Her recent traveling solo exhibition, The One Who Keeps On Giving, opened the thirtieth anniversary of the Power Plant Contemporary Art Gallery, Toronto. Hupfield is an alumna of the AIM program at the Bronx Museum and a Joan Mitchell Foundation recipient. Exhibitions include shows at the SITE Santa Fe Biennial, James Gallery, the BRIC Biennial, the Bronx Museum, Vox Populi, and Panoply Performance Laboratory. Hupfield was an artist-in-residence at the Museum of Arts and Design in 2012.