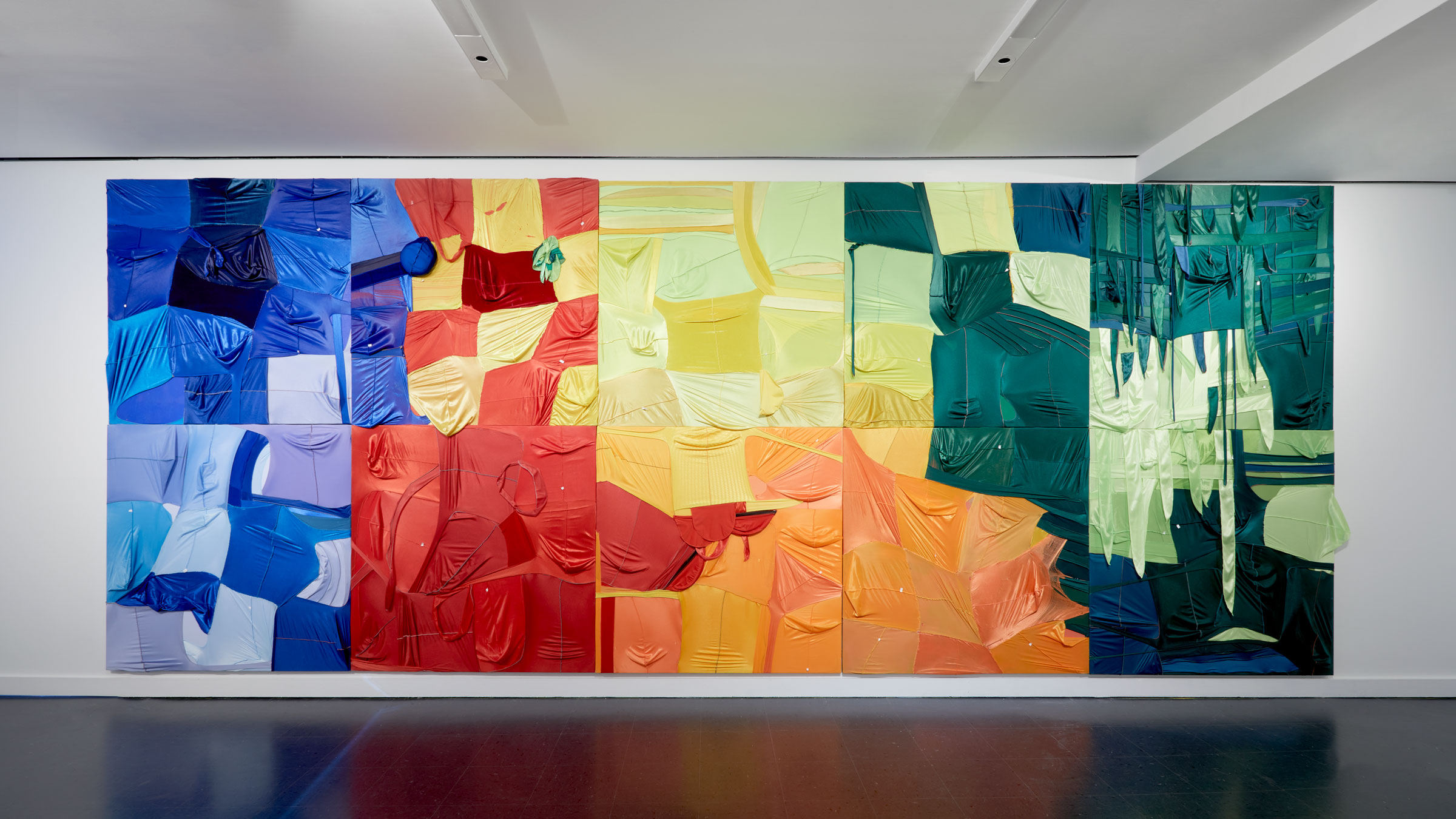 Join us for a Durag Assembly! Together we will explore themes within and inspired by the monumental durag installation created by MAD's 2019 Artist Fellow Anthony Olubunmi Akinbola for the exhibition Local Import. Akinbola and a lineup of special guests, including fashion researcher and podcast host Taniqua Russ and creators Soull & Dynasty Ogun of L'Enchanteur, will discuss the history of the durag, its cultural relevance, and how the durag continues to serve as inspiration for creatives.
During this rapid-fire virtual event, we'll showcase durag-themed performances by spoken word poet Ashia Ajani and multidisciplinary DJ Devoye, travel down social media's memory lane to celebrate the top five #DuragHistoryWeek moments with multimedia journalist Ezinne Ukoha, and engage in an interactive audience poll and Q&A.
This event is guest curated and moderated by Souleo.
Closed captioning will be provided.
Ticket purchasers will receive an email confirmation. Please follow the link under "Important Information" to complete your registration with Zoom.
About the participants
Anthony Olubunmi Akinbola is an interdisciplinary Nigerian American visual artist based in New York City. Through a range of material, Olubunmi's work aims to question and examine the complexities of an international Black identity. His work is held in the collections of the Verbeke Foundation, Keith Rivers, Hill Harper, and the Japour Family. In 2019, he was MAD's Artist Fellow. Follow on Instagram: @heyitsbunmi.
Ashia Ajani (they/she) is an environmental storyteller and educator hailing from Denver, CO, Queen City of the Plains, the unceded territory of the Ute, Cheyenne, Arapahoe, and Comanche peoples. As a Master's of Environmental Management Candidate at YSE, they seek to interrogate how historic and contemporary Blackness influences the environment and vice versa. She is a virtual environmental justice educator with Mycelium Youth Network and a recently certified doula. She has been published in Sierra Magazine, Them.us, World Literature Today, Frontier Poetry, and Foglifter Press, among others. Check out their work at ashiaajani.com.
Devoye is a multidisciplinary musician, producer, engineer, and DJ, and heavily grounded in the forms of Hip-Hop, Indie/Alternative Rock, Electronic, and various dance music genres like House and Techno. Entranced by the empathic connections between individuals and sound, Devoye explores the natural and ethereal through multiple sonic realms. "I aim to provide a diverse arrangement of feelings, spread throughout a breadth of styles."
Soull Ogun is a 2021 MAD artist-in-residence. L'Enchanteur—the conceptual fruit of identical twin designers, Dynasty & Soull Ogun—is a creative incubator inspired by the sciences, color theory, numerology, religion, mythologies, magic, & fairy tales. L'Enchanteur seeks to communicate timeless inspirations of spirituality behind each of their pieces, creating clothing, jewelry, and lifestyle items that redefine the meaning of an heirloom. Embodying their motto, Transform Your Lifestyle, Dynasty and Soull push forward on an upward and unknown path to introduce a new vision of design decorum to the world.
Taniqua Russ is a fashion researcher and host of the Black Fashion History podcast. She holds a master's degree in communications from Rutgers University, where she completed her senior research on "The Effects of Stereotypes About Race and Gender Communication Styles on the Career Advancement of Women of Color." The underlying themes of all of her work highlight the experiences of Black people, celebrating the accomplishments of Black professionals in the fashion industry, educating communities, and providing much-needed representation. Her work celebrating the unsung Black heroes of fashion and expertise in Black fashion culture has been highlighted in various publications like Vogue and Refinery 29 UK.
Ezinne Ukoha is a cultural essayist on Medium, as well as a poet and burgeoning screenwriter, who has published content in HuffPost, Essence, and MadameNoire, to name a few. She was also a web producer for ABC Digital, MSN, and lifestyle brand Tastemade. In 2017 she was named one of Medium's "Noteworthy Writers" for her insightful contributions to the platform as a "justice seeker" who provides commentary about racial injustice that consistently enlightens and inspires her readers. She's currently working on a verse novel loosely based on her life experiences as a Nigerian-American, and is still managing her blog on Medium.
Souleo curates entertaining and informative events, exhibitions, and cultural programs. Souleo has collaborated with noteworthy institutions and brands, including the New York Public Library, Schomburg Center for Research in Black Culture, Columbia University, Barnard College, Newark Museum of Art, Stax Museum of American Soul Music, Leslie-Lohman Museum of Art, and AARP. Souleo's work has been widely covered in outlets including the Associated Press, NY Times, The New Yorker, NBC, and more. For more information: souleouniverse.com
Please review our health and safety protocols before you arrive. MAD strongly recommends all visitors six months and older are vaccinated against Covid-19 and visitors ages two and up wear face coverings, even if vaccinated. Thank you for your cooperation.