MAD Ball to Feature Presentation of Annual Visionaries! Awards and Announcement of the Inaugural Burke Prize Winner on November 6, 2018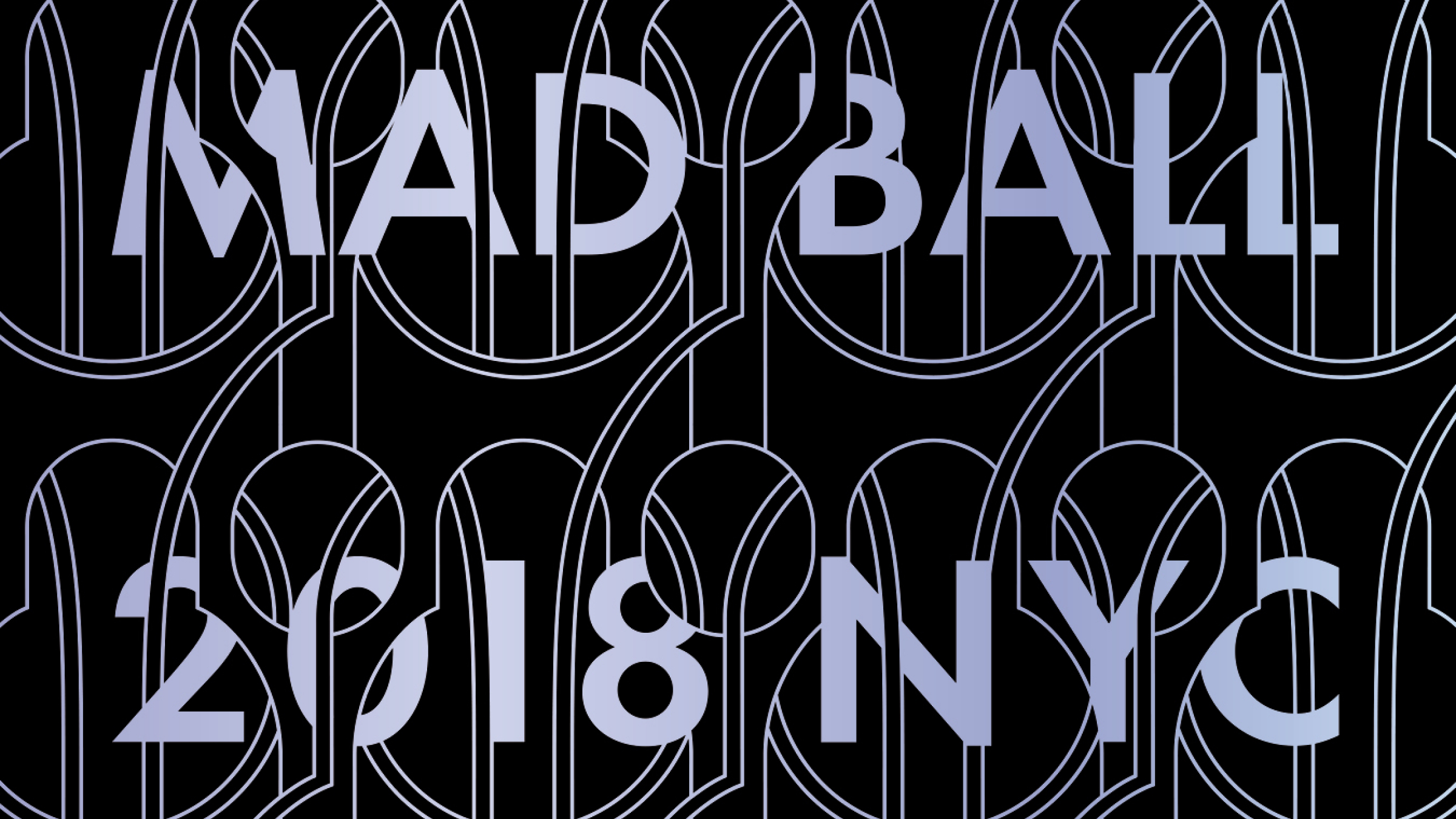 New York, NY (October 15, 2018)
On Tuesday, November 6, 2018, at Cipriani 42nd Street, the Museum of Arts and Design (MAD) will hold its annual gala to celebrate five outstanding individuals and organizations for their contributions to the fields of art, craft, and design. In addition, this year's MAD Ball will feature the announcement of the winner of the inaugural Burke Prize, an unrestricted $50,000 award given to a professional artist working in craft.
"We are deeply grateful for the generosity of our patrons and community who help support the Museum," said Michele Cohen, Chair of MAD's Board of Trustees. "The diverse exhibitions and programming that have established the Museum as a leader in the expanding field of craft are made possible by events like the MAD Ball."
This year's Visionaries! Award honorees are Italian fashion house Bottega Veneta, luxury car company Cadillac, artist Nancy Rubins, architect Annabelle Selldorf, and the Sugar Hill Capital Partners Studio Program founded by Jay Solomon. The Museum commissioned artist Pae White to create this year's Visionaries! Award statuettes.
"We are proud to celebrate such a diverse and forward-thinking group of visionaries," said Chris Scoates, MAD's Nanette L. Laitman Director. "Each of the award recipients at this year's MAD Ball uniquely represents the spirit of experimentation and innovation championed by the Museum, and we are inspired by their contributions."
MAD Ball 2018 will also mark the announcement of the winner of the inaugural Burke Prize, named after collectors Marian and Russell Burke. The new annual award reinforces MAD's commitment to celebrating the next generation of artists working in and advancing the disciplines that shaped the American studio craft movement. The prize is an unrestricted $50,000 award made to a professional artist age forty-five or under working in glass, fiber, clay, metal, or wood.
The jury received five hundred applications, from which sixteen finalists were selected. Their works are currently featured in the exhibition The Burke Prize 2018: The Future of Craft Part 2, on view at MAD until March 17, 2019.
"The culmination of this inaugural cycle of the Burke Prize firmly establishes MAD as the leading museum to champion artists working in craft materials and methodologies," said Shannon R. Stratton, MAD's William and Mildred Lasdon Chief Curator. "We remain dedicated to illuminating for our visitors the breadth and variety of works being made by young artists nationwide."
This year's MAD Ball Co-Chairs are Iris Apfel, Andi Potamkin Blackmore, Jerome A. Chazen, Michele Cohen, Melissa Urfirer Gottesman, Linda Plattus, and Barbara Tober.
MAD Ball 2018 will take place on Tuesday, November 6, at Cipriani 42nd Street. The evening begins at 6:30 pm with cocktails and a silent auction, followed by dinner and an awards presentation emceed by Pulitzer Prize winner Jerry Saltz. It concludes with an after party starting at 9 pm. DJ Mia Moretti will play music throughout the evening.
Facilitated by Paddle8, the online auction will feature extraordinary works of art, jewelry, unique travel packages, design items, and more. Bidding will be live from October 23 through November 5 at https://paddle8.com/auction/mad-ball/
For questions about MAD Ball 2018, please contact Rebekka Grossman at 212.299.7712 or rebekka.grossman@madmuseum.org. Tickets can be purchased at https://thestore.madmuseum.org/collections/mad-ball-2018.
ABOUT THE HONOREES
Bottega Veneta
Steeped in the traditions of Italian craftsmanship, Bottega Veneta has set a new standard for luxury since it was founded in Vicenza, in the Veneto region of Italy, in 1966. The brand is defined by four unchanging principles: outstanding craftsmanship, timeless yet innovative design, contemporary functionality, and the highest-quality materials. Bottega Veneta's core philosophy embraces individuality as expressed in discreet luxury goods made without overt logos. That idea applies to a full range of collections for women and men: ready-to-wear, handbags, small leather goods, luggage, eyewear, shoes, fragrance, jewelry, and the Home Collection. Learn more at www.bottegaveneta.com.
Cadillac
Cadillac has been a leading luxury auto brand since 1902. Today, the brand is growing globally, driven by an expanding product portfolio featuring distinctive design and technology. Find more information at www.cadillac.com. For further information, including images and video, visit Cadillac's media website, https://media.cadillac.com.
Nancy Rubins
An artist based in Topanga Canyon, California, Nancy Rubins transforms industrial, manufactured objects—such as mattresses, appliances, and boats—into the building blocks of her physically commanding monumental sculptures. Acting as an intermediary between the past and future states of her chosen materials, Rubins hones the formal rather than functional qualities of the discrete components comprising a single, cohesive sculpture. Brimming with the entropic energies of a force of nature, her arrangements evoke a precarious equilibrium of objects in space. Rubins' practice takes influence from the traditions of Modernist American monumental sculpture as well as bricolage, ultimately serving to emphasize the aesthetic possibilities of quotidian objects. The recipient of a BFA from the Maryland Institute College of Art and an MFA from the University of California, Davis, Rubins has work in numerous public collections, including the Museum of Modern Art and the Whitney Museum of American Art. Her large-scale outdoor sculptures are on permanent display at leading institutions throughout the world, including the Museum of Contemporary Art, Los Angeles; Albright-Knox Art Gallery, Buffalo; and Université Paris Diderot.
Annabelle Selldorf
Annabelle Selldorf is the Principal of Selldorf Architects, a seventy-person architectural design practice that she founded in New York City in 1988. The firm creates public and private spaces that manifest a clear and modern sensibility to enduring impact. Cultural clients include the Frick Collection, the Museum of Contemporary Art San Diego, and the Clark Art Institute. In addition, the firm has created numerous galleries for David Zwirner, Hauser & Wirth, and Gladstone Gallery, Neue Galerie New York among others, and designed exhibitions for the Whitney Museum of American Art, Gagosian, and the Venice Biennale.
Sugar Hill Capital Partners
Since 2008, Sugar Hill Capital Partners has bought, renovated, and sold over one hundred buildings, comprising twenty-five hundred rental apartments, luxury condominiums, art studios, and retail units in Upper Manhattan and Brooklyn. Sugar Hill Capital Partners is known for elevating living by providing attainable best-in-class design, amenities, and sustainability, as well as its contributions to the arts. In 2013, the organization founded the Studio Program as a social impact initiative that supports New York City's artist community. The Studio Program converts unutilized multi-family building area into affordable art studios. In addition to providing artists the ability to work, live, and create in their local communities, the Studio Program facilitates interaction between its members and alumni, dealers, collectors, critics, and curators to gain public and critical exposure to further their career development. Over the past several years, the firm and its affiliated companies have been honored by organizations and museums including ArtBridge and Brooklyn Arts Council for promoting and sustaining the arts in New York City. Learn more at www.sugarhillre.com/studioprogram.
ABOUT THE MUSEUM OF ARTS AND DESIGN
The Museum of Arts and Design (MAD) champions contemporary makers across creative fields and presents the work of artists, designers, and artisans who apply the highest level of ingenuity and skill. Since the Museum's founding in 1956 by philanthropist and visionary Aileen Osborn Webb, MAD has celebrated all facets of making and the creative processes by which materials are transformed, from traditional techniques to cutting-edge technologies. Today, the Museum's curatorial program builds upon a rich history of exhibitions that emphasize a cross-disciplinary approach to art and design and reveals the workmanship behind the objects and environments that shape our everyday lives. MAD provides an international platform for practitioners who are influencing the direction of cultural production and driving twenty-first-century innovation and fosters a participatory setting for visitors to have direct encounters with skilled making and compelling works of art and design.
#MADBall2018 @MADMuseum
Contacts
Additional Contact
Image Archive
Press List
Additional Material