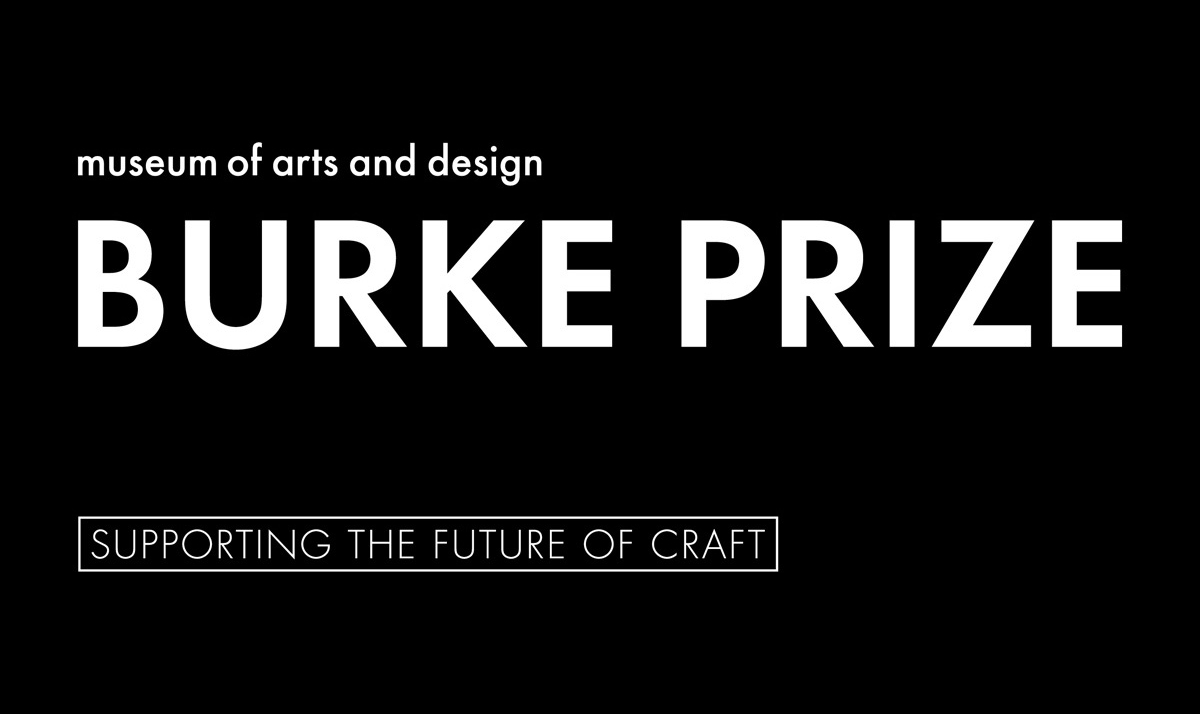 Named for Marian and Russell Burke, two passionate collectors of craft and longtime supporters of MAD, the Burke Prize is an annual award that reinforces the Museum's commitment to celebrating the next generation of artists working in and advancing the disciplines that shaped the American studio craft movement.   
The prize is an unrestricted $50,000 award made to a professional artist age 45 or under working in glass, fiber, clay, metal, and wood.
Each fall, the Museum presents an exhibition of works by the Burke Prize finalists. The winner is announced at the MAD Ball, the Museum's annual fundraising gala. Learn about the 2018 Burke Prize finalists and exhibition here.
The Burke Prize finalists and winner are determined by an annual jury, chaired by Shannon R. Stratton, MAD's William and Mildred Lasdon Chief Curator, and professionals in the fields of art, craft, and design, following an open application process.
2019 Jurors
The jurors will be announced at a later date.
Applicants must be:
A US citizen or a permanent legal resident
At least 21 years old and not older than 45 at the time of application 
A working artist, not a hobbyist, who can demonstrate a commitment to their practice as a professional
Applicants cannot be:
An institution or small business
A student in a degree-granting program or its equivalent at the time of application, even if graduation is pending the same year
A current employee, consultant, board member, or major funder of the Museum of Arts and Design, or an immediate family member of such a person
Frequently Asked Questions
Why is there an age restriction? 
We recognize that there are many talented artists over the age of 45, but most (although not all) have had the benefit of time to create a stronger professional network and economic foundation for their practice. By giving visibility to young artists who represent the next generation working in the traditional American studio craft disciplines of glass, fiber, clay, metal, and wood, we hope to carry craft into the future—both by inspiring artists to pursue these disciplines and by inspiring curators, critics, and collectors to recognize their work. In the end, this impacts the whole field.
In the past, "young" or "next generation" has often meant under the age of 30 or 40. We have expanded this to 45 to accommodate the length of time many artists take to complete schooling as well as the exceptional financial burden that schooling places on young artists today, requiring most to pursue full-time employment before they can fully dedicate themselves to the studio.
Can collectives apply?
We understand that there are many collaborative partnerships in the art world, and we encourage you to apply as long as all members of the collective meet the requirements of the application. You can find specific instructions on how to navigate our application as a collective in the application itself. Collectives must demonstrate an extensive collaborative practice. There is no limit as to how many members a collective can have.
What is the jury looking for in the winner?
The prize recognizes exceptional artwork in form and concept. Please submit the work that you see as best representing your art practice, and that reflects both your mastery of your craft and your innovation within your field.
Do I have to work solely in one of the five media (glass, fiber, clay, metal, wood)?
No, you do not, although these media and your skill in handling them, both manually and conceptually, should be evident in your application. Applicants can work in all five media, a combination of these media, or a combination of these media and others not listed, like video or performance.
I don't have an MFA. Can I still apply?
Yes.