Wood-Bonding with Bottles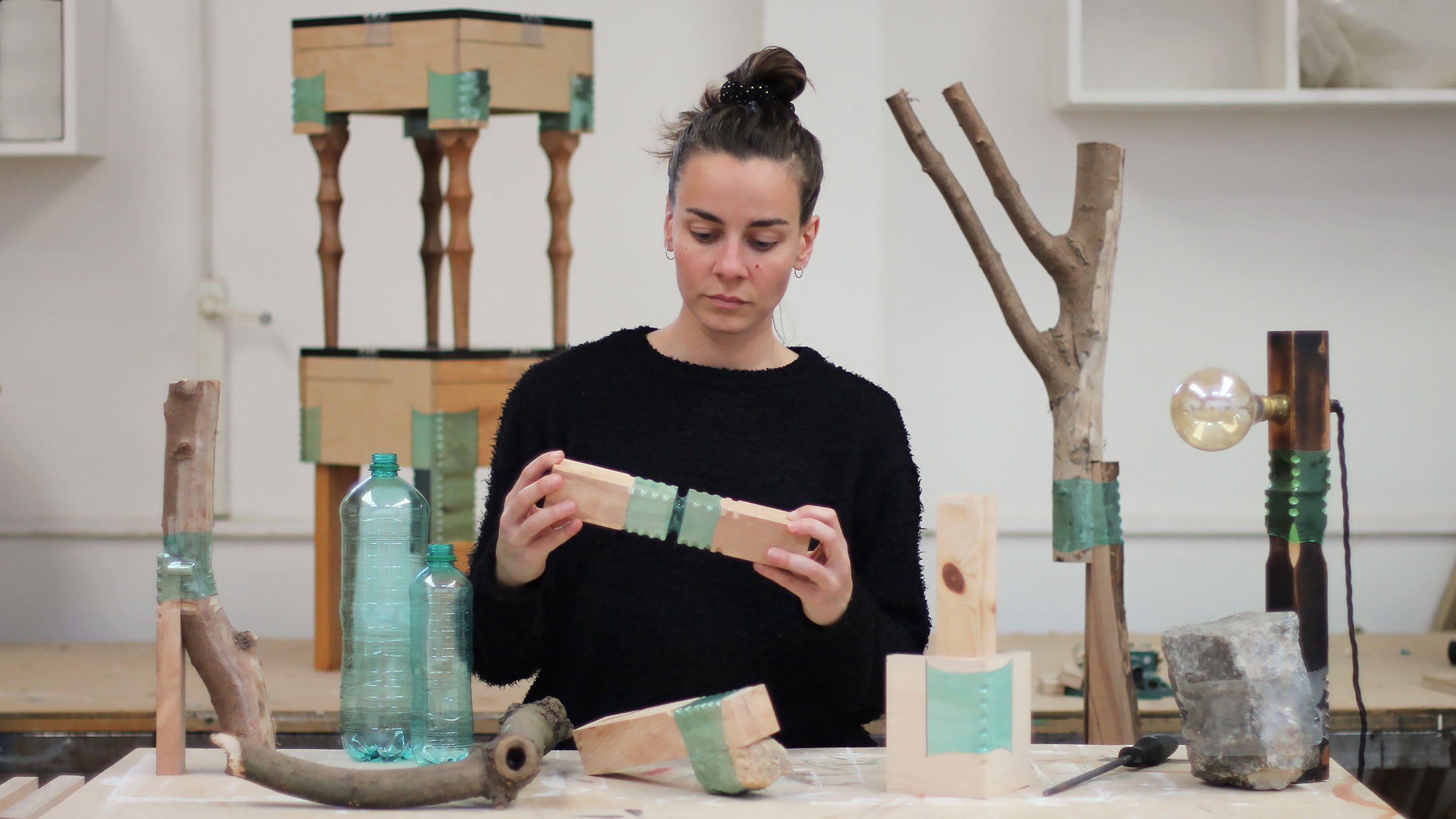 Discover innovative design solutions with artist and maker Micaella Pedros, who will lead a workshop introducing participants to an experimental wood-joining technique using post-consumer plastic bottles. In her practice, Pedros creates chairs, lamps, tables, and other pieces with this ingenious method, which she developed as a sustainable and accessible alternative to conventional furniture-making processes. During this workshop, attendees will learn to transform plastic bottles into a wood-bonding material, exploring new ways to build functional structures. Working with various wood pieces, participants will gain a hands-on understanding of Pedros' technique, which they can apply to future design projects.
Basic design skills and knowledge are required to participate in this workshop. Please, email education@madmuseum.org for any questions.
This event is part of Infraordinary, a series of hands-on workshops exploring the potential of everyday, industrially produced items discarded in New York City. In collaboration with community organizations and local businesses, artists and designers source overlooked materials, and teach participants to turn them into unique and imperfect objects that create meaning by walking the line between mass-produced and hand-made. Infraordinary is presented on the occasion of Chris Schanck: Off-World and is guest curated by Gabriela López Dena.
The plastic bottles for this program are provided by Sure We Can, a nonprofit recycling center, community space, and sustainability hub.
About the Participants
Micaella Pedros is a French designer, maker, and artist based in London. In her work, she nurtures a playful and experimental approach through which she conceives objects, furniture and artifacts. Her creations are driven by sustainability, local resources, and creativity, and are formed at the intersection of product design, engineering, and fine art. She holds a master's degree in design product from the Royal College of Art and two industrial & product design degrees from ENSAAMA. She continuously finds inspiration for her practice by observing waste, natural forces, local cultures, and unnoticed potentials.
Sure We Can is a nonprofit recycling center, community space, and sustainability hub in Brooklyn where canners—who collect cans and bottles from the streets to make a living—come together with the broader community through recycling, composting, gardening, and the arts. Their mission is to support the local community, particularly its most marginalized residents, through social inclusion, environmental awareness and economic empowerment. For over 10 years, Sure We Can has served the community of canners, and it has evolved into a community center that promotes a sustainable urban culture and facilitates a circular economy.
Please review our health and safety protocols before you arrive. MAD strongly recommends all visitors six months and older are vaccinated against Covid-19 and visitors ages two and up wear face coverings, even if vaccinated. Thank you for your cooperation.