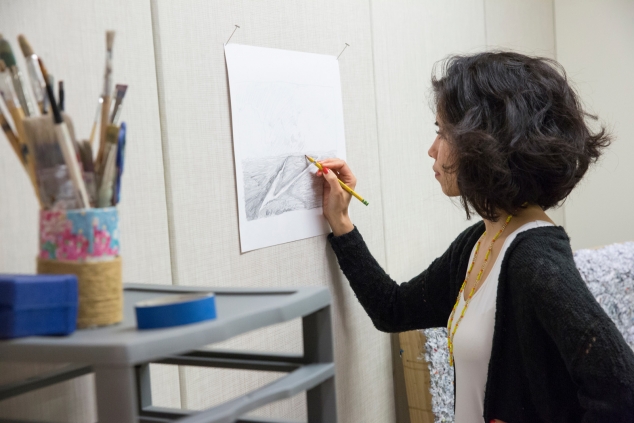 Camille Hoffman
click image to enlarge
Program Details
Saturday, March 24, 2018 - 1:00 pm to 3:00 pm
$20 general / $10 members and students
6th floor - classroom at MAD
Saturday, March 24, 2018 - 1:00 pm
Program Description
Exploring line through landscape and imagination, we will work with material and architectural prompts from our immediate surroundings to map our dreams and memories onto paper. This workshop will offer practical guidance around perspective and gesture drawing, while encouraging participants to apply these skills to new ways of understanding their unique bodies and minds in space.
About the Instructor
Camille Hoffman (b. 1987, Chicago) received her BFA in Community Arts and Painting from California College of the Arts in 2009 and her MFA in Painting and Printmaking from the Yale School of Art in 2015. She has worked for over a decade as an arts educator and community organizer in Phoenix, the San Francisco Bay Area, New Haven, Brooklyn, and Queens. She is a past recipient of the Carol Schlosberg Memorial Prize for excellence in painting from Yale University, a National Endowment for the Arts scholarship, and a Benjamin A. Gilman International Scholarship. Hoffman has shown throughout the United States and in Europe, in exhibitions including Music and Conversation: East of the Wallace Line at the Yale University Art Gallery and MASIVAMENTE at Espai Cultural Biblioteca Azorín in Valencia, Spain, and participated in the Nuit Blanche arts festival in Paris, France. She recently completed a yearlong residency at Queenspace in Long Island City, New York, and is currently artist-in-residence at Wave Hill in the Bronx.