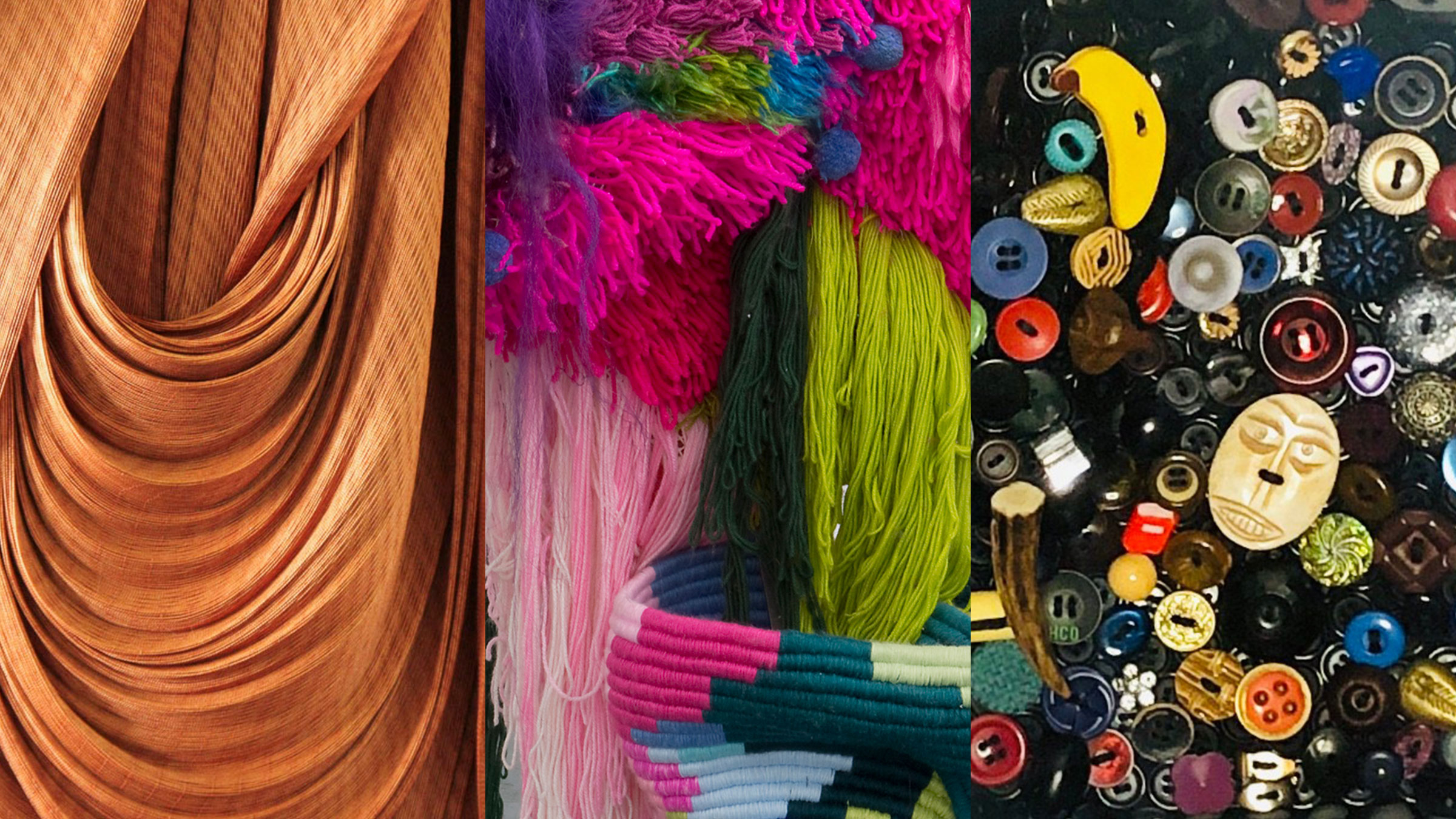 Join us for a dynamic panel discussion featuring MAD Collection artists Beau McCall, Armarinhos Teixeira, and Sarah Zapata, moderated by independent curator M. Rachael Arauz. Recent acquisitions from these artists will be on view in Craft Front & Center (opening February 4, 2023), a multiyear exhibition showcasing the value of the handmade in a rotating display of historic works and contemporary acquisitions. Together, the artists will discuss their innovative use of materials to express and explore the nature of identity in their individual craft practices.
Tickets to the program include admission to the Museum. The panel will be followed by a reception hosted by Bin Bin Sake.
Panelists
M. Rachael Arauz, Ph.D., is an independent curator of modern and contemporary art. Co-curator of the 2019 exhibition In the Vanguard: Haystack Mountain School of Crafts, 1950-1969 for Maine's Portland Museum of Art, Arauz has organized exhibitions and contributed to museum catalogs in the United States, Mexico, and Europe. She has also written about her museum experience as a "minority intern" in the 1990s as well as served as juror and visiting critic for various organizations.
Beau McCall—dubbed "The Button Man" by American Craft magazine— applies clothing buttons onto mostly upcycled fabrics, materials, and objects to create wearable visual art. Offering commentary on topics such as pop culture and social justice, McCall's pieces have been exhibited widely, including at The Museum at FIT, Nordstrom, the African American Museum in Philadelphia, Houston Museum of African American Culture, and other institutions. McCall's work is also held in numerous permanent collections, including the Museum of Arts and Design, Philadelphia Museum of Art, V&A Museum, as well as many private collections. In 2024, the retrospective Beau McCall: Buttons On! will open at the Fuller Craft Museum in Brockton, Massachusetts. McCall was born in Philadelphia, PA and currently lives and works in Harlem, NY.
Armarinhos Teixeira lives and works in São Paulo, Brazil. In 1982 he established his first studio in the Centro Cultural São Paulo. His art centers on the study of biology and living forms. He primarily works in sculpture, drawing, video, and on-site installations. Teixiera has exhibited in Brazil, Europe, and New York. His work is held in the permanent collections of Museu de Arte Moderna do Rio de Janeiro, the Museum of Arts and Design, White Box, and private collections.
Sarah Zapata is an artist and writer based in Brooklyn, NY. She has held solo exhibitions with the Kohler Arts Center, Museo MATE, Performance Space New York, Deli Gallery, el Museo del Barrio, amongst others. A 2019 Burke Prize finalist for MAD's biannual Burke Prize, Zapata's work has been exhibited at MAD, the Stedelijk Museum, Museo del Arte de Lima, New Museum, Leslie-Lohman Museum of Gay and Lesbian Art, and numerous other museums and galleries. Zapata has also completed residencies at the Museum of Arts and Design, A-Z West, Wave Hill, amongst others. She has been the recipient of grants from the National Association of Latino Arts and Cultures, the Foundation for Contemporary Arts, and the Dallas Museum of Art. Zapata was a 2019-2020 Literature Fellow with the Queer Art Mentorship Program and the 2021 Lenore G. Tawney Foundation resident at the International Studio and Curatorial Program in New York.
Craft Front & Center has been made possible by a major grant from the National Endowment for the Humanities and Museum of Arts and Design together: Democracy demands wisdom.
Please review our health and safety protocols before you arrive. MAD strongly recommends all visitors six months and older are vaccinated against Covid-19 and visitors ages two and up wear face coverings, even if vaccinated. Thank you for your cooperation.