In Conversation: Anne Lindberg and Yen Ha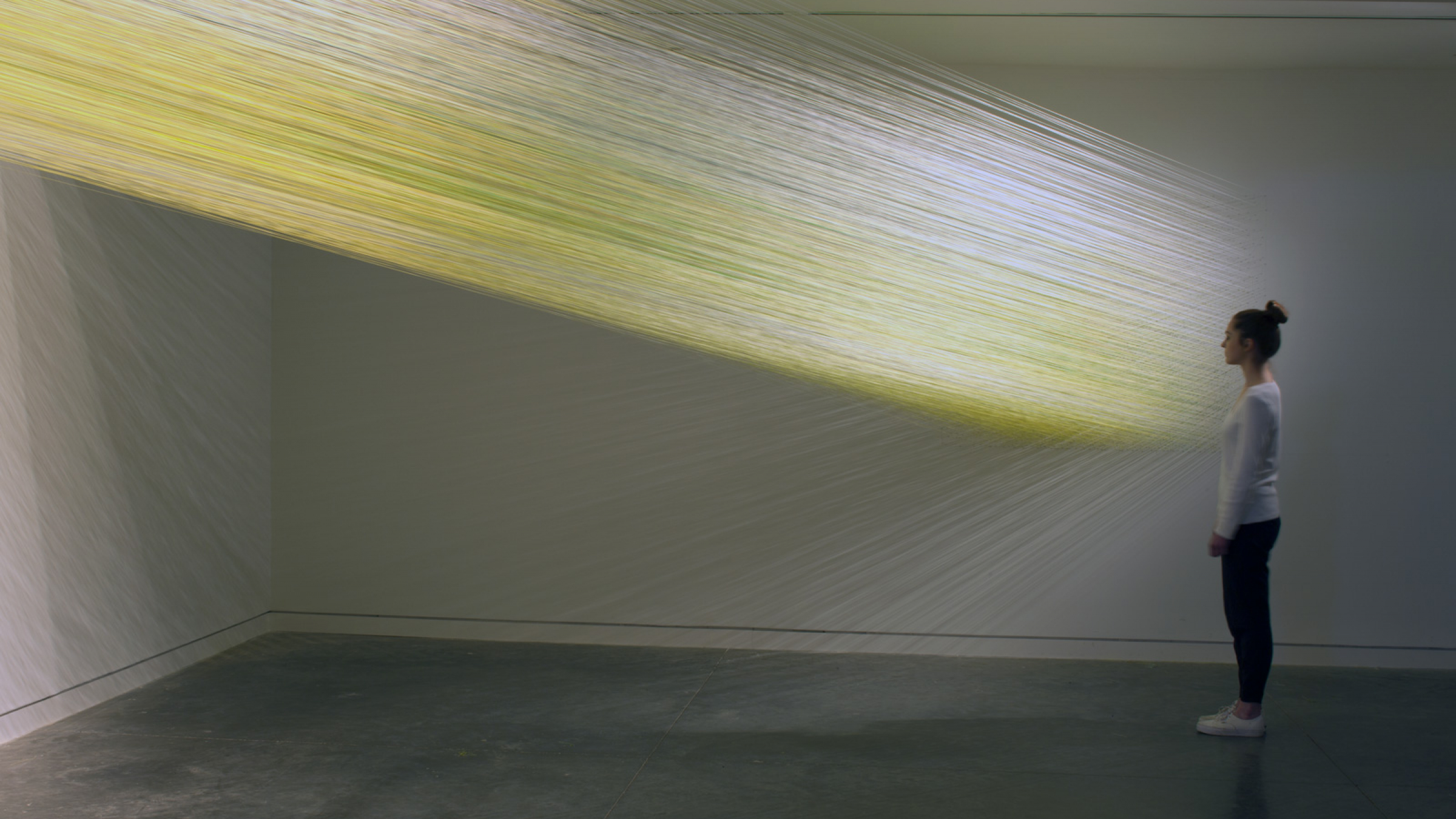 Join artist Anne Lindberg for an intimate discussion with Yen Ha, a New York–based architect and founding principal of Front Studio Architects. Within the setting of Lindberg's immersive installation the eye's level, the pair will elaborate on the artist's use of space, light, and architectural tools to create her contemplative, site-specific work. Lindberg's practice reveals the intrinsic connection between the task of the artist and that of the architect, creating drawings that eventually extend into space and take on new life in the presence of people and community.
Anne Lindberg is a Hudson Valley–based artist who works in the expanded field of drawing, utilizing hundreds of lines of thread pulled through space to create floating, ethereal fields of color. Her work has recently been included in exhibitions at the US Embassy in Rangoon, Burma, Atlanta Contemporary, and the Museum of Fine Arts, Boston, as well as in the solo exhibition shift lens at the Mattress Factory and in Unmade: Anne Lindberg & Saskia Olde Wolbers at the Cincinnati Contemporary Arts Center. She is the recipient of a Joan Mitchell Foundation Painters and Sculptors Grant, a Charlotte Street Foundation Fellowship, two ArtsKC Fund Inspiration Grants, a Lighton International Artists Exchange grant, the Art Omi artist residency, an American Institute of Architects Allied Arts and Crafts award, and a Mid-America Arts Alliance/National Endowment for the Arts Fellowship.

Yen Ha is a founding principal of Front Studio Architects, established in New York City in 2001. She completed her undergraduate work at Carnegie Mellon University with honors, followed by postgraduate work in urbanism at l'École d'Architecture, Paris. Fluent in French and Vietnamese, Ha is a LEED professional and licensed architect whose work has been featured in Interior Design, Icon magazine, Wallpaper, and the New York Times. She is a member of the Board of Directors of NewSchool of Architecture and Design, San Diego, and a visiting professor at the Sam Fox School of Design and Visual Arts at Washington University in St. Louis. She produces short fictions and small drawings at hh1f.
Front Studio was named one of the "world's 50 hottest young architectural practices" by Wallpaper magazine. Its work has won several design awards from the American Institute of Architects and been featured internationally in Icon, Azure, the New York Times, and Interior Design. A certified Women Business Enterprise/Minority Business Enterprise with offices in Pittsburgh and New York City, Front Studio places the environmental welfare of a community and its inhabitants at the forefront of the design process. The recipient of an honorable mention in the High Line Ideas competition and second place honors in the 2005 Gdansk International Outdoor Gallery competition, the firm was also named a finalist in the second phase of the Van Alen Urban Voids competition. Additional honors include a Superior Interior Award from Pittsburgh Magazine and an "In the Public Interest" Design Award from Architectural Record. The firm's work has been included in the Carnegie Mellon Architecture Archives, displayed at the National Academy Museum's 2008 International Exhibition, and featured in the Sarajevo Winter Festival in Bosnia. Front Studio has shown work at the Center for Architecture and the Storefront for Art and Architecture, New York City; the Building Centre, London; and ifa Gallery Berlin.