MAD Examines the Future of Craft in New Exhibition Celebrating Recent Acquisitions by a Diverse Group of Artists
MAD Collects: The Future of Craft Part 1
September 6, 2018 – March 31, 2019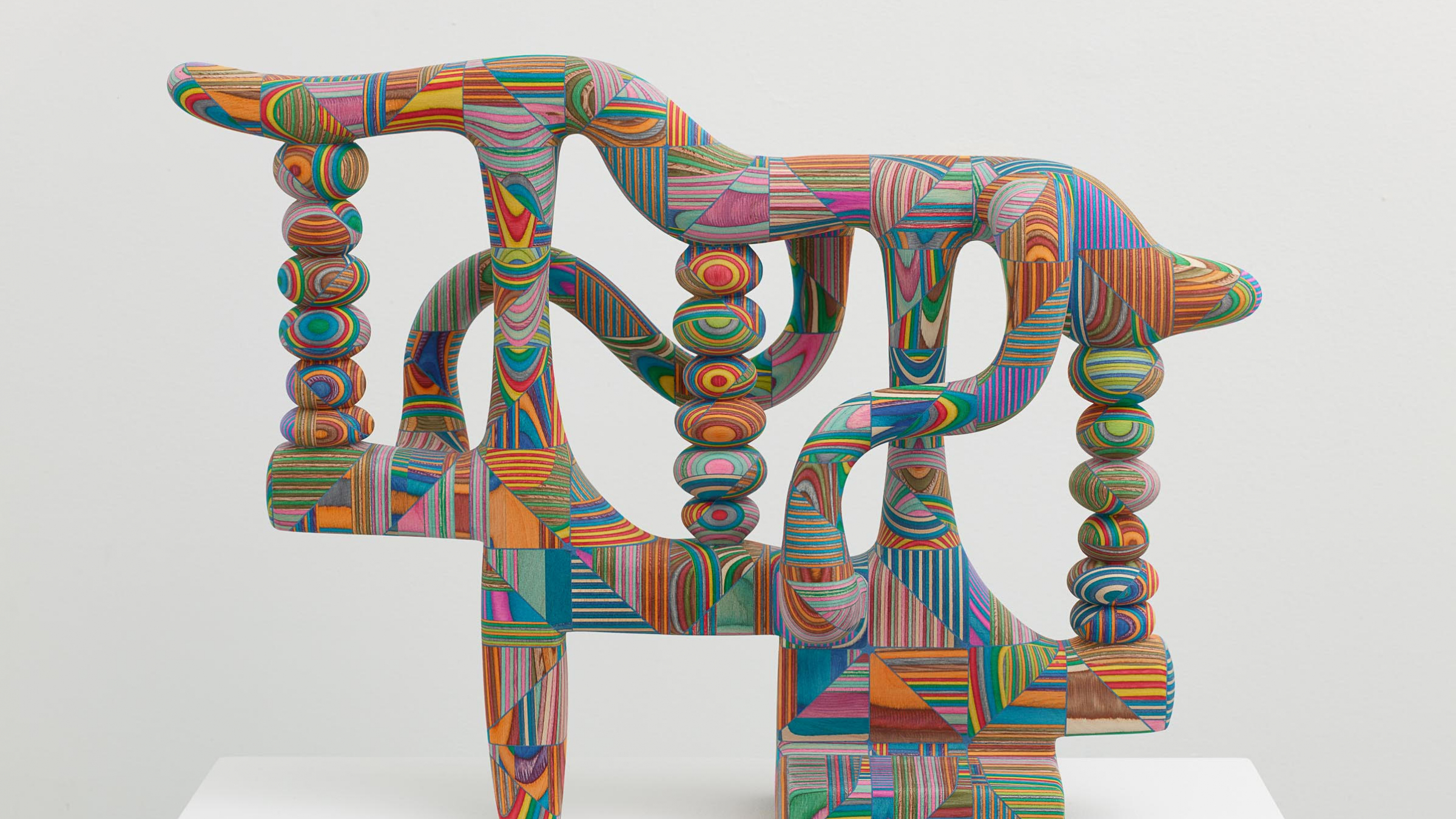 New York, NY (August 27, 2018)
From September 6, 2018, through March 31, 2019, the Museum of Arts and Design (MAD) will present MAD Collects: The Future of Craft Part 1, featuring more than fifty works of craft, art, design, and jewelry acquired for the permanent collection over the past five years. Curated in connection to The Burke Prize 2018: The Future of Craft Part 2, MAD Collects showcases and champions the dynamic field of art and design practices that sustain, expand, and interpret the craft media the Museum was founded to support. The exhibition encompasses works by more than forty-five artists, including Derrick Adams, El Anatsui, David Bielander, Sanford Biggers, Wendell Castle, Judy Chicago, Josh Faught, David R. Harper, Sana Musasama, Bayne Peterson, Verena Sieber-Fuchs, Barb Smith, Cauleen Smith, Adejoke Tugbiyele, and Dorian Zachai.
"With MAD Collects, we are demonstrating our commitment to investing in works by a diverse roster of forward-thinking artists who are pushing the boundaries of craft," said Shannon R. Stratton, MAD's William and Mildred Lasdon Chief Curator.
In June 2016, MAD established a five-year collections plan seeking to acquire works that supported the Museum's history—rounding out the mid-century American studio craft holdings as well as acquiring works directly connected to historic exhibitions—while developing the contemporary art collection, particularly in the areas of fiber and clay, studio art jewelry, and expanded practices in craft. The acquisition of these works deepens MAD's connection to global practices and concerns as well as its commitment to collecting and supporting established and emergent artists of color. Works in this exhibition also highlight the Museum's ongoing interest in artists who reimagine traditional craft forms and processes through material, conceptual, and disciplinary innovation.
Selected Artists in the Exhibition:
El Anatsui (Ghana, b. 1944)
Using and highlighting found materials, El Anatsui's work serves as a commentary on the colonial and postcolonial history of consumerism in Africa. The abstract and reflective sculptures recall traditional kente cloth from Ghana and are intended to bend and fold organically when installed, enhancing their resemblance to textiles. The use of bottle caps references the import of gin in Africa during the Atlantic slave trade, which established racial hierarchies, as well as the more recent development of bottled beer as indicative of urban sociability in the mid-twentieth century.
Sanford Biggers (United States, b. 1970)
New York–based multidisciplinary artist Sanford Biggers incorporates objects and images—from antique quilts to African sculptures—into his work as vehicles for the discussion of history and race, a practice he has described as a "conceptual form of patchwork." Biggers is invested in the abstraction and color of geometric, pieced quilts. In Dagu, on view in this exhibition, he embellishes found quilts with his own abstract language, including cosmic and celestial imagery. His work invokes a deep, historical connection to lore surrounding quilt patterns, including their use as a coded language of the Underground Railroad, as well as to African-American art history and the ways in which objects can be endowed with ancestral power and protection.
Josh Faught (United States, b. 1979)
San Francisco–based artist Josh Faught uses textiles, collage, sculpture, painting, and archival materials to explore the construction of queer identity through social, political, and personal histories. Faught's works revel in the anxiety typified by a sense of isolation or disconnectedness, suburban self-help culture, and decorative compulsion—vestiges of which are woven throughout the structures of his handmade textiles, often staged as auto/biographic narratives.
David R. Harper (Canada, b. 1984)
David R. Harper's multimedia work draws upon his interests in nineteenth- and early-twentieth-century museology and methods of display, as well as turn-of-the-century educational and medical imagery. His pointed use of materials that require physical handling—manipulating clay, repetitious embroidering, intricate weaving, woodworking, or taxidermy—aims to create familiarity, but also reminds the viewer that history is active; it can be tactile and felt rather than passively read in a book.
Bayne Peterson (United States, b. 1984)
Bayne Peterson's work is an ongoing exploration of traditional and digital processes in sculpture. A linear-based pattern, in which perpendicular and diagonal lines merge with winding slopes, vibrant colors, and concentric ovals, repeats along the surface of each plywood sculpture, a nod to the virtual design screen. The work on view in MAD Collects is from a new body of hand-carved, dyed plywood sculptures, characterized by biomorphic and symmetrical components and the presence of small circular forms that appear as though piled or stacked.
Cauleen Smith (United States, b. 1967)
Cauleen Smith trained as a filmmaker, and her hand-stitched banners—including We Were Never Meant to Survive, featured in the 2017 Whitney Biennial and on view in this exhibition—build on her interest in the time-based nature of processions, which she sees as being a kind of analog film. Through her work with parades and pop-up performances, Smith has developed an interest in the textiles deployed in these settings (costumes and banners) both as a means for communication and as tools of protest.
Adejoke Tugbiyele (United States, b. 1977)
Charged with symbolic meanings, Adejoke Tugbiyele's works investigate historical, cultural, and political ideas around race, gender, sexuality, class, economy, sex politics, and religion. They examine the role of religion in defining how we view our bodies, as well as the subversive role spirituality can play in the reclamation of healthy forms of self-love and acceptance. Her works encourage an unapologetic commitment to love in the face of discrimination based on race, gender, sexuality, class, and religion. Tugbiyele uses a diverse range of materials, including wire, natural fibers, fabric, and wood, to create intricate sculptures, which are occasionally integrated into performances.
Dorian Zachai (United States, 1932–2015)
Dorian Zachai was a pioneer of fiber sculpture, one of the earliest innovators of the use of mixed media in weaving as well as the use of weaving to create avant-garde three-dimensional forms and figures. She was also an early adopter of the reconceptualization of traditional craft as fine art sculpture. Woman Emancipated, on view in MAD Collects, was one of six works by the artist included in the groundbreaking exhibition Woven Forms (1963) at the Museum of Contemporary Crafts (now the Museum of Arts and Design), which showcased the nascent field of fiber art.
EXHIBITION CREDITS
MAD Collects: The Future of Craft Part 1 is curated by MAD's William and Mildred Lasdon Chief Curator Shannon R. Stratton with Assistant Curators Samantha De Tillio and Barbara Paris Gifford, and support from Assistant Manager of Curatorial Affairs Angelik Vizcarrondo with assistance from Curatorial Assistant Alida Jekabson.
ABOUT THE MUSEUM OF ARTS AND DESIGN
The Museum of Arts and Design (MAD) champions contemporary makers across creative fields and presents the work of artists, designers, and artisans who apply the highest level of ingenuity and skill. Since the Museum's founding in 1956 by philanthropist and visionary Aileen Osborn Webb, MAD has celebrated all facets of making and the creative processes by which materials are transformed, from traditional techniques to cutting-edge technologies. Today, the Museum's curatorial program builds upon a rich history of exhibitions that emphasize a cross-disciplinary approach to art and design, and reveals the workmanship behind the objects and environments that shape our everyday lives. MAD provides an international platform for practitioners who are influencing the direction of cultural production and driving twenty-first-century innovation, and fosters a participatory setting for visitors to have direct encounters with skilled making and compelling works of art and design.
#MADCollects @madmuseum
Contacts
Additional Contact
Image Archive
Press List
Additional Material