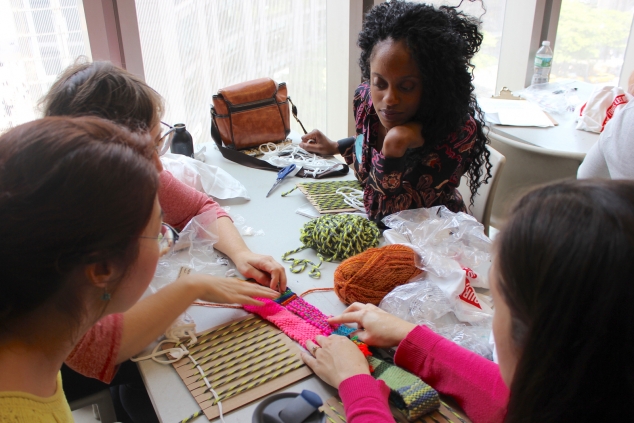 A full-day professional development workshop for K–12 educators focusing on craft, history, and memory.
Teachers' Professional Development 
Teachers' Professional Development at the Museum of Arts and Design complements and expands upon educators' existing knowledge of contemporary art, craft, and design. Led by artists, curators, and museum educators, participatory workshops are designed to help K-12 educators discover creative ways of interpreting and presenting fundamental concepts in all subjects areas, using art, craft, and design as a bridge for comprehension. 
Teacher workshops take place during district-wide professional development days in New York City. MAD also offers custom-designed workshops for individual schools or districts.
Teachers' Advisory Committee
The Teachers' Advisory Committee (TAC) is a select group of K-12 educators who meet during the school year to foster collaboration and learning among schools and museums. TAC is comprised of museum educators and public and private school teachers from New York City, who teach various grade levels and subjects, including art, English, foreign languages, history/social studies, math, science, special education, and technology.
Online Resources for Teachers
To view lesson plans and classroom activities from current and previous exhibitions, please visit the Resource Materials page.
To inquire about Teachers' Professional Development or the Teachers' Advisory Committee, call the Education Department at 212.299.7759 or email education@madmuseum.org.
made possible by
Teacher programs are supported by the William Randolph Hearst Endowment Fund for Education and Outreach Programs, and public funds from the New York City Department of Cultural Affairs in partnership with the City Council.