The Store at MAD | RE:FINE Holiday 2018 Opening Cocktail Party and Shopping Event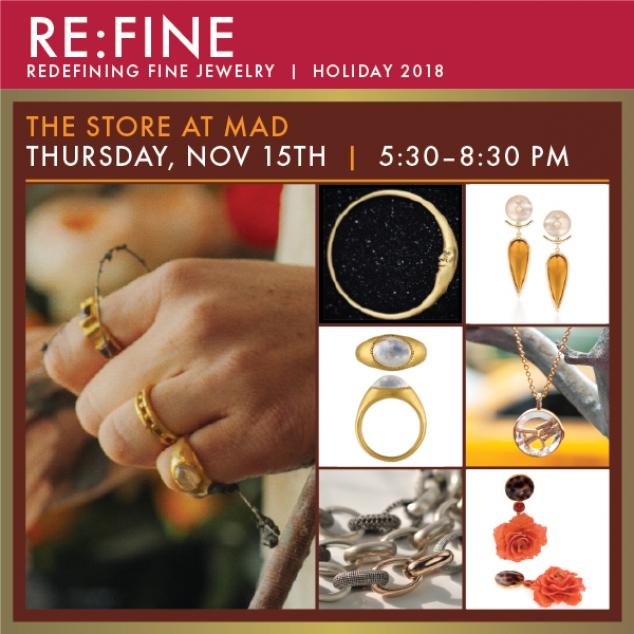 Program Details
Thursday, November 15, 2018 - 5:30 pm to 8:30 pm
The Store at MAD
Thursday, November 15, 2018 - 5:30 pm
Program Description
The Store at MAD invites you to the Opening Evening cocktail party and shopping event of RE:FINE Holiday 2018 premiering 19 forward-thinking international jewelers who offer a refreshing alternative to the conventional world of fine jewelry. The collection will launch with an opening cocktail party and shopping event. On the night of the event many of the artists will be present and guests will enjoy a 20% savings on all purchases.
This marks the fifth seasonal edition of RE:FINE, previously known as Redefining Fine Jewelry. Each edition spotlights artists whose jewelry reflects the ethos of MAD's mission to present work at the intersection of arts, craft, and design.
RE:FINE Holiday 2018's jewelers infuse design with excellence in craftsmanship, incorporating innovative techniques along with the highest-quality precious metals and non-traditional gemstones. Their work is shaping the tastes of today's jewelry collectors—confident men and women who embrace creativity and self-expression in defining their own personal style.
This season's collection features, for the first time, Bahina, Cevherun, Chris Davies, Jennifer Dawes, Anthony Lent, Jean Prounis and the MISUI artists from Barcelona Estela Guitart, Marc Monzo and Noon Passama.
The returning artists are Stephanie Albertson, Lika Behar, Elizabeth Garvin, Moritz Glik Joan Hornig, Tony Malmed, Marian Maurer, Erica Molinari, Todd Pownell and Ana Swarup.
For more information please contact Branden Wuensch branden.wuensch@madmuseum.org or at 212.299.7769