Special Events | LOOT: MAD About Jewelry 2013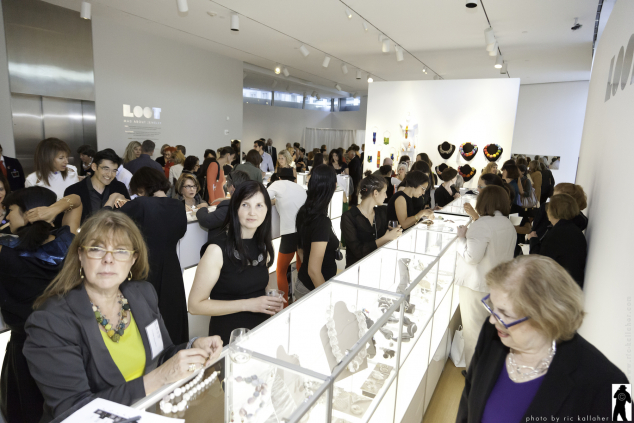 LOOT 2013
click image to enlarge
Program Details
Tuesday, October 1, 2013 to Saturday, October 5, 2013
all day, each day
Wed: 10am to 6pm, Thurs: 10am to 9pm, Fri: 10am to 9pm, Sat: 10am to 6pm
2nd floor galleries, MAD
Tuesday, October 1, 2013 - 4:30 pm
Program Description
Each fall, the Museum presents LOOT: MAD About Jewelry, its annual, five-day exhibition and sale of one-of-a-kind artist-made jewelry. Now in its 13th edition, LOOT 2013 will return this fall from October 1st – 5th and kick-off with a Gala benefit evening on Tuesday, October 1st.  LOOT has become the ultimate pop-up shop for contemporary studio and art jewelry, offering the public the rare opportunity to meet some of the world's most innovative jewelry artists and acquire pieces directly from them. Over 50 jewelers from 20 countries are represented in this year's exhibition and sale. LOOT 2013 will also showcase the work of two jewelry students from New York's Pratt Institute. A Museum-wide Jewelry Study Day on Saturday, October 5th will feature panels and programs on contemporary art jewelry.
A varied mix of international jewelry artists has long been one of LOOT's attractions, and this year is no exception. Countries represented include Argentina, Denmark, Indonesia, Japan, Poland, South Africa, South Korea, and the United Kingdom. Many of this year's jewelers push the boundaries of our understanding of jewelry by using non-traditional materials like 3D printed nylon, glass, felt, porcelain, volcanic lava, recycled rope, fossils, and industrial springs, but, traditional materials like 18K gold, sterling silver, bronze, titanium, aluminum, pearls, and semiprecious stones are also included. Prices range from $200 to $12,000, with $1,000 the average. 
The LOOT Award for Contemporary Art Jewelry will be presented to fashion icons Iris Apfel and Barbara Berger at the event's exclusive Gala Dinner on Tuesday, October 1st.  This is a highly anticipated event, attended by top collectors as well as MAD's Trustees and upper level members. Each year the LOOT Award is presented to an innovator, leader, or luminary in the field of jewelry, including artists, collectors, manufacturers, and designers.
 Please visit http://madaboutjewelry.tumblr.com/ to learn more about the artists, the selling exhibition, and the jewelry study day.  To purchase tickets to the LOOT 2013 Opening Benefit, click here. Please contact Rebekka Grossman with any questions at 212-299-7712 or rebekka.grossman@madmuseum.org.
made possible by
LOOT 2013 is made possible in part through the generosity of the Silver Institute: Silver Promotion Service.