Creative Un-Making with a Cause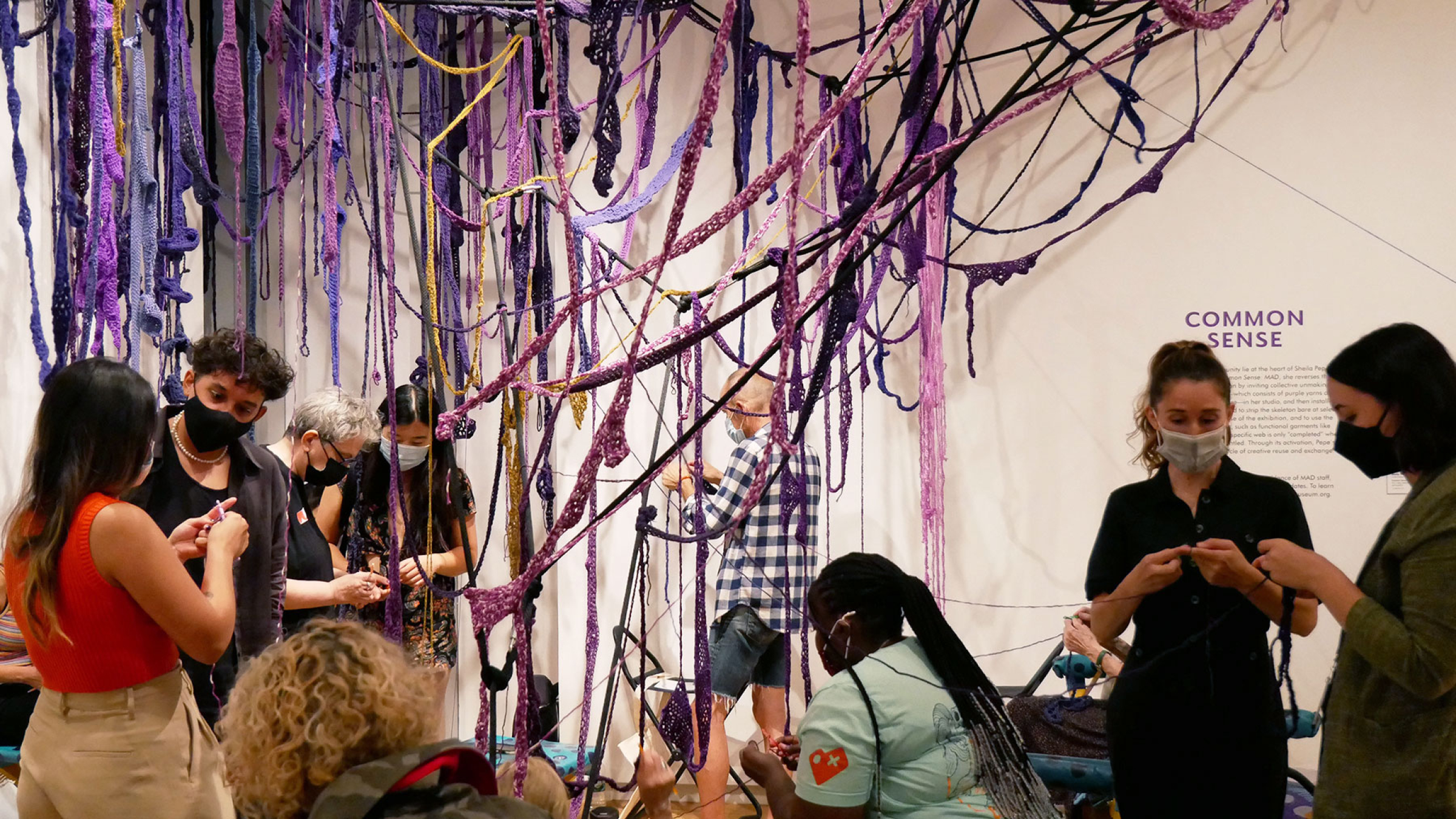 Explore fiber's spontaneous possibilities with artists Sheila Pepe and Jacob Olmedo, and LGBTQ+ youth–advocacy nonprofit Knit the Rainbow. In this after-hours, communal un-making project, participants will unravel, manipulate, and reuse the yarns used to create Common Sense, one of Pepe's most celebrated site-responsive installations, now on view in Carrie Moyer and Sheila Pepe: Tabernacles for Trying Times. In addition, Pepe, Olmedo, and Austin Rivers, founder of Knit the Rainbow, will teach basic knitting techniques, mirroring the continuous nature of making, un-making, and recreation at the heart of Common Sense.
Participants are invited to bring a handknitted garment (either knitted yourself or by others) to donate to Knit the Rainbow, which distributes warm handmade clothing to homeless LGBTQ+ youth in New York City.
ABOUT THE ARTISTS AND FACILITATORS
Knit the Rainbow (KtR) is a nonprofit organization based in New York City. Their mission is to provide handmade knit and crochet winter garments to homeless and at-risk LGBTQ+ youth who live around the nation. KtR was founded in June of 2020 by Austin Rivers, who started the organization to help fight against the housing disparity these youth are facing. In addition to collecting and distributing warm garments, KtR has four other programmatic legs: Community Outreach, Educating the Masses, Pattern Design, and Knit the Future. KtR is continually growing, increasing its volunteer capacity, and forming new partnerships with local and national nonprofit organizations. If you would like to learn more about their work visit www.knittherainbow.org or follow them on social media @knittherainbowinc.
A 2021 Artist Studios resident, Jacob Olmedo intertwines textiles, objects, wearables, and hydroponics to convey social and environmental commentary stemming from his own circumstances and identity as a queer artist, the son of a Mexican-immigrant father, and a climate activist. He uses nature as a symbol of a privilege in shortage created by the climate crisis, and the ultimate form of life and commonality that connects all people. His labor-intensive methods combine crocheting and knitting with electronic tufting and mold-making to create scenic installations of disembodied figures and topographical landscapes that relay ideas of privilege in the context of access to land and minority bodies. During his MAD residency, Olmedo is continuing his recent textile work exploring themes of heritage, social hierarchy, and activism. Olmedo received the 2020 International Talking Textiles Award and earned his MFA and BFA from the Parsons School of Design. He has recently exhibited at Mana Contemporary, Gregg Museum of Art and Design, and NYC Design Week.
Sheila Pepe is best known for her fiber-based, site-specific installations that challenge notions of domestic crafts and "women's work." These web-like structures intervene in architectural spaces and galleries, creating volumes, lines, and shadows that are subject to the changing conditions of the environments they occupy. Part of Pepe's commitment to feminist politics is her long-standing engagement with collective making. In 2007 she undertook several ambitious collaborative projects, including Liquid Sky at MoMA PS1. Pepe's other collaborations have reversed the terms of making and invited collective unmaking. In her Common Sense series, participants are encouraged to unravel her textile installations and use the materials for their own purposes.
More about Common Sense
Collaboration and community lie at the heart of Sheila Pepe's practice. In this site-specific installation, she reverses the notion of individual creation by inviting unmaking. Pepe crocheted the piece—which consists of purple yarns and a black, skeletal substructure—in her studio, and then installed it at MAD. Visitors are invited to strip the skeleton bare at select times throughout the course of the exhibition, and to use the materials in new creations, such as functional garments like scarves or gloves. The site-specific web is only "completed" when its fibers are totally dismantled. Through its activation, Pepe's installation instigates a cycle of creative reuse and exchange. Common Sense installations, begun in a collaboration with curator and museum director Elizabeth Dunbar in 2009, have been activated around the world at venues in Austin, Boston, Chicago, Houston, Tbilisi, and Athens.
In accordance with the Mayor of New York City's Emergency Executive Order, all attendees are required to provide I.D. and proof of vaccination against Covid-19. Learn more about the Museum's health and safety protocols.