MAD Teens' Podcast with Special Guest Anthony Akinbola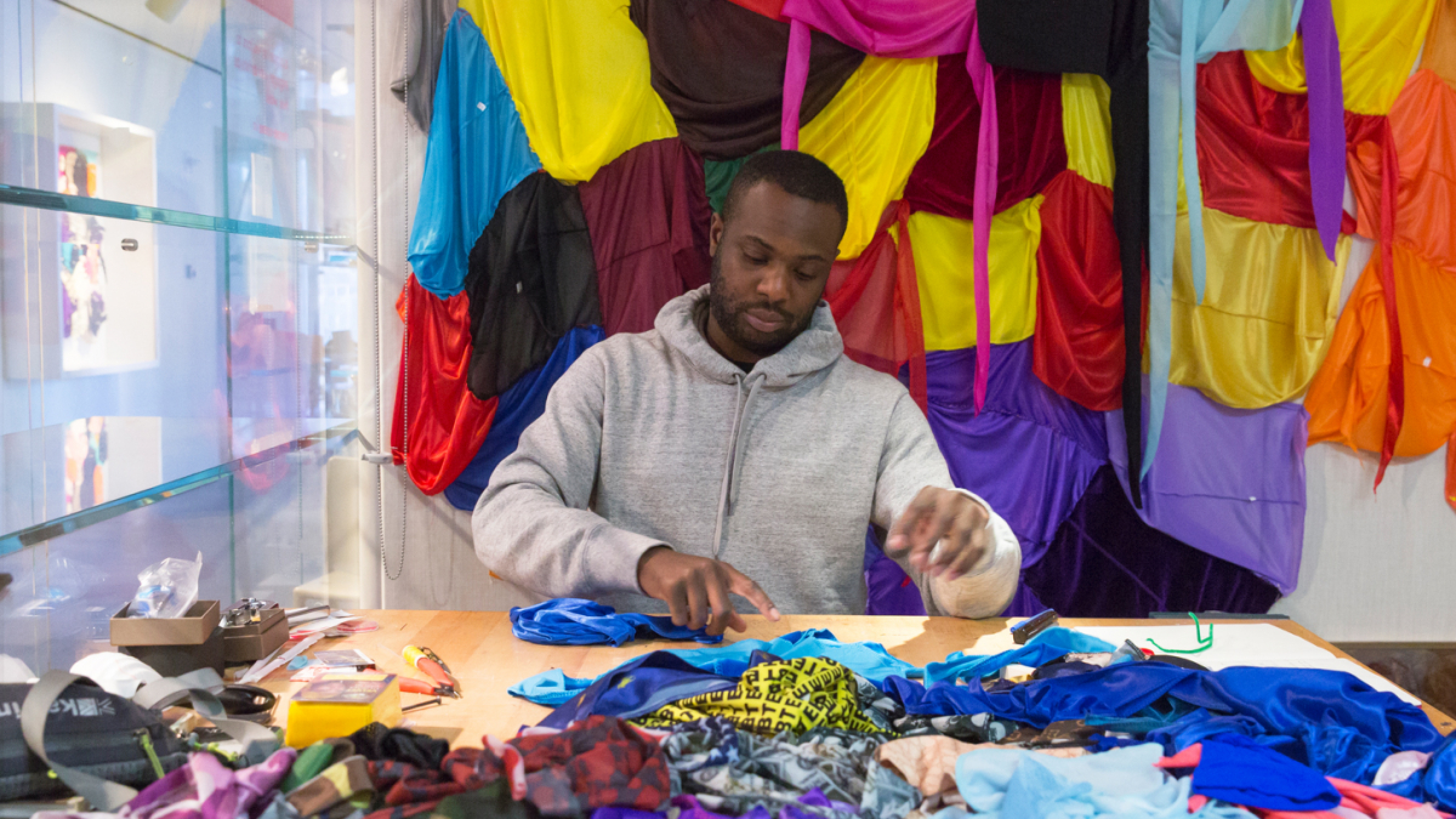 The 2020 MAD teen summer interns interview the Museum's 2019 Artist Fellow Anthony Akinbola for a podcast about his art's underlying purposes and his creative processes, including the use of durags as found materials. The producers of this MAD Teens' Podcast are Kody Cheung, William French, Davis Luengthada, and Eleni Tsevis.
Listen
Anthony's Advice for Young Artists and Arts Workers
MAD's teen interns asked Anthony: "what advice would you give to aspiring artists like us… like people that are just joining the art world and figuring out what they want to do?" Here's what the artist recommends:
Research and apply for the National YoungArts Foundation's competition.

Reach out on Instagram to artists and ask questions.

Read about artists so you can add to the conversation. "When I was starting to make art, I wasn't doing a lot of reading," recalls Anthony, "so when I do something, I'd be like 'Oh yeah! Like I'm a genius,' and then I find out that this has been done before I was even born."

Remember that art is subjective, so do not be scared to experiment and create a unique style of art and share it out to the world. Anthony says, "put stuff out in the world and get opinions on it, and like use the feedback from [audiences]…. I think a lot of young artists are too scared to present their work or put it out because they think it's bad. But I think you need to remember that art is subjective. And you're young, too. So it's like, the stakes are hella low right now. So I think it is a time to make as much as you can and experiment as much as you can. I think being young is the best time to make whatever and experiment and, kind of like, figure out what it is you want to do."

Realize that feedback and constructive criticism is beneficial for your artwork to grow! Anthony says,"Put stuff out in the world and get opinions on it, and, like, use the feedback from [audiences]….I think it's really nice to put something in the world and have people look at it and kind of explain what it means to them."