9 Truths About Brian Clarke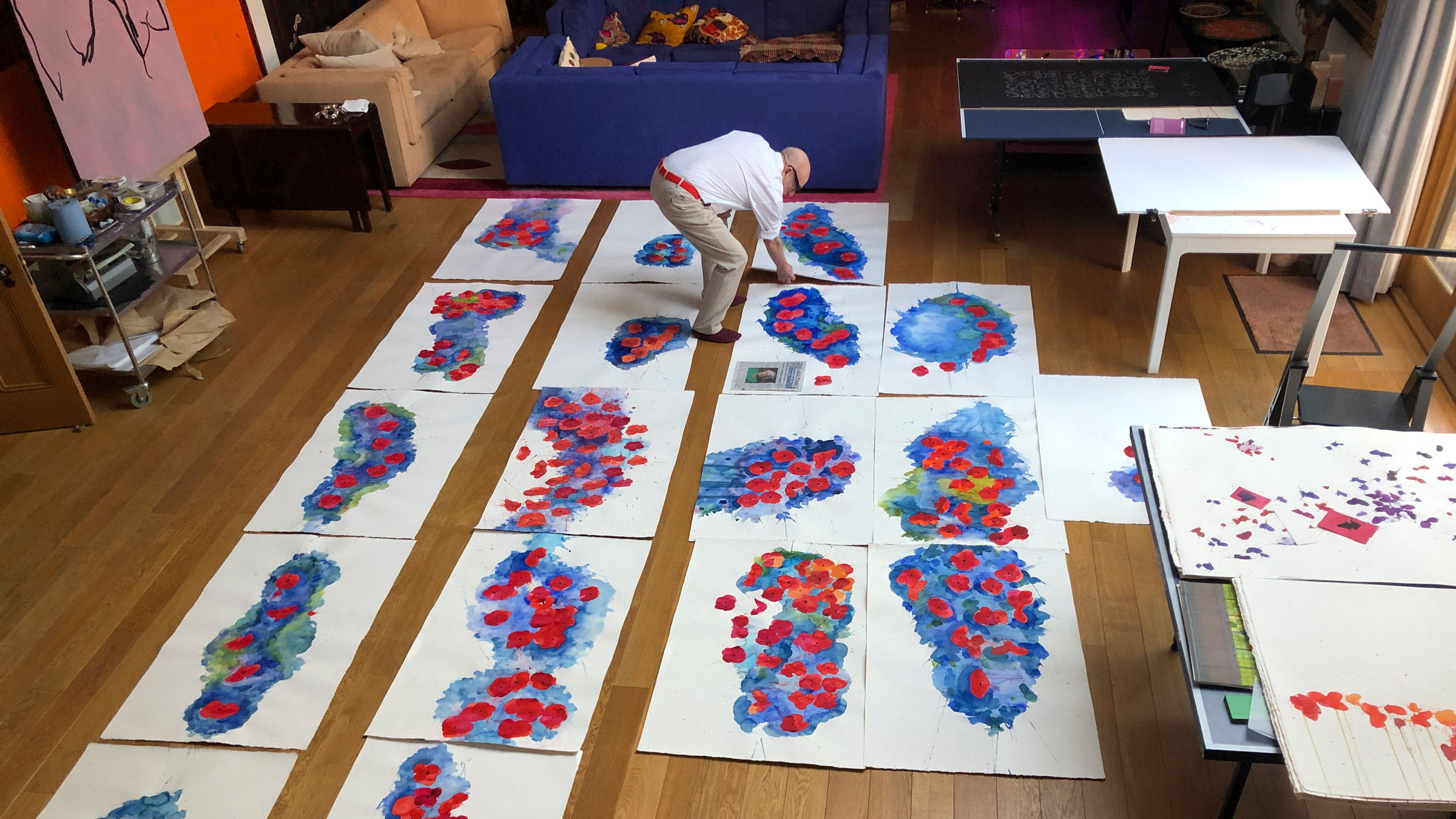 Widely recognized as the most significant contemporary artist working in stained glass, architectural artist Brian Clarke has led a life as extraordinary as his art. His freestanding stained-glass screens, compositions in lead, works on paper, and ephemera are now on view in the exhibition Brian Clarke: The Art of Light.
Born in the north of England in 1953, Brian Clarke's father was a coal miner and his mother was a cotton spinner. Clarke entered art school at age 13 on a fulltime scholarship meant to help working-class children become professional artists.
In his late teens, a girlfriend who was a clergyman's daughter brought him to see a stained-glass window installed in a church in Lancashire, inspiring his nearly life-long engagement with the medium.
Clarke believes that the movement of light through stained glass allows for experiences not available through the traditional fine arts—and that its subject matter can address any aspect of the human condition.
Clarke considers painting his core practice, and has said, "It is through painting that I understand how to view architecture, appreciate the rhythm of a poem, draw pleasure from the structure of a well-composed sentence. And it is through painting that the complexity of music makes itself understood to me. It is through painting, in fact, that I am."
The artist counts musician Paul McCartney among his closest friends and collaborators. Clarke designed a stage set for McCartney's 1993 world tour that featured a visual history of stained glass from the eleventh century to the present day. Paul's hands are seen in Clarke's 2007 Study for Portrait of a Musician.
The artist first eliminated the lead support for his stained glass in 2000. In Riyadh, Clarke designed a 22,000 square-foot wall of glass that became a panoramic depiction of Saudi industry, landscape, flora, and fauna for the city's first skyscraper.
The fabrication process for Clarke's stained-glass screens combines ancient glass-blowing techniques with twenty-first-century technology for layering and cutting into colored glass. Working with fabrication studios in Germany, the artist has achieved a nearly endless color palette in glass.
Line-drawn in liquid lead, skulls appear frequently in Clarke's art. Often, they are portraits of the men and women who he views as important influences, including art historian Kenneth Clark, his formidable aunties, and his friend and collaborator Norman Foster.
Flowers for Zaha contains a single red orchid set against a near black background. Zaha Hadid, who died unexpectedly in 2016, was one of Clarke's dearest friends. The architect loved orchids and their unfolding, asymmetrical forms. Clarke's series of works on paper titled Night Orchid are also included in the exhibition.