Noordeman and Wright: Audiowear
Part of Sonic Arcade: Shaping Space with Sound
Aug 22, 2017–Feb 11, 2018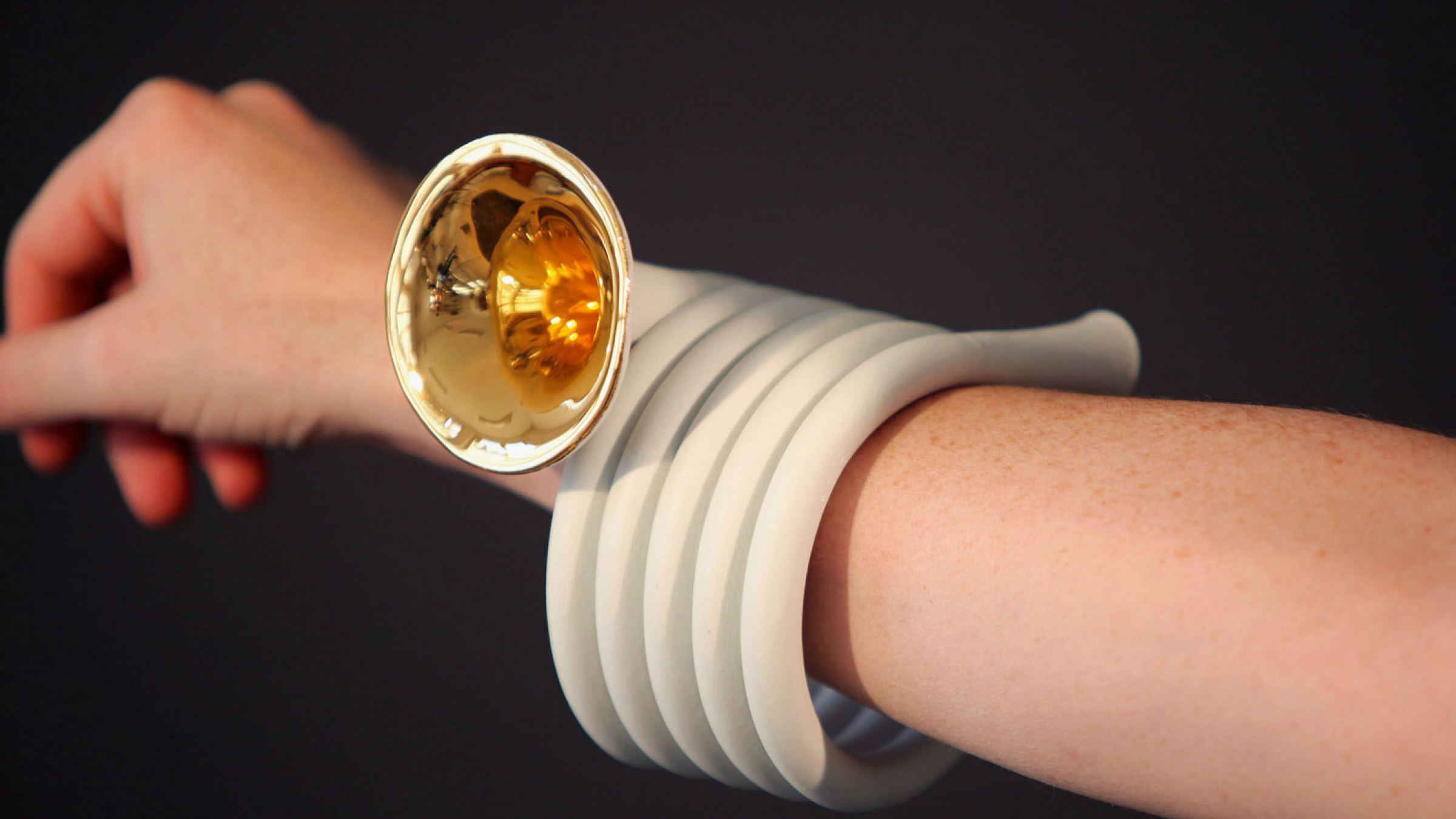 Sonic Arcade: Shaping Space with Sound is a multi-component exhibition featuring interactive installations, immersive environments, and performing objects that explore how the ephemeral and abstract nature of sound is made material. At a time when so much visual information is being dispatched, consumed, and digested, the auditory provides a compelling sensory experience that is capable of reorienting the body to consider spatial and interpersonal relationships anew.
Comprised of linked solo and curated projects, Sonic Arcade explores sound as substance, framing it as interdependent material that is physically crafted and transmitted through electronic circuits and signals, radio waves, and resonant bodies that create encounters that are not only heard, but felt. The exhibition features contemporary artists, designers, and performers who respond to sound's potential as a material that influences how people experience space, their environment, and time, drawing out the ability of the auditory to provide a fresh perspective on how surroundings, and the body, are perceived and engaged.
Sonic Arcade features Audiowear, a collaborative solo project by Arjen Noordeman and Christie Wright.
Audiowear is curated for the Tiffany & Co. Foundation Jewelry Gallery by Assistant Curator Barbara Paris Gifford.
Leading support for Sonic Arcade: Shaping Space with Sound is generously provided by the Andy Warhol Foundation for the Visual Arts and Michele and Marty Cohen. The Museum of Arts and Design also gratefully acknowledges the support of exhibition co-chairs Andi Potamkin Blackmore and Jordan Blackmore; Laura and Lewis Kruger; MAD's Chairmen's Council and Director's Circle; Paul Kasmin Gallery; Upfor; the Consulate General of the Netherlands as part of the Dutch Culture USA program; the Consulate General of Israel; and the Danish Arts Foundation. In-kind support for this exhibition is provided by KEF and Turnstyle Underground Market. In-kind support for the exhibition's education and public programs is provided by littleBits Electronics, Inc.
Media Partner: WNYC
This exhibition is supported, in part, by public funds from the New York City Department of Cultural Affairs in partnership with the City Council.
Sonic Arcade: Shaping Space with Sound is curated by Shannon R. Stratton, MAD's William and Mildred Lasdon Chief Curator, with the support of Curatorial Assistant and Project Manager Angelik Vizcarrondo-Laboy. The activation of Studio PSK: Polyphonic Playground is curated by Manager of Public and Community Engagement Programs Danny Orendorff.
Artist Bios
Arjen Noordeman is based in Amsterdam, the Netherlands. He has worked as a designer for the interactive design company the Chopping Block in New York City, as well as for broadcast companies including RTL in the Netherlands and Bravo in New York. He has also served as Director of Design at the Massachusetts Museum of Contemporary Art and as Art Director at Nickelodeon in New York City. He and his design partner, Christie Wright, created Audiowear, a series of musical jewelry inspired by idiophone and aerophone instruments and the acoustic quality of clay. The recipient of Promax Entertainment Creative, Eyes & Ears, and Art Directors Club Awards, Noordeman is currently Creative Director of Brand Design for Comedy Central, Spike, and Paramount Network in Amsterdam.
Christie Wright is based in Amsterdam, the Netherlands. She has created work for various publications, including Martha Stewart Living, View on Colour, and Bloom magazine. She has served as a stylist for the trend forecasting company Studio Edelkoort, Paris, as a designer creating products for the lifestyle brand West Elm in Brooklyn, and as a teacher in the Product Design Department of Parsons School of Design. She and her design partner, Arjen Noordeman, created Audiowear, a series of musical jewelry inspired by idiophone and aerophone instruments and the acoustic quality of clay. The recipient of various honors, including a Fulbright grant and a Louis Comfort Tiffany Grant for the Arts, Wright is currently Associate Creative Director for Marcel Wanders' studio in Amsterdam.