THE FUN
fellowship in social practice of nightlife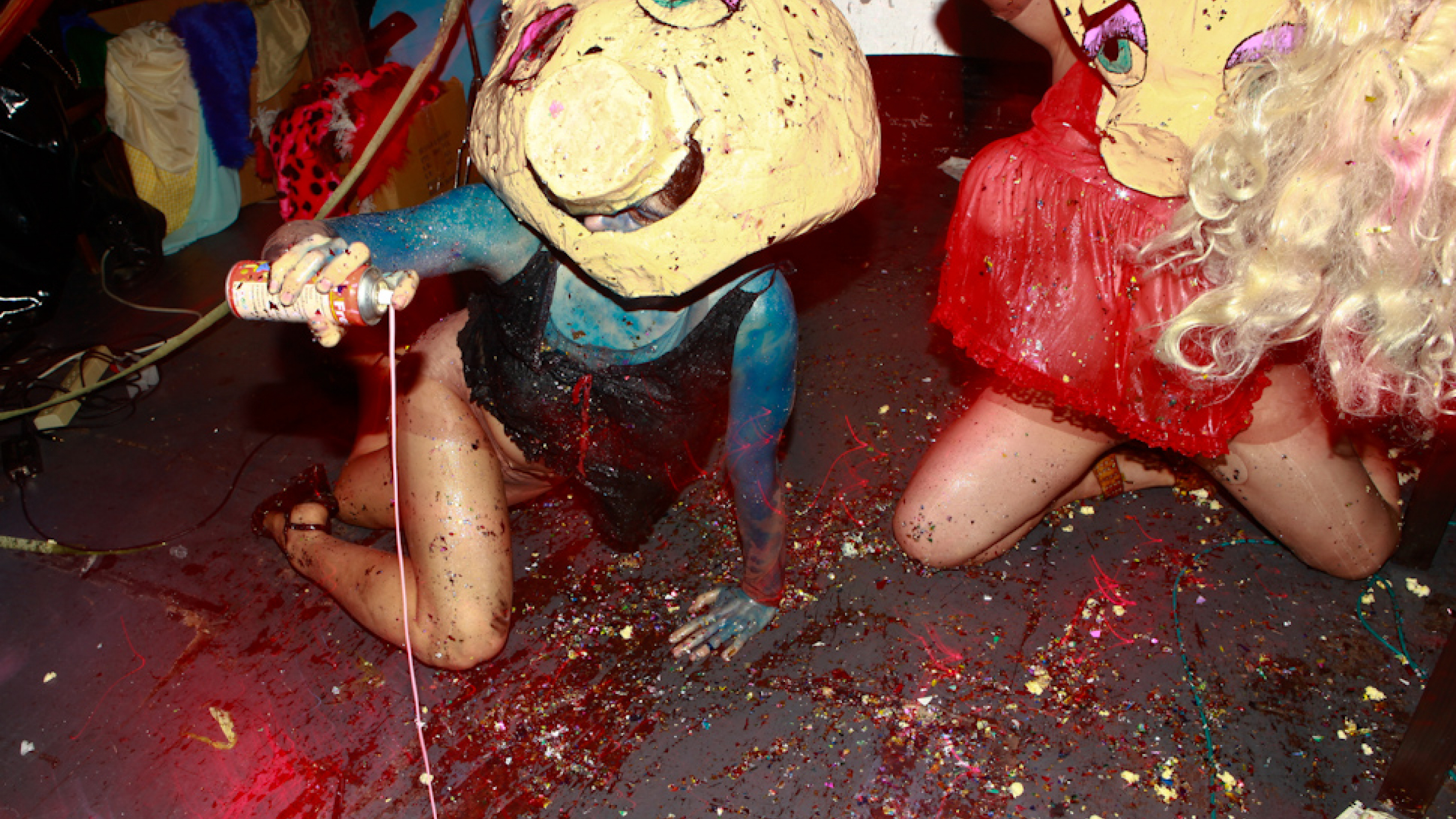 In recognition of New York nightlife's vital contribution to the city's creative community and its artistic pursuits, the Museum of Arts and Design introduces THE FUN fellowship. THE FUN annually provides four artists or artist collaboratives with financial and logistical support to strengthen and advance their endeavors in this undervalued social practice. The first recipients of this fellowship are Judy (Gabriel Babriel, Brian Belukha, Benjamin Haber, and Icky Mikki), Earl Dax, Gag! (Cameron Cooper and Zach Cole), as well as Lauren Devine and Patrik Sandberg.
From the beginnings of the modern era, nightclubs of fin-de-siecle Paris, the cabarets of post WWI Berlin, all the way to the dance clubs of London and New York in the 80s and 90s, nightlife has been a petri dish for artists to germinate new strains of creativity and spawn fresh artistic collaborations. These environments serve as spaces for individuals of different, social, economic and cultural backgrounds to exchange ideas and experiences, spurring the development of new artistic disciplines and approaches.
In today's NYC, artists working in this social practice find themselves increasingly challenged in their search for logistical and financial support. MAD is proud to support these unique artists, and to thus ensure that New York City nightlife retains its historical vibrancy.
THE ARTISTS AND THEIR PROJECTS
JUDY
JUDY organizes inclusive queer parties that incorporate performances and installations emphasizing freedom and respect. In an effort to address New York's lack of artist-run community venues, JUDY will utilize their fellowship to transition their practice into a non-profit organization dedicated to the development of a long-term venue to hold artist-run parties, performances, and events. 
Earl Dax – The Party Which Dare Not Speak Its Name Tour
The parties in the Lower East Side presented by The Party Which Dare Not Speak Its Name* (its actual name is an epithet that was hurled at Dax during a now-infamous brawl with a former co-promoter) bring together performance artists from a plethora of backgrounds. THE FUN fellowship will enable Dax to stage the Party Which Dare Not Speak Its Name Tour, in which 30 to 50 performance artists from New York's five boroughs work will collaborate with artists from each visited East Coast city.
Cameron Cooper and Zach Cole – Gag! The Free Store
Cameron Cooper and Zach Cole, the duo behind the Brooklyn-based party Gag!, will create the Gag! Free Store.  Mining the ephemera of cultural nostalgia, fashion, and the branding of lifestyles, the Gag! Free Store will be an experiment in material hierarchies.
This fall, during New York Fashion Week, the Free Store will create a daylong, happening-style, drop-in event. From one-of-a-kind designer fashion samples to rare mix tapes of the 1990s, the Free Store will gather and offer a milieu of "valuable" objects. Free and open to the public, anyone will be able to visit the Free Store and remove an object from it as long as they replace it with an item they believe to be of equal value. All the original items and final items will be documented.
Lauren Devine and Patrik Sandberg – Snack the Planet
Blurring the distinctions between digital and physical interactions Lauren Devine and Patrik Sandberg team up to recreate the fictitious 90's internet café from the film Hackers—part hackers lounge and part virtual arcade—called Snack the Planet.
Bringing together media installations, bands, visual artists, culinary artists, and internet archivists into a unified community, Snack the Planet seeks to re-examine a time before digital and physical socializing had yet to be separated.
Events