Museum of Arts and Design Continues its Celebration of Punk Graphic Design and its DIY Spirit this Summer
Too Fast to Live, Too Young to Die: Punk Graphics, 1976–1986 On view through August 18, 2019
Global Punk Film Series, Artist and Designer Talks, Design Activatio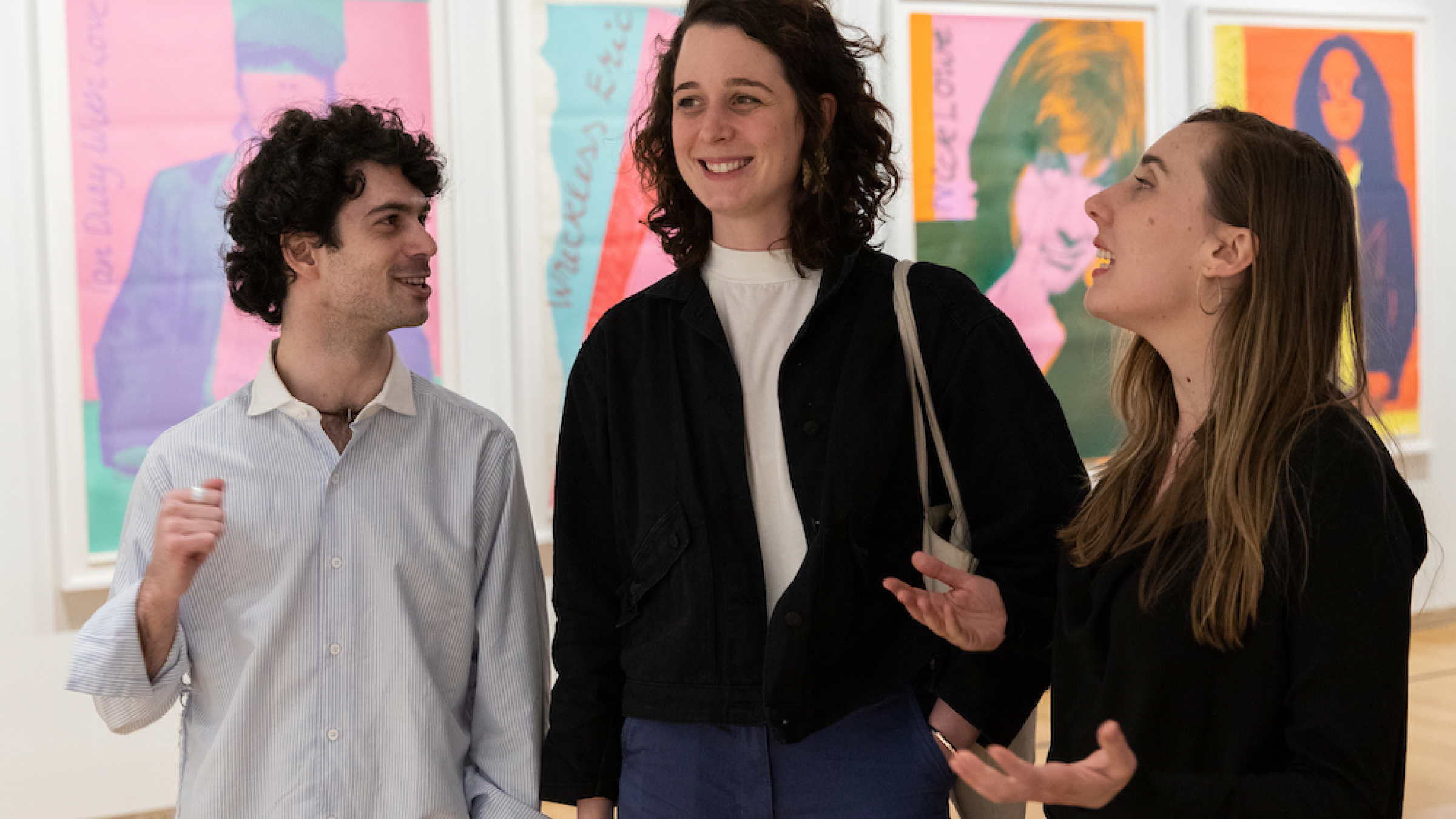 New York, NY (May 23, 2019)
In conjunction with its major exhibition Too Fast to Live, Too Young to Die: Punk Graphics, 1976–1986, the Museum of Arts and Design (MAD) offers a full slate of summer programming that celebrates the visual language of punk and its influence on cinema, fashion, and more. From the Global Punk Film Series to programs with several of punk's most iconic figures to special artist events with Dr. Martens to the color and noise of the galleries, the DIY spirit of punk rock will fill the Museum.
Too Fast to Live, Too Young to Die explores the punk and post-punk movements through the lens of graphic design. On view through August 18, 2019, the exhibition features more than four hundred of punk's most memorable graphics, including flyers, posters, album covers, promotions, zines, and other ephemera.
MAD's Global Punk Film Series runs through July 11, 2019, and showcases films centered on punk's influence around the globe. When punk first exploded on the scene in London and New York, its seismic shocks galvanized youth movements worldwide for rebellion and social change. Like the bands that inspired them, these films upend genre formulas in the service of satire, protest, and a possible better world.
Upcoming Global Punk Film Series screenings include: Young Soul Rebels (1999, United Kingdom)on May 23, 2019; Bikutsi Water Blues, (1988, Cameroon) on June 1, 2019, followed by an interview and Q & A with director Jean-Marie Teno facilitated by Richard Peña, Director Emeritus of the New York Film Festival; Arada (2018, Turkey) on June 6, 2019, a U.S. premier with director Mu Tunc; Kutya éji dala (The Dog's Night Song) (1983, Hungary); and Wild Zero (1999, Japan) on July 11, 2019.
The Global Punk Film Series was curated by Joseph Pomp, a PhD candidate in Comparative Literature at Harvard University.
Public panel discussions and events planned in conjunction with Too Fast to Live, Too Young to Die also continue through the summer months. On May 30, 2019, legendary rock photographers Bob Gruen, David Godlis, Marcia Resnick and Paul Zone discuss documenting New York City's downtown punk scene with Gillian McCain and Legs McNeil, authors of Please Kill Me: The Uncensored Oral History of Punk. McCain and McNeil return on July 18, 2019, for a conversation with Sire Records co-founder Seymour Stein and his friends about his groundbreaking career.
On select Thursday evenings, visitors are invited to wear their Dr. Martens boots or shoes and have them customized by MAD artist-in-residence Tamara Santibañez and guest artists during pay-what-what-you-wish hours from 6 – 9 p.m. Santibañez, who is undertaking a new body of work using leather tooling to reproduce punk and heavy metal patches and logos at MAD, will be joined by graphic designer and illustrator Daniel Shepard on May 23, 2019; award-winning illustrator and art director John F. Malta on June 20, 2019; and multidisciplinary artist Sarah Myers on August 8, 2019. Courtesy of Dr. Martens, at each event one lucky visitor will win a special pair of the iconic brand embellished by the artist.
This summer, MAD will launch an ongoing Design Happy Hour, occasional evening workshops with wine and beer for young professionals. Designer, educator, and celebrated photographer of New York City's No Wave scene, Julia Gorton will lead a workshop on DIY Graphic Design at the Museum's first Design Happy Hour on July 17.
Additionally, during Museum hours, a multimedia presentation, Please Kill Me: Voices from the Archive, will play continuously in the exhibition gallery. Narrated by McNeil and McCain and compiled by filmmaker/artist Brendan Toller, the presentation includes vintage interviews from Iggy Pop, Joey and Dee Dee Ramone, Debbie Harry, Jim Carroll, Billy Name, and others, combined with never-before-seen photographs and ephemera from Fred W. McDarrah, Adam Ritchie, Danny Fields, Bob Gruen, James Marshall and Gillian McCain, David Godlis, Leni Sinclair, Mike Barich, Natalie Schlossman, Paul Zone, and Tom Hearn.
More information about summer programs and events at MAD and current exhibitions is available at madmuseum.org.
EXHIBITON CREDITS
Too Fast to Live, Too Young to Die: Punk Graphics, 1976-1986 is organized by Cranbrook Art Museum, Bloomfield Hills, Michigan, and curated by Andrew Blauvelt, Director and Curator-at-Large for Design at MAD, with the assistance of Steffi Duarte. The presentation at the Museum of Arts and Design was managed by Curatorial Assistant Alida Jekabson.
Unless otherwise noted, all objects in this exhibition are courtesy of Andrew Krivine. The Museum of Arts and Design is extremely grateful for his support of this exhibition.
The exhibition is sponsored in part by Dr. Martens with the support of Marian and Russell Burke, Michael and Patti Dweck, The Paulsen Family Foundation, and Flora Major for the Kutya Major Foundation.
ABOUT THE MUSEUM OF ARTS AND DESIGN
The Museum of Arts and Design (MAD) champions contemporary makers across creative fields and presents the work of artists, designers, and artisans who apply the highest level of ingenuity and skill. Since the Museum's founding in 1956 by philanthropist and visionary Aileen Osborn Webb, MAD has celebrated all facets of making and the creative processes by which materials are transformed, from traditional techniques to cutting-edge technologies. Today, the Museum's curatorial program builds upon a rich history of exhibitions that emphasize a cross-disciplinary approach to art and design, and reveals the workmanship behind the objects and environments that shape our everyday lives. MAD provides an international platform for practitioners who are influencing the direction of cultural production and driving twenty-first-century innovation, and fosters a participatory setting for visitors to have direct encounters with skilled making and compelling works of art and design. For more information, visit madmuseum.org.
Contacts
Wendi Parson
Deputy Director, Communications and Marketing
212.299.7749
Iman Nelson
Marketing and Media Relations Manager
212.299.7733
Email: press@madmuseum.org
Image Archive
Press List
Additional Material