MAD to Present 'Sterling Ruby: Ceramics,' the Artist's First Solo Institutional Exhibition in New York City
Focusing on Ruby's practice in clay, the exhibition upends contemporary assumptions about the processes of making

Sterling Ruby: Ceramics
October 3, 2018 – March 17, 2019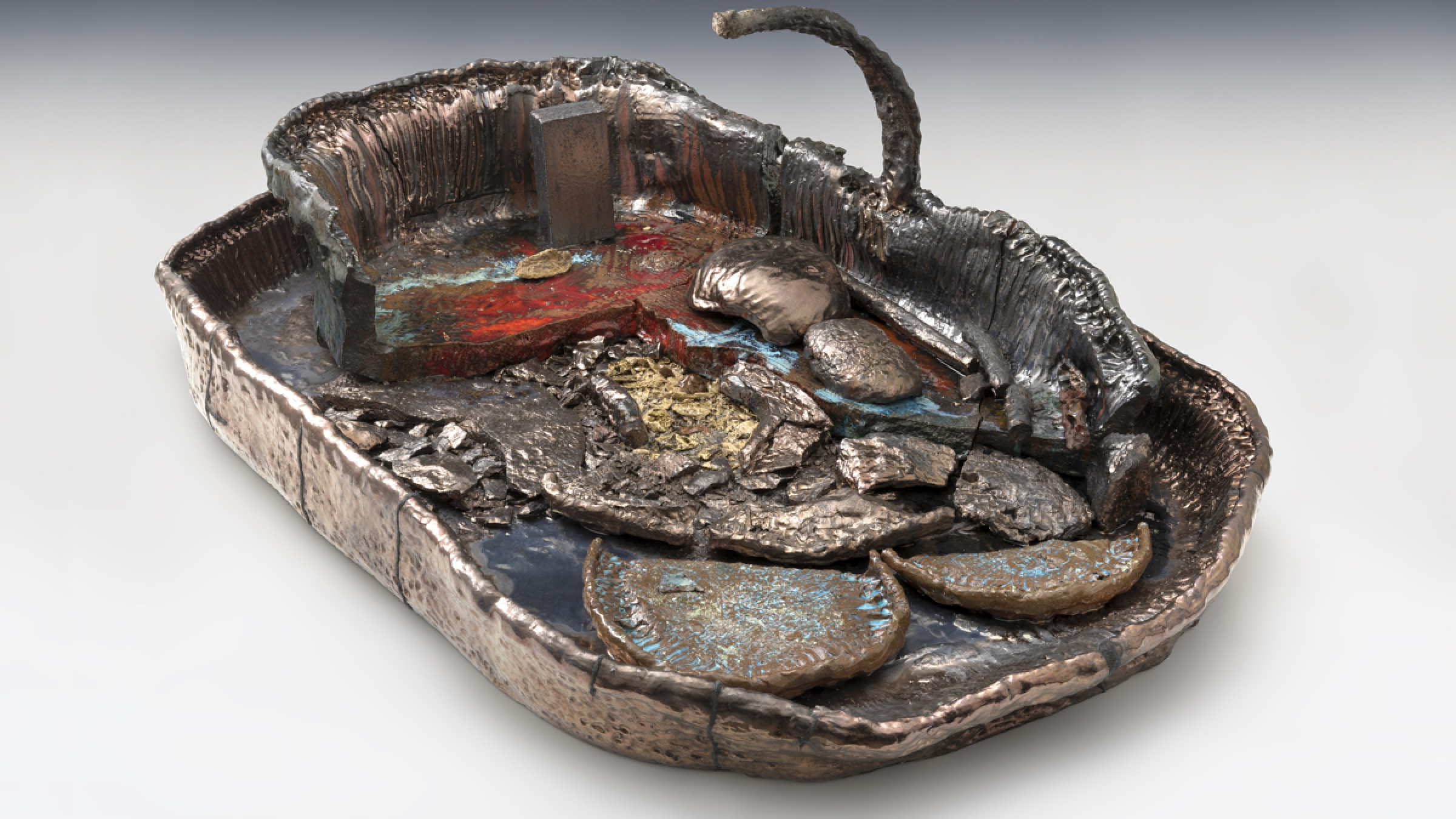 New York, NY (August 21, 2018)
From October 3, 2018, through March 17, 2019, the Museum of Arts and Design (MAD) will present Sterling Ruby: Ceramics, the artist's first solo museum show in New York City. The exhibition will focus on Sterling Ruby's large ceramic works, showcasing over twenty fired and glazed clay basins and other hand-built objects.
"As an institution dedicated to championing artists who work in and expand the field of craft, MAD is a natural home for Sterling Ruby's first solo institutional exhibition," said Shannon R. Stratton, MAD's William and Mildred Lasdon Chief Curator. "Ruby's interdisciplinary and transparent exploration of craft materials and methodologies exemplifies the Museum's mission. His work both inspires and challenges, prompting audiences to question modern definitions not only of craft but of contemporary art practice more generally."
Sculptures in clay have long held a fascinating and primary position in Ruby's broader studio work. Though he has no interest in separating himself from the history of his materials, Ruby upends tradition by creating hybrid ceramic forms that are simultaneously familiar and alien. In a process heavily indebted to craft, he manipulates clay by hand and machine to arrive at basins or vessel-like containers that often hold the debris of previous kiln misfires. Akin to an Abstract Expressionist canvas, the clay provides a responsive, tactile surface that records Ruby's aggressive gestures. The finish on each piece is as important as its construction: thick glazes accumulate in deep glossy pools and drip from every form. Like a reverse archaeologist, Ruby embeds the results of his experiments in clay within the final art object.
Clay, which Ruby calls his "monument material," is a natural ingredient for his art. The medium has a long tradition across many cultures, used by artists and craftspeople to make both purely functional objects and high art. Unrestricted by theory, clay invites a free-form and spontaneous approach to art making, which has enabled Ruby to create an extraordinary body of work that is engaging, intuitive, and subversive. Unconcerned with preciousness or uniformity, the artist's ceramics celebrate the technical challenges of the medium, expanding its limits while conveying their dissolution altogether.
Ruby's larger body of work includes a wide range of formats, many with a relationship to craft traditions, both studio and amateur. In addition to ceramics, his practice incorporates fabric, found-metal sculpture, cardboard collages, and drawings on paper.
Sterling Ruby: Ceramics was organized by the Des Moines Art Center and curated by the Art Center's Director, Jeff Fleming. The exhibition was secured for the Museum of Arts and Design by William and Mildred Lasdon Chief Curator Shannon R. Stratton with support from Assistant Manager of Curatorial Affairs Angelik Vizcarrondo-Laboy.
The exhibition is on view at the Des Moines Art Center through September 9, 2018. The Museum of Arts and Design is its second venue. Sterling Ruby: Ceramics is accompanied by a full-color catalogue.
ABOUT THE MUSEUM OF ARTS AND DESIGN
The Museum of Arts and Design (MAD) champions contemporary makers across creative fields and presents the work of artists, designers, and artisans who apply the highest level of ingenuity and skill. Since the Museum's founding in 1956 by philanthropist and visionary Aileen Osborn Webb, MAD has celebrated all facets of making and the creative processes by which materials are transformed, from traditional techniques to cutting-edge technologies. Today, the Museum's curatorial program builds upon a rich history of exhibitions that emphasize a cross-disciplinary approach to art and design, and reveals the workmanship behind the objects and environments that shape our everyday lives. MAD provides an international platform for practitioners who are influencing the direction of cultural production and driving twenty-first-century innovation, and fosters a participatory setting for visitors to have direct encounters with skilled making and compelling works of art and design.
#SterlingRubyCeramics
Contacts
Additional Contact
Image Archive
Press List
Additional Material