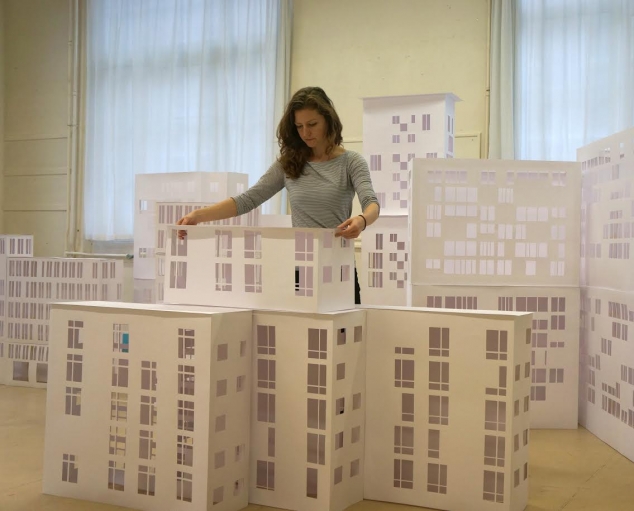 Stephanie Beck
click image to enlarge
Aviary

click image to enlarge

Runoff: Cache la Poudre

click image to enlarge

Stephanie Beck

click image to enlarge

Stephanie Beck

click image to enlarge

Towers (rehearsal image)

click image to enlarge
About
Stephanie Beck is interested in exposing the fragility and transience within the seemingly static architecture of the public and private spaces in which we live. She sees buildings as surrogates for ourselves and works with them to investigate and illustrate our human frailties. Beck explores these ideas through sculpture, installation, interactive events, and collaborations on set and prop design for a dance/theater company.
At MAD, Beck created an interactive tabletop installation of cut paper buildings that visitors manipulated to create a constantly changing cityscape. This interaction explored individual experiences of space and structure as well as the communal experience of a continually shifting built environment. Beck hoped to inspire visitors to think more critically about how their city is organized and why.
Beck earned an MFA from Pennsylvania Academy of the Fine Arts, a Post-Baccalaureate Certificate from the School of the Museum of Fine Arts, Boston, and a BA in Art History from the University of Virginia. For more information please visit her website: www.stephaniebeck.org.