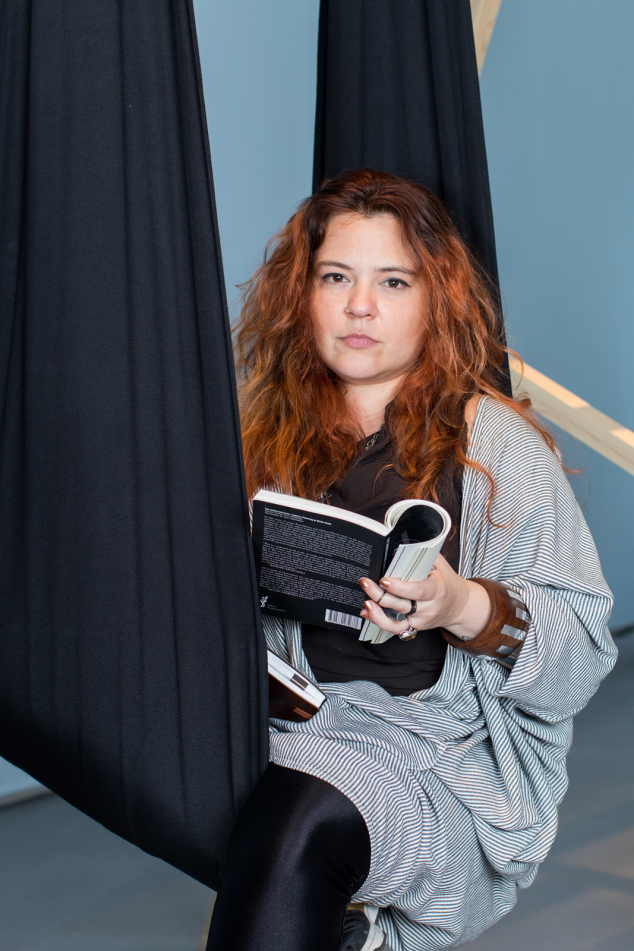 Stephanie Acosta
click image to enlarge
Stephanie Acosta

click image to enlarge

Stephanie Acosta

click image to enlarge

Stephanie Acosta

click image to enlarge

Stephanie Acosta

click image to enlarge

Stephanie Acosta

click image to enlarge

Stephanie Acosta

click image to enlarge
Stephanie Acosta is a multidisciplinary artist who places the materiality of the ephemeral at the center of her practice, questioning meaning-making and manufactured limitations. During her At Play residency, Acosta will work with an ensemble of dancers, musicians, and writers to develop a new exploratory performance inspired by the American landscape, the cinematic thriller, and the site and sounds of Polyphonic Playground.
Acosta blends performance with practice-based research, making work in response to, while also creating, site and space. Engaging ensembles in facilitated processes, she creates fleeting performance works that challenge site, space, and perception to bring about shared experiences.
Acosta has produced and presented works with and for Knockdown Center, the Current Sessions, Miami Performance International Festival, Anatomy Collective, IN>Time Symposium, the Chicago Park District, the Performance Philosophy conference, High Concept Labs, Read/Write Library, No Media, and Radius. In her continued commitment to the experimental voices of Chicago's performance art communities, Acosta has also collaborated with artists such as Mark Jeffery and Judd Morrissey of ATOM-r, as well as performance artists Robin Deacon and Erica Mott and sonic artist Jeff Kolar. 
A Cuban American born and raised in Miami, Florida, and currently residing in Brooklyn, Acosta works extensively with unseen histories, performance, experimental radio, and film. She has recently collaborated with Intrinsic Grey Productions on experimental feature films including The Ladies Almanack, which recently had its world premiere at Outfest Los Angeles. Currently, Acosta heads up the monthly performance series Sunday Service with co-creator Alexis Wilkinson and leads discourse at American Realness. She can also be found working on a new publication with longtime collaborator Rory Murphy under the name NO ONE IS ANYWHERE, as well as on upcoming performances with artists Leslie Cuyjet, Jessie Young, Angie Pittman, and Miguel Gutierrez.
Schedule
Residency/Program/Performance Dates
All Days 10am to 6pm
Friday, August 25

Friday, September 1
Saturday, September 2

Friday, September 8

Saturday, September 9

Friday, September 15
Saturday, September 16

Friday, September 22

Saturday, September 23

Friday, September 29

Saturday, September 30

Friday, October 6

Saturday, October 7

Friday, October 13

Saturday, October 14

Friday, October 20
Saturday, October 21
Friday, October 27

Saturday, October 28

Friday, November 3

Saturday, November 4

Friday, December 1
Saturday, December 2
Friday, December 8

Saturday, December 9
Friday, December 15
Saturday, December 16

Friday, December 22

Friday, January 5

Saturday, January 6

Friday, January 12

Saturday, January 13
Friday, January 26

Saturday, January 27
Sunday, February 4
Tuesday, February 6
Wednesday, February 7
Thursday, February 8

Friday, February 9
Saturday, February 10