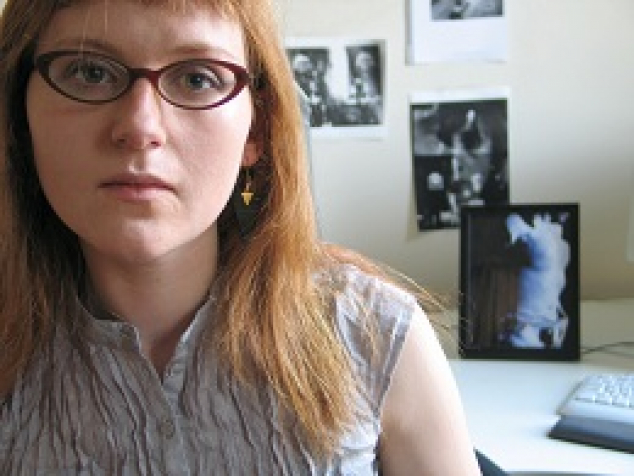 Sophie Kahn
Artist Sophie Kahn
click image to enlarge
Figure of a Young Woman, Sleeping

Figure of a Young Woman, Sleeping, epoxy and plaster rapid prototype, 2006

click image to enlarge

Head of a Young Woman II

Head of a Young Woman II, laser-sintered nylon, 2010

click image to enlarge
About
Sophie Kahn is a Brooklyn-based, Australian new media artist. She was born in in 1980. Sophie studied at Goldsmiths College, University of London. She works with video, animation, 3d
imaging and digital sculpture.
Sophie has presented individual and group exhibitions at artist-run, public and commercial spaces in Melbourne, Australia (Gertrude Contemporary Art Spaces, West Space, 24Seven, Linden, Monash Gallery of Art, Spacement Gallery), Sydney (Performance Space, Stills Gallery, and the Art Gallery of New South Wales), Seoul (Loop Alternative Art Space), Tokyo (Tokyo Opera City Art Gallery, DesignFesta, Tokyo Big Sight), Osaka (Arts Aporia), Singapore (Graphite at NTEU) Paris (Musee des Sciences de L'Homme), Washington DC (The Kennedy Center, the Smithsonian Institution), London (Britart.com space) and New York City (Space 414 and the Armory Show). Screenings and festivals include the Japan Media Arts Festival, EMPAC Dance
Movies, DANSCAMDANCE, and the International Video Dance Festival of Burgundy.
She has been shortlisted for a number of awards, including the 2009 Wynn Newhouse award (US) and the William & Winifred Bowness Photography Prize (Aus). She has completed
residencies at Gertrude Contemporary Art Spaces, the Mothers & Babies Research Center at John Hunter Hospital, EMPAC and the Australia Council Tokyo Studio residency. Her work has
been supported by the City of Melbourne and the Australian Network for Art and Technology.
Sophie currently lives and works in New York City, where she teaches Digital Media at Pratt Institute. For more, visit http://www.sophiekahn.net