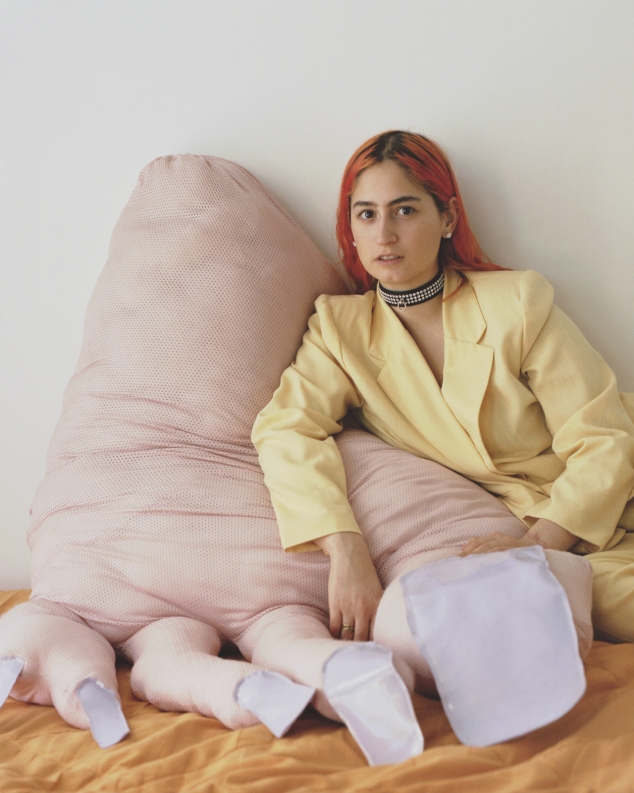 Sarah Zapata (b. 1988, Corpus Christi, TX, USA) makes work with time-consuming and labor-intensive processes such as handweaving, rope coiling, latch hooking, and sewing. Through controlled means, Zapata produces large-scale and often immersive installations with yarn and textiles to explore the feminine, the fetishized, and the handmade. Her current work deals with the complexity of identity as a Peruvian American woman, and how her personal heritage relates to evangelical and indigenous histories.
The transformative power of cloth created by women for male-dominated spaces is examined in Zapata's new installation created at MAD, which uses fiber and cloth to create a range of surfaces that are sewn, hand-woven, and tufted. Inspired by the gendered nature of ceremonial textiles, this work balances a conversation between traditional Western altars and ancient religious spaces, specifically the ceremonial center of Nazca culture, Cahuachi. This pre-Columbian community, which flourished on the coast in modern-day southern Peru, is known for their burials and textiles. One of the largest hand-woven textiles has been found at Cahuachi, and Zapata views this as a testament to how women's communities work together to achieve singular goals.
Titled To Teach or To Assume Authority engages in a reflection on time, practices of devotion, pilgrimage, and the acceptance of difference as a way of being. In examining the structural possibilities of ceremonial textiles, this installation allows the viewers to interact within the space and see themselves within the architecture.
Returning to MAD just one year after her residency in 2016, Zapata has also exhibited at El Museo del Barrio and the New Museum. Recently, she was awarded a Fund for the Arts Project Grant by the National Association of Latino Arts and Cultures.
Schedule
Visit Sarah Zapata every Tuesday, Wednesday, Thursday, and Sunday during Cycle 1 of Studio Views, August 22, 2017 to October 15, 2017.