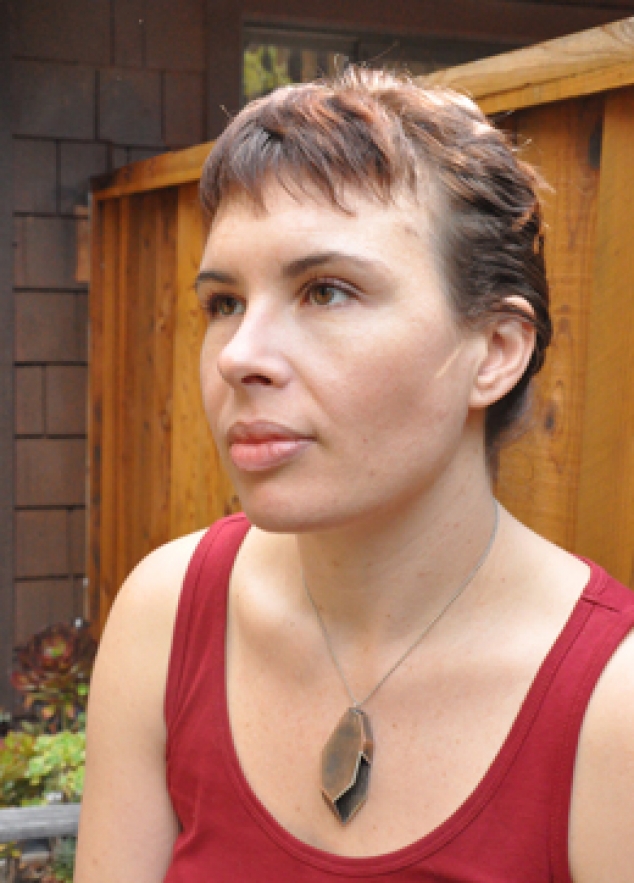 Nova Bronstein
Artist Nova Bronstein
click image to enlarge
Travel Pixane

Travel Pixane, 2009

click image to enlarge
About
Nova Colette Bronstein grew up in the San Francisco Bay Area. Being the only daughter of two artists she embraced the hand-made from a very early age and has continued to make Jewelry, knit items and clothing. Nova moved to New York in 2006 to persue her BFA at SUNY New Paltz and now makes her own jewelry line in her Brooklyn studio.
Nova's jewelry and objects originate from a fascination with ornament, the decorative and the elegant simplicity of the silhouette. Capturing the undulation of folded fabric, the sliced, partially revealed surfaces of lace or the rich, layered depth of deep water, the work references my own history, my background in fashion, textiles and knitwear as well as my travels to Mexico and to India. These experiences and influences tend to manifest through my surfaces. I often seek emulate fabric, both in texture and in form with metal. I also strive to strike a balance between bold and essential form finding satisfying richness through subtle detail. The signifiers of feminenity--twisted slightly: historic and modern lace made to look like snake skin, facets which manipulate and distort through angle, layers, movement, bones, denim, architecture and the cannon of jewelry continually inspire.
Nova received her B.F.A in Metalsmithing in 2009 from State University of New York at New Paltz. Additionally she studied at The Crucible in Oakland. CA and Fashion, Textile, and Knitwear Design at Academy of Art in San Francisco. CA. Nova has taught at the Museum of Art and Design in NYC in 2008, 2009 and 2010 and has exhibited in Domestic Armour at the Samuel Dorskey Museum of Art, New Paltz, NY in 2009, Burst: Opening of a New Era in Cornwall-on-Hudson, NY in 2008, Wunderkammer! A group exhibition of curiosities and wonderment in Kingston, NY in 2008, and Site:Sight in New Paltz, NY in 2007.