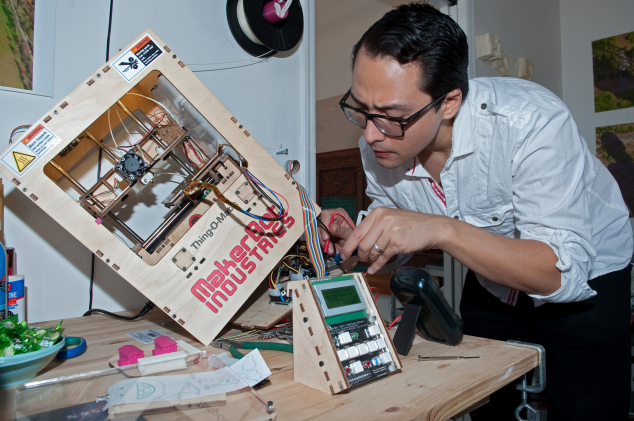 Artist Micah Ganske
Artist Micah Ganske
click image to enlarge
Shuttle R.I.P., ABS plastic, 2011.

Shuttle R.I.P., ABS plastic, 2011.

click image to enlarge

James Tiberious Kirk #2, ABS plastic, 2011.

James Tiberious Kirk #2, ABS plastic, 2011.

click image to enlarge

Centralia, PA, acrylic on muslin, 2011.

Centralia, PA, acrylic on muslin, 2011.

click image to enlarge
About
Micah Ganske was born in Honolulu, Hawaii in 1980. In 2002 he received his BFA from the School of the Art Institute of Chicago and a Post-Baccalaureate certificate from the Maryland Institute College of Art in 2003. In 2005 he received his MFA in painting from the Yale School of Art.  In 2005 he was the recipient of the Adobe Design Achiement Award in Digital Photography at a reception held at the Guggenheim Museum in New York where his work was also displayed.  In October 2007 Deitch Projects exhibited Ganske's first solo exhibition. In 2011 he launched his second solo exhibition with RH Gallery in Tribeca, where he is now represented.
"Like the way a photograph of a happy memory is somehow heart-breaking, I want the beauty in my painting to be somehow terrifying; a beauty so saturated that it has begun to burn itself out, disappearing. I want the world that my work exists in to be a streamlined synthesis of all visual stimulation I have ever taken in; nothing sacred, all sources brought down to the same level. If the personal, the sentimental, the profane and the spiritual aspects of an individual were fused to create one cumulative aesthetic, the resulting work would be undeniably unique—this is what I strive for most. In this day and age many would argue that it is pointless and arrogant to even entertain the possibility of making a painting that was truly original, but I say those with this outlook are simply too lazy and untalented to even make the attempt. It is a challenge that only seems insurmountable because we have relied too heavily on the history of painting to light our way. Our society and culture have gone through so many radical changes with the advent of new technologies and ways of sharing information that it is ridiculous painting has stayed so static. If something original is to be attained, one must synthesize not only aspects of the history of art, but all things recent culture has brought to us, no matter how useless or vapid they may seem.
I am a conceptual figurative artist.  Like any conceptual art, conceptual figuration begins with the ideas the artist wishes to impart onto the viewer.  Where it diverges from non-figuration is how the viewer responds to seeing the depiction of figures.  The viewer, being by a matter of course, also a figure, is made complicit and in turn necessary to the success and conceptual completion of the piece.  A figure establishes an immediate connection with the viewer, as it is a vessel for the viewer's own psychological projections as well as a window for the artist to project ideas onto the viewer.   Paintings of mine that do not feature a literal figure typically invite the viewer in as the missing element of the work.  
Our technology-driven culture's relationship to the natural is the dominant theme in my work.  This subject is close to me because I was born and raised in Honolulu, Hawaii, yet spent most of my time indoors with my computer.  A large part of my work is trying to understand the complex and often conflicted ways we respond to our environment.  The tourist's communion with nature is a fascinating modern pilgrimage that reoccurs in my work because it's one of the only times we, as a city-centric people, make a point to get outside.  Once we're there, however, we choose to mediate the whole experience with electronics through picture taking and status updates to our social networking site of choice."
micahganske.com