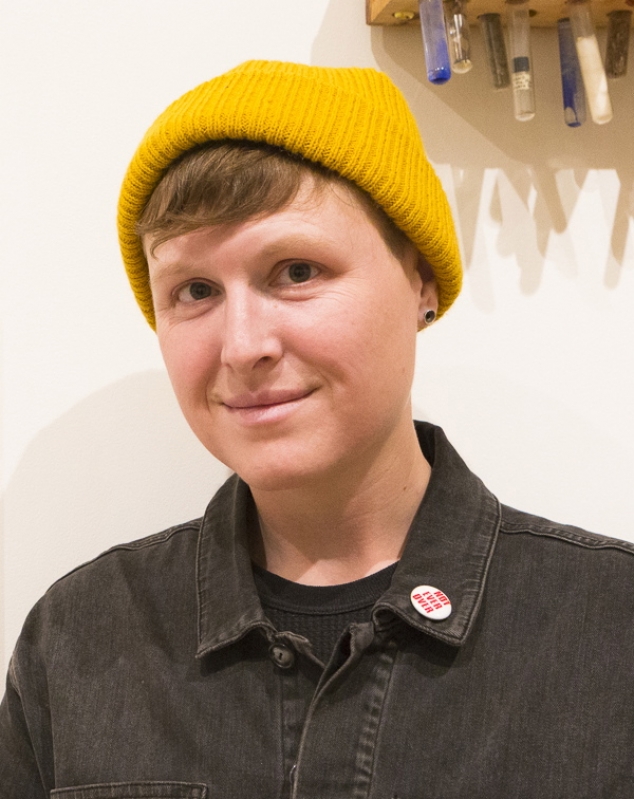 LJ Roberts (b. 1980, Detroit, MI, USA) approaches working in textiles with political urgency. They are interested in materialities that mark political histories and enable future speculations, such as activist ephemera and commonplace textiles that are accessible and transformable. The promises and problematics of queer and alternative kinship structures, nomadism, landlessness, and automotive histories and fantasies inform their current explorations.
During their residency, Roberts will work on a full-scale, fiber conversion van inspired by the Van Dykes, a group of outlaw lesbian separatists who traversed the North American continent in conversion vans in the 1970s, and the zine Vanifesto: A Meditation on Van Lust, by Hadassah D'Luxe, a rabble-rouser who bought a conversion van, christened it "The Dream," and took her queer community—composed of friends, lovers, and a performance troupe—around the continent in search of adventure, community, and mayhem. The work is also inspired by queer-identified people today who have revived the transient and creative culture of van gangs. 
Using feminist histories and techniques such as sewing and knitting, Roberts pays homage to pioneering lesbian, queer, and transgender histories. Using tactics of humor, deviance, and endurance, Roberts addresses anxiety over imminent environmental and economic collapse, while examining their own roots as a third-generation Detroiter who grew up steeped in car culture.
An artist-in-residence at MAD in 2009, Roberts has since exhibited work nationally and internationally, including at the Smithsonian American Art Museum, where their work is now part of the permanent collection. In 2015, Roberts received a Champion of Change award for LGBT artists from the White House.
Schedule
Visit LJ Roberts every Wednesday, Thursday, Friday, and Saturday during Cycle 1 of Studio Views, August 22, 2017 to October 15, 2017.