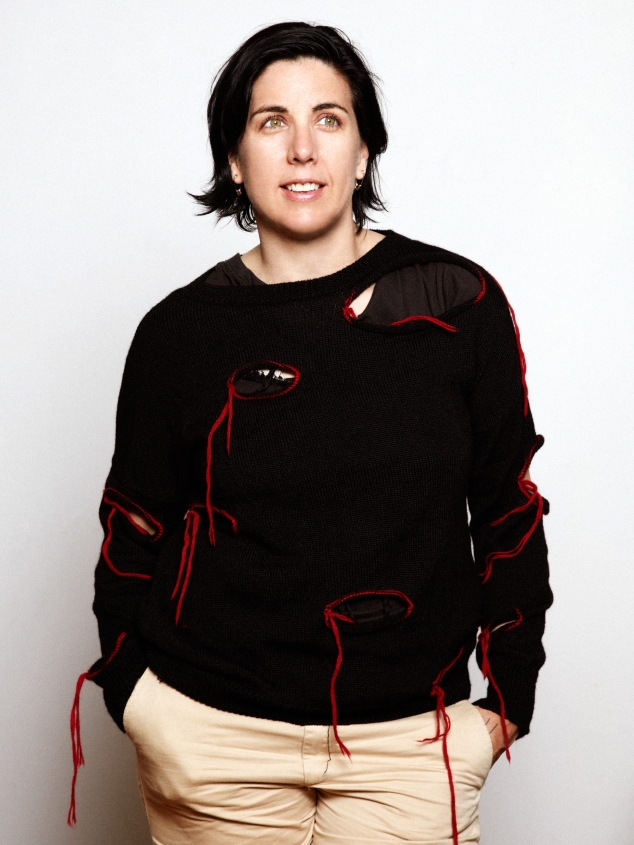 Liz Collins
Photo by Vincent Dilio
click image to enlarge
KNITTING NATION Phase 12: H20

click image to enlarge

Euphoria

click image to enlarge

Distance-Pursuer

click image to enlarge

Red Rain

click image to enlarge

Grief

click image to enlarge

Caution Web

click image to enlarge
About
In addition to being an artist, Liz Collins has had a robust career as a textile and knitwear designer. These complementary paths have led to a new place where her art and applied design coexist: a painting is a rug is a blanket is a dress is a sculpture. Collins explores the relationship between the body as a site for engagement with physical space, particularly architecture, and the resulting dialogue that emerges.
In the Artist Studios, Collins is working on an emergent body of work entitled Optic Vibrations and Energy Fields.  The work includes suspended paintings using networks of yarn and cord, and textile paintings and wall pieces made with custom fabrics.  In the work, Collins continues her interest in explosions, optic imagery, tension and release, and the language of pattern.
Collins received her BFA and MFA in Textiles from Rhode Island School of Design.  She has exhibited extensively in the US and abroad, and teaches and lectures regularly at universities. For more information on Collins, visit her website: www.lizcollins.com.