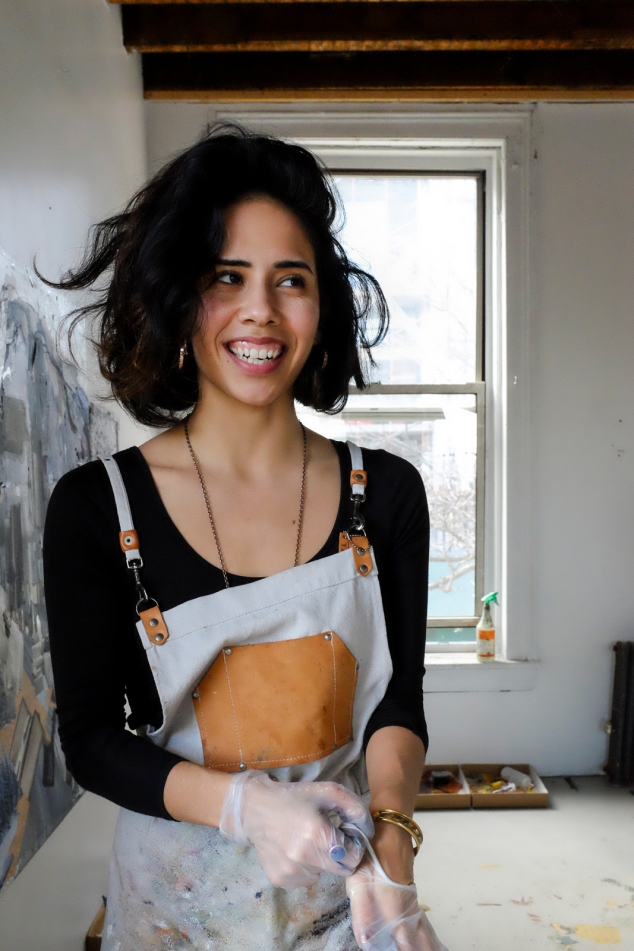 Camille Hoffman
click image to enlarge
Camille Hoffman

click image to enlarge

Camille Hoffman

click image to enlarge

Camille Hoffman

click image to enlarge

Camille Hoffman

click image to enlarge

Camille Hoffman

click image to enlarge

Camille Hoffman

click image to enlarge
About
Camille Hoffman's paintings are layered geographies, in which fragments of cultural objects are chromatically twisted and blended into complex wholes. From holiday-themed plastic tablecloths to dried paint shreds and found objects, Hoffman takes inspiration from Chinese landscape and Hudson River School painting, as well as the Philippine weaving and Jewish folk traditions of her ancestors. Disrupting visual perception, her scraps of materials take on new life, becoming a vehicle of spiritual agency for the artist amid the pressures of economic and political globalization.
As a Van Lier Fellow at MAD, Hoffman will explore the history of American landscape painting through invented narrative and material experimentation. Working from contentious historical references related to Manifest Destiny and drawing from the Museum's view of Columbus Circle and Trump International Hotel, she will develop an alternative topography composed of paint, papier-mâché personal documents, discarded holiday decorations, and domestic wares.
Hoffman received her MFA in Painting and Printmaking from the Yale School of Art and her BFA in Community Arts and Painting from California College of the Arts. She has worked as an educator for over a decade and has shown her work throughout the United States and Europe. For more information, please visit: www.camillehoffman.com.