Voulkos
The Breakthrough Years
Oct 18, 2016–Mar 15, 2017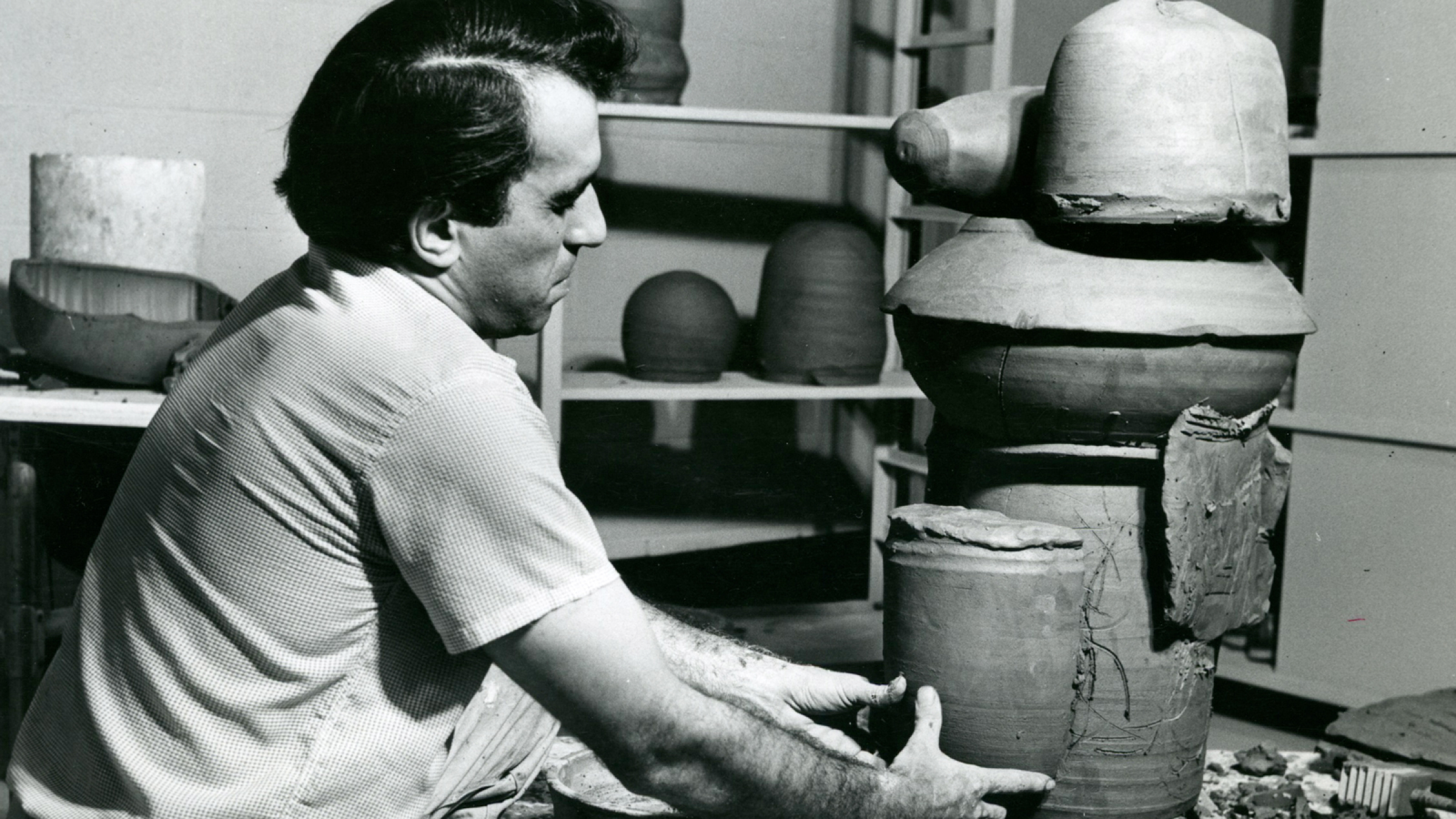 Spanning the years 1953–1968, Voulkos: The Breakthrough Years is the first exhibition to focus on the early career of Peter Voulkos, whose radical methods and ideas during this period opened up the possibilities for clay in ways that are still being felt today.
While trained as a traditional potter, Voulkos defied mid-century craft dictums of proper technique and form to completely reinvent his medium. He combined wheel throwing with slab building, traditional glazes with epoxy paint, figuration with abstraction, and made huge ceramic structures with complex internal engineering. The exhibition features approximately 31 examples from this crucial body of early work, most of which have not been exhibited on the East Coast for four decades. Also included are three of the artist's rarely seen works in oil on canvas, which help to demonstrate how Voulkos developed his ideas concurrently in painting, sculpture, and pottery.
Voulkos is a central figure in the history of MAD, featured in numerous exhibitions, including two monographic surveys, and an exemplar of the cross-disciplinary thinking that the Museum supports. Both the exhibition and accompanying scholarly catalogue will provide a detailed account of the breakthrough works from Voulkos' vital period of experimentation.
Voulkos: The Breakthrough Years is co-curated by Andrew Perchuk, Deputy Director of the Getty Research Institute, and Guest Curator Glenn Adamson, with Assistant Curator Barbara Paris Gifford.
Major funding for Voulkos: The Breakthrough Years is provided by the Henry Luce Foundation.
Additional support is generously provided by Nanette L. Laitman, KLM Royal Dutch Airlines, the Stavros Niarchos Foundation, Regina and Marlin Miller, Jun and Ree Kaneko, The Robert Lehman Foundation, Leatrice and Melvin Eagle, Dick and Gloria Anderson, Ted Rowland, the Knafel Family Foundation, and Jeffrey Spahn Gallery.
This project is also supported by an award from the National Endowment for the Arts.
This research was supported by a Craft Research Fund grant from The Center for Craft, Creativity & Design, Inc.
Media Partner: artnet.
Following its run at MAD, Voulkos: The Breakthrough Years will be on view at the Renwick Gallery in Washington, DC, from April 7 through August 20, 2017.
Voulkos: The Breakthrough Years is part of MAD Transformations, a series of six exhibitions that address artists who have transformed and continue to transform our perceptions of traditional craft mediums. MAD's six fall exhibitions consider fiber, clay, and jewelry & metals, disciplines that were the bedrock of the museum's founding mission and collection, and that continue to morph in the hands of contemporary artists today.