Victoria Manganiello: Computer 1.0
A site-specific installation
May 16, 2019 through June 30, 2019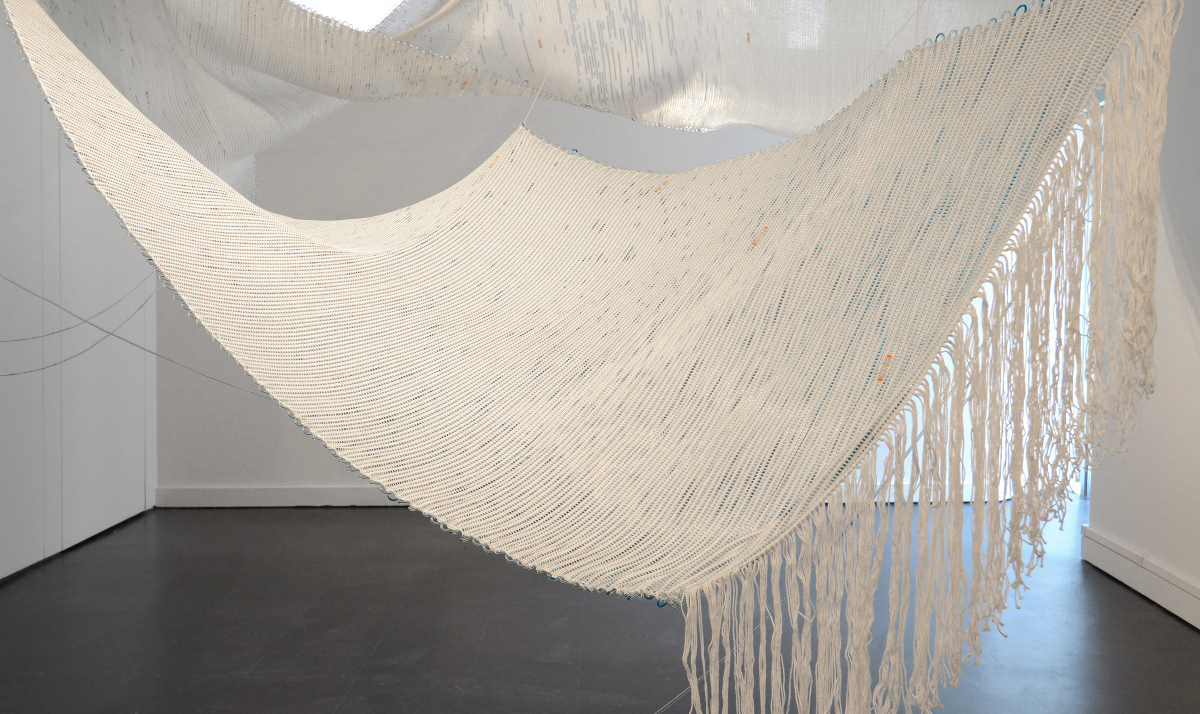 About the Exhibition
A handwoven textile activated by computer code, Computer 1.0 explores connections between weaving and technology. For the project, Victoria Manganiello invited designer Julian Goldman to collaborate on designing and programming a pump controlled by Arduino microcomputers to move precise sequences of air and liquid through the approximately 2,000 feet of tubing woven through the cloth. The movement of the air and liquid evokes traditional weaving patterns such as bird's eye, monk's cloth, and twill. And the operating system—the computer and the pump—is not kept out of sight in the service of the woven screen and the pixelated patterns that run across it, but rather are an integral part of the work; nothing is hidden.
Manganiello's textile reflects and expands on the ob­scured history of weaving and coding, calling attention to the "under-over, under-over" movement of thread becoming cloth that originally inspired the "zero-one-zero-one" of binary code. The jacquard loom of 1801, which used punch cards to program the movement of thread into increasingly complex woven patterns, is a direct, though frequently forgotten, ancestor of modern computers. The site-specific installation marks the seventh installment of the Museum's Fellow Focus series, dedicated to highlighting the work of MAD's Artist Studios program alumni. Manganiello was an Artist-in-Residence at MAD August 7, 2018 through February 3, 2019.
The installation is curated by MAD Manager of Public Programs Lydia Brawner with support from Manager of Artist Studios and Docent Programs Marissa Passi.
About the Artist
Exploring the intersections between materiality, space, philosophy, and storytelling, Victoria Manganiello makes installations, abstract paintings, and performances with hand-woven textiles, using hand-spun yarn and hand-mixed natural and synthetic dyes. These labor-intensive and monotonous processes subliminally act as connectors to all cultures, current and past, that have uniquely yet simultaneously developed techniques for creating textiles.
Supporters
The Artist Studios program is supported by the New York State Council on the Arts with the support of Governor Andrew Cuomo and the New York State Legislature, the New York City Department of Cultural Affairs in partnership with the City Council, and The Pollock-Krasner Foundation, Inc. Principal support for the MAD Fellowship program is provided by Marcia Docter. Additional funding is provided by The New York Community Trust Van Lier Fellowship Program.
Additionally, this project is made possible with funds from the New York State Council on the Arts in partnership with Wave Farm: Media Arts Assistance Fund, a regrant program of the New York State Council on the Arts Electronic Media and Film Program, with the support of Governor Andrew Cuomo and the New York State Legislature.
Collections
Did you know that over 95% of MAD's permanent collections is accessible online with high resolution images? Click here to see the collection.