Tanya Aguiñiga: Craft & Care
May 8–Oct 2, 2018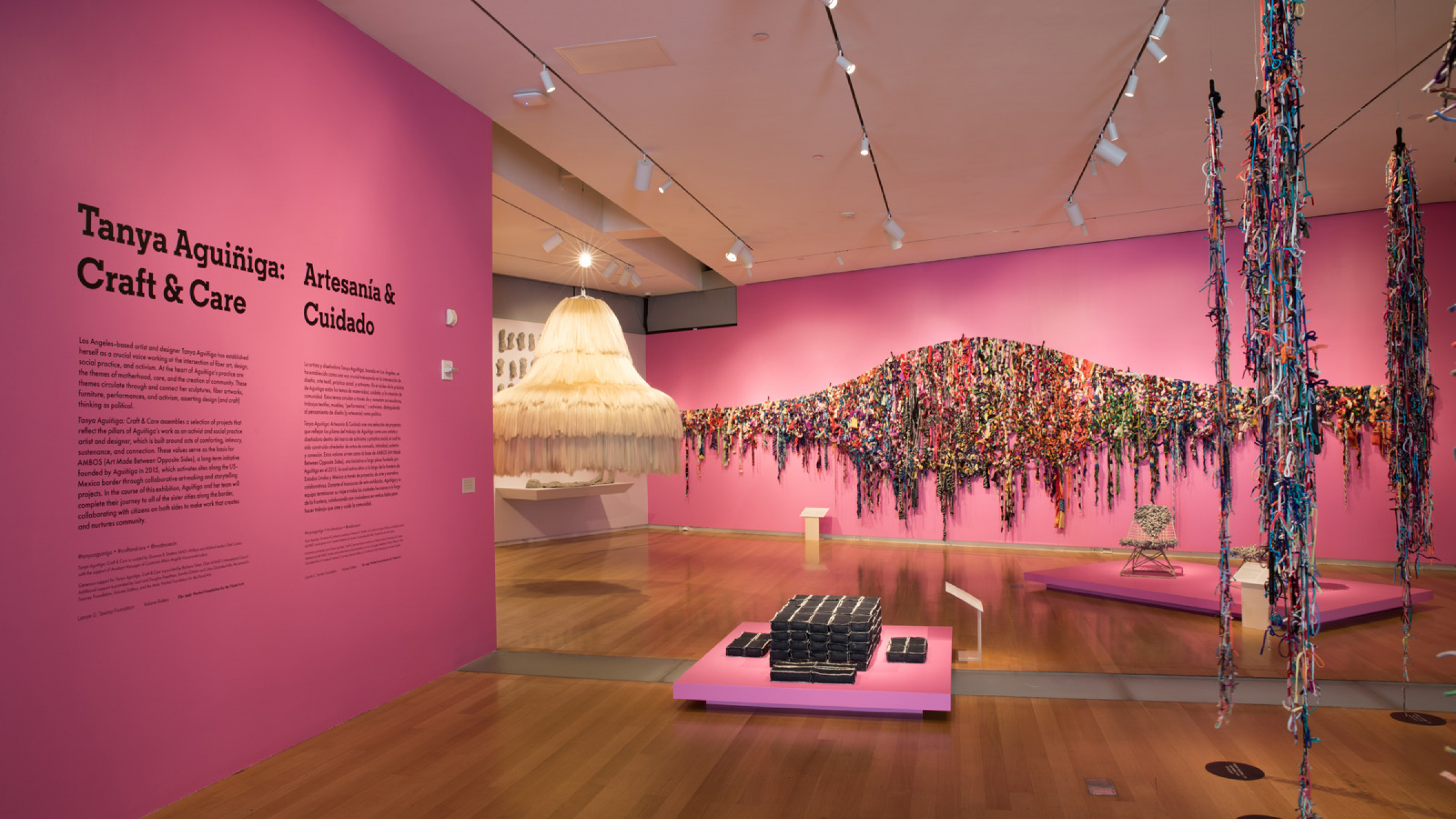 Los Angeles–based artist and designer Tanya Aguiñiga has established herself as a crucial voice working at the intersection of fiber art, design, social practice, and activism. Her work, ranging from her "Performance Crafting" series—which uses craft to generate dialogues about identity, culture, and gender—to furniture whose material and form reimagine its functionality to provide "support," shows a commitment to design thinking as political. At the heart of her practice is an inquiry into how community is created, and the role that craft, design, and materiality play in its formation.
Founded by Aguiñiga and launched in 2015, AMBOS (Art Made Between Opposite Sides) is a long-term initiative that activates sites along the US–Mexico border through collaborative art-making and storytelling projects. Started as a month-long activation at the San Ysidro border crossing in Tijuana, it has evolved its focus to record and paint a picture of life along the length of the border. To date, AMBOS, in collaboration with artists and community organizations working with border issues/themes, has produced programs along the border between the United States and Mexico, stopping at thirteen US/Mexico ports of entry, and crossing a total of forty times. In 2018 Aguiñiga will complete the project, activating the remainder of the border from where she left off at El Paso/Ciudad Juárez.
AMBOS was born out of Aguiñiga's drive to use her skills in service to the ongoing issues that her family and community face in Tijuana, Mexico, where she was raised, and from which she crossed the border every day for fourteen years to get her education in the United States. Through the different phases of the project, AMBOS has fostered a greater sense of interconnectedness in the border regions it has visited. AMBOS as a project has become multifaceted: it is part documentation of the border, part collaboration with artists, part community activism, part exploration of identities influenced by the liminal zone of the borderlands. By connecting with local artists, activists, and makers in the border region, AMBOS works to capture an accurate representation of the sister cities and communities living and working on both sides.
Positioning photographic documentation, radio broadcasts, ephemera, data, and an installation generated by AMBOS, as well as seven other projects from Aguiñiga's ongoing design and artistic practice, Tanya Aguiñiga: Craft & Care at MAD demonstrates the link that the artist is forging between design thinking and community work. "Design thinking," which refers to the creative strategies for problem solving, is situated here as something inherent to craft—a vehicle utilized by Aguiñiga for self-care and community building.
Tanya Aguiñiga: Craft & Care will be on view in the second-floor gallery, MAD's gallery space dedicated to deepening visitors' experiences of exhibitions through opportunities for interactive learning, research, and reflection, next to the thematically linked exhibition La Frontera: Encounters Along the Border will be on display.
As a member of the Border Art Workshop/Taller de Arte Fronterizo (BAW/TAF), Tanya Aguiñiga played a central role in the creation of a community arts center in an autonomous land-squat run by indigenous women on the outskirts of Tijuana before launching the Creative Capital–funded project AMBOS. After leaving the Border Art Workshop, she worked with indigenous communities in Chiapas and Oaxaca, native peoples in Alaska, and underserved urban communities in Los Angeles. Aguiñiga holds an MFA in Furniture Design from Rhode Island School of Design and a BA from San Diego State University. She is a United States Artists Target Fellow in the field of Crafts and Traditional Arts, as well as a NALAC and Creative Capital 2016 grant awardee. The subject of a cover article for American Craft Magazine, Aguiñiga has also been featured in PBS' Craft in America series.
Tanya Aguiñiga is curated by Shannon R. Stratton, MAD's William and Mildred Lasdon Chief Curator, with the support of Assistant Manager of Curatorial Affairs Angelik Vizcarrondo-Laboy.
Generous support for Tanya Aguiñiga: Craft & Care is provided by Barbara Tober, Chair of MAD's International Council. Additional support is provided by Lauri and Douglas Freedman, Sondra Gilman and Celso Gonzalez-Falla, the Lenore G. Tawney Foundation, Volume Gallery, and the Andy Warhol Foundation for the Visual Arts.
Acerca de la Exposición

La artista y diseñadora Tanya Aguiñiga, basada en Los Ángeles, se ha establecido como una voz crucial trabajando en la intersección de diseño, arte textil, práctica social, y activismo. Su trabajo, desde su serie "Performance Crafting"—la cual usa la artesanía para generar un diálogo acerca de identidad, cultura y género—hasta muebles cuyos materiales y formas re-imaginan su funcionalidad para proveer "apoyo," demuestra un compromiso a usar la metodología de diseño como política. En el núcleo de su práctica existe una búsqueda acerca de cómo se crea comunidad, y el papel que juegan la artesanía, el diseño, y la materialidad en su formación.

Fundado por Aguiñiga e iniciado en el 2015, AMBOS (Art Made Between Opposite Sides) es una iniciativa a largo plazo que activa sitios a lo largo de la frontera de México-Estados Unidos a través de prácticas de arte colaborativo y proyectos de narrativa. Inició como una activación de un mes en la garita fronteriza de San Ysidro en Tijuana, y ha evolucionado su enfoque a documentar y mostrar una imagen realista de la vida a lo largo de la frontera. Hasta la fecha, AMBOS, en colaboración con artistas y organizaciones comunitarias que tratan temas y problemáticas de la frontera ha producido programación a lo largo de la frontera entre México y Estados Unidos, parando en trece puertos de entrada y cruzando la frontera un total de cuarenta veces. En el 2018, Aguiñiga completará el proyecto, activando el resto de la frontera desde donde terminó en El Paso/Ciudad Juárez.

AMBOS nació del impulso de Aguiñiga de usar sus habilidades en servicio de la comunidad y su familia, quienes enfrentan problemáticas continuas en Tijuana, México, donde fue criada, y desde donde cruzó la frontera a diario por catorce años para obtener su educación en Estados Unidos. A través de las diferentes fases del proyecto, AMBOS ha logrado crear un mayor sentimiento de interconexión en las regiones fronterizas que ha visitado. AMBOS como proyecto se ha vuelvo multifacético. Es parte documentación de la frontera, parte colaboración con artistas, parte activismo comunitario, parte exploración de las identidades influidas por la zona liminal de las tierras fronterizas. Al conectarse con artistas, activistas y creadores locales de la zona fronteriza, el trabajo de AMBOS busca capturar una representación realista de las ciudades hermanas y las comunidades viviendo y trabajando en ambos lados.

Presentando documentación fotográfica, transmisiones de radio, objetos, datos e una instalación generados por AMBOS, a demás de siete otros proyectos de a la práctica continua en diseño e arte de Aguiñiga, la exhibición Tanya Aguiñiga: Craft & Care en el MAD demuestra la conexión que la artista crea entre la metodología de "Design Thinking" y el trabajo comunitario. "Design thinking," lo cual se refiere a las estrategias creativas para resolver problemas, es situado aquí como intrínseco a la artesanía- un vehículo utilizado por Aguiñiga para el auto-cuidado y la creación de comunidad.

Tanya Aguiñiga: Craft & Care será exhibida en la galería del segundo piso, el espacio dedicado por el MAD para ampliar la experiencia de los visitantes en exhibiciones a través de aprendizaje interactivo, investigación y reflexión, al lado de la exposición temáticamente conectada La Frontera: Encounters Along the Border.

Como miembro de Border Art Workshop/Taller de Arte Fronterizo (BAW/TAF), Tanya Aguiñiga jugó un papel central en la creación de un centro de arte comunitario en una comunidad autónoma liderada por mujeres indígenas en las afueras de Tijuana antes de fundar el proyecto AMBOS, el cual fue patrocinado por Creative Capital. Después de dejar el Taller de Arte Fronterizo, trabajó con comunidades indígenas en Chiapas y Oaxaca, gente nativa en Alaska, y en comunidades de bajos recursos en Los Ángeles. Aguiñiga tiene una Maestría de Bellas Artes en Diseño de Muebles de Rhode Island School of Design y una Licenciatura de San Diego State University. Es una becaría Target de United States Artists en el campo de Artesanías y Art Tradicional, así como ganadora de becas por parte de NALAC y Creative Capital en el 2016. Sujeto de un artículo de portada en American Craft Magazine, Aguiñiga también ha aparecido en la serie Craft in America de PBS.

Tanya Aguiñiga es curada por Shannon R. Stratton, la Curadora Principal William and Mildred Lasdon del MAD, con el apoyo de la Gerente Asistente de Asuntos Curatoriales del MAD, Angelik Vizcarrondo-Laboy.
Los fondos principales para Tanya Aguiñiga: Craft & Care son proporcionados por Barbara Tober, Presidente del Consejo Internacional del MAD. Fondos adicionales fueron proporcionados por Lauri y Douglas Freedman, Sondra Gilman y Celso Gonzalez-Falla, la Fundación Lenore G. Tawney, Volume Gallery, y la Fundación Andy Warhol para las Artes Visuales.