Re: Collection
April 1, 2014 through September 7, 2014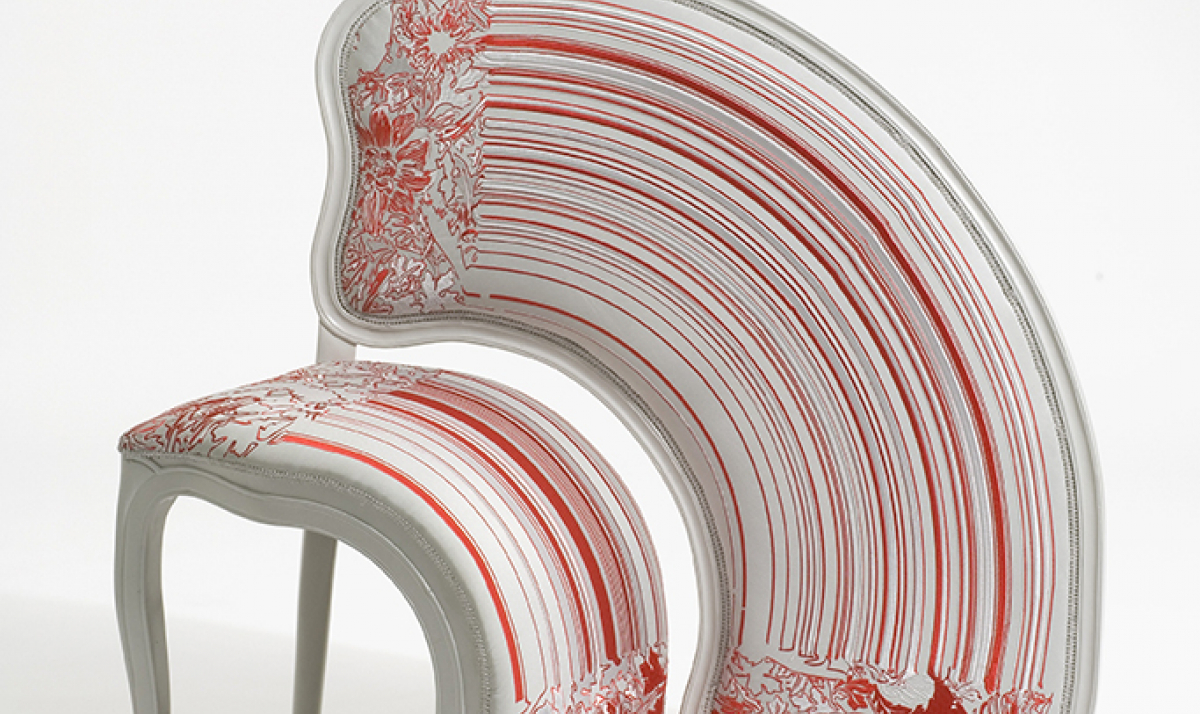 Sebastian...
Lathe V Chair, 2008, Bronze, embroidered upholstery, 39 3/8 x...
click image to enlarge
Ancienne Manufacture...

Madame de Pompadour (nee Poisson), 1990, Porcelain, glaze; photo-silkscreened,...

click image to enlarge

Terese Agnew

Portrait of a Textile Worker, 2005, Clothing labels, thread,...

click image to enlarge

Robert Arneson

Bust, 1977, Ceramic, 28 x 16 x 14 in. (71.1 x 40.6 x 35.6 cm)

click image to enlarge

Jennifer Trask

Intrinsecus, 2010, Wood, bone, antler, silver, gold leaf, 52...

click image to enlarge
About the Exhibition
MAD celebrates the fifth anniversary of its move to 2 Columbus Circle with the special exhibition Re: Collection, on view from April 1 to September 7, 2014. The exhibition will survey Chief Curator Emeritus David McFadden's sixteen years at MAD through objects acquired during his tenure.  During McFadden's years at MAD, the permanent collection has grown from 800 objects to more than 3,000; In the past 5 years alone, since MAD's move to 2 Columbus Circle, approximately 730 objects that exemplify the imaginative transformation of materials have been added to the collection.
Working in coordination with former Exhibitions Curator Dorothy Twining Globus, McFadden has selected approximately 68 works of sculpture, jewelry, ceramics, furniture, and textiles, many of which will be definitive works by key postwar American and international makers. The selection will range broadly, from well-known figures such as Robert Arneson, Judy Chicago, Vincent Dubourg, Kim Schmahmann, and James Turrell to cutting-edge makers like Sebastian Brajkovic and Jennifer Trask, among many others.
Re: Collection will also explore some of the material and process-centered themes of McFadden's exhibitions, such as Radical Lace and Subversive Knitting; Second Lives: Remixing the Ordinary; Dead or Alive: Nature Becomes Art; Slash: Paper Under the Knife; Otherworldly: Optical Delusions and Small Realities; and Swept Away: Dust, Ashes, and Dirt in Contemporary Art and Design. These successful exhibitions have allowed MAD to reveal how the creative process firmly links formal concerns with social, political, narrative, and autobiographical content. In a cultural moment defined by its openness, McFadden has provided a cogent method for rethinking narratives around the specific possibilities of materials and making. Re: Collection will examine this curatorial methodology, presenting it as a series of personal recollections drawn from the MAD permanent collection.
Major support for Re: Collection has been provided by the Windgate Charitable Foundation, with additional support from the Collectors Circle, a leading Museum support group. Additional thanks to KLM Royal Dutch Airlines, the Official Airline of MAD.
Collections
Did you know that over 95% of MAD's permanent collections is accessible online with high resolution images? Click here to see the collection.