Mia Wright-Ross
A Moment to Breathe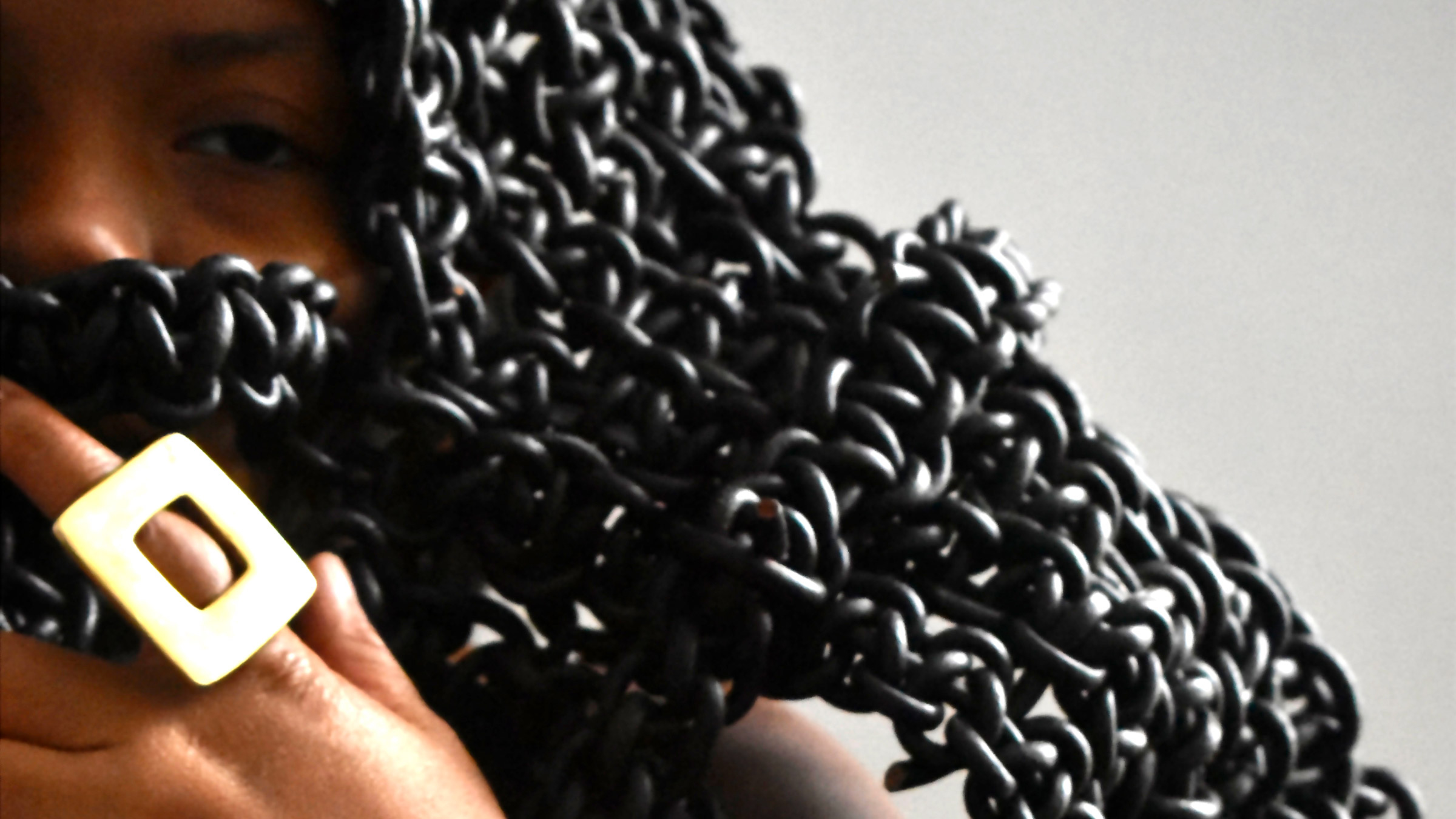 An art installation in The Theater at MAD combining leather tapestries, performance, film, and the rhythmic beats of a sewing machine needle, A Moment to Breathe examines the healing process as it relates to grief—familial, ancestral, and global—and the instinctual commitment of a craftsperson to create through sorrowful experiences. The installation challenges viewers to reconnect to the humanity behind luxury craft, value artisanship as a skill for meditative healing, and realize the necessity of the Black African American artisan.
Two of the artist's monumental leather tapestries and a large sewing machine will be on view alongside film produced with collaborators Akeema-Zane and Starnilas Oge. At select times, the artist will be present on stage working at the sewing machine, giving audiences an immediate experience of the artist's journey as she creates representations of grief's weight felt through personal and collective consciousness.
To ensure safe social-distancing, up to ten persons may view the installation at a time. A Moment to Breathe is on view Fridays through Sundays from March 26–April 11, and the artist will activate the installation on April 2 and 9 from 6–7 pm.
ABOUT THE ARTIST
The Museum's ninth Artist Fellow, Mia Wright-Ross is a leather artisan, designer, educator, and entrepreneur. Born and raised in Richmond, Virginia, Wright-Ross studied art from the early stages of her youth and continued her exploration through her studies at Parsons School of Design.
The artist's leather cording techniques appear as a signature motif across her luxury lifestyle brand, MWR Collection, and represent her design philosophy that each material is essential to the unity and completion of the purpose of each work. Wright-Ross's handmade bespoke collection includes footwear, accessories, home goods, and furniture. She has also been a leading designer for several contemporary designer brands, including Calvin Klein, 3.1 Phillip Lim, Saks 5th Avenue, and Tibi. At Tibi, she was the Senior Footwear & Accessories Designer and oversaw all design and development in Italy and Brazil for four years.
During her fellowship at MAD, Wright-Ross expanded her research of crafting through new iterations of leatherwork, including leather sculptures, tapestries, film documentation, and installations. A Moment to Breathe is the culmination of Wright-Ross's year-long residency.
Presently, she is an Adjunct Professor at Parsons/The New School of Design and the leading footwear and accessories design consultant for multiple brands. Her design client list includes J. Cole, Solange, Robert Glasper, Carmelo Anthony, Jimmy Butler, Mary J Blige, and her work has been featured in American Craft Magazine, WGSN, Footwear News, Harper's Bazaar, Ebony Magazine, and Vogue. She received a BFA in Fashion Design from Parsons/ The New School of Design and has trained at the Ecco Tannery Holland and Arsutoria Institute in Milan.
A Moment to Breathe is organized by Marissa Passi, manager of Artist Studios and docent programs.
The Artist Studios program is supported by the New York City Department of Cultural Affairs in partnership with the City Council and The Pollock-Krasner Foundation, Inc. Principal support for the MAD Artist Fellowship is provided by Marcia Docter.