Dandelion Cluster #3 by Patrick Jacobs
View from exterior of Museum at Broadway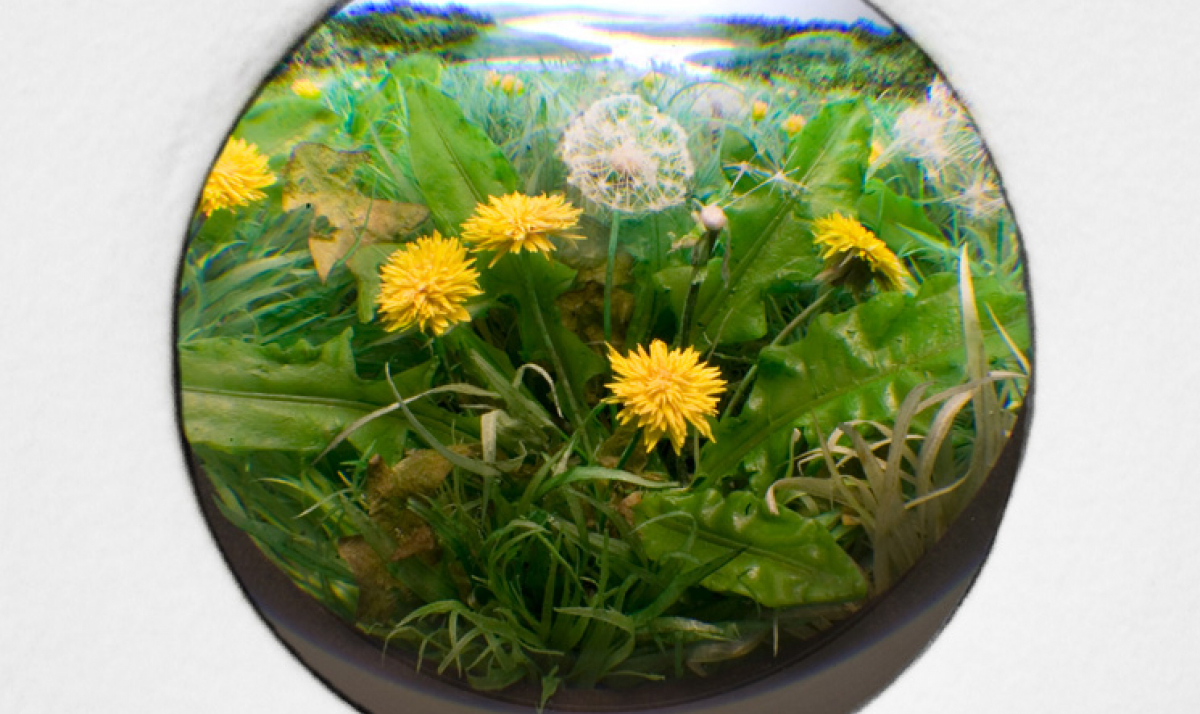 Patrick Jacobs
click image to enlarge
About the Exhibition
Patrick Jacobs' work blurs the boundaries between painting, sculpture, and photography, using lenses, optical focal length, and sculptural foreshortening to achieve the illusion of impossible depth within the shallow, often miniscule spaces that his miniature worlds inhabit. His hyperrealistic environments are lit from within; when viewed through their glass portholes, they reveal themselves to be luminous landscapes, overflowing with lush grasses, flowers, and mushrooms against the backdrop of a meandering river or mountain scene. Alternatively, one might be confronted by a diminutive prewar apartment in all its grungy glory, complete with chipped tile, flaking baseboards, and toothpick-thin parquet floors.
Jacobs creates his pseudoscientific dioramas using paper, styrene, acrylic, vinyl, neoprene, wax, and hair, among other materials, viewing them through lenses as he works, using tweezers and brushes. Of his process, the artist said, "I begin with an underpainting and build up to finer details over a period of weeks depending on the size and complexity of the diorama. The scene is completed when the illustration of space and time is sufficiently autonomous and takes on a life of its own."
At the Museum of Arts and Design, Dandelion Cluster #3 can be viewed through a discreet porthole on the building's exterior at Broadway. It was installed as part of the exhibition Otherworldly: Optical Delusions and Small Realities in 2011.
Collections
Did you know that over 95% of MAD's permanent collections is accessible online with high resolution images? Click here to see the collection.