Coille Hooven
Tell It By Heart
Sep 22, 2016–Feb 5, 2017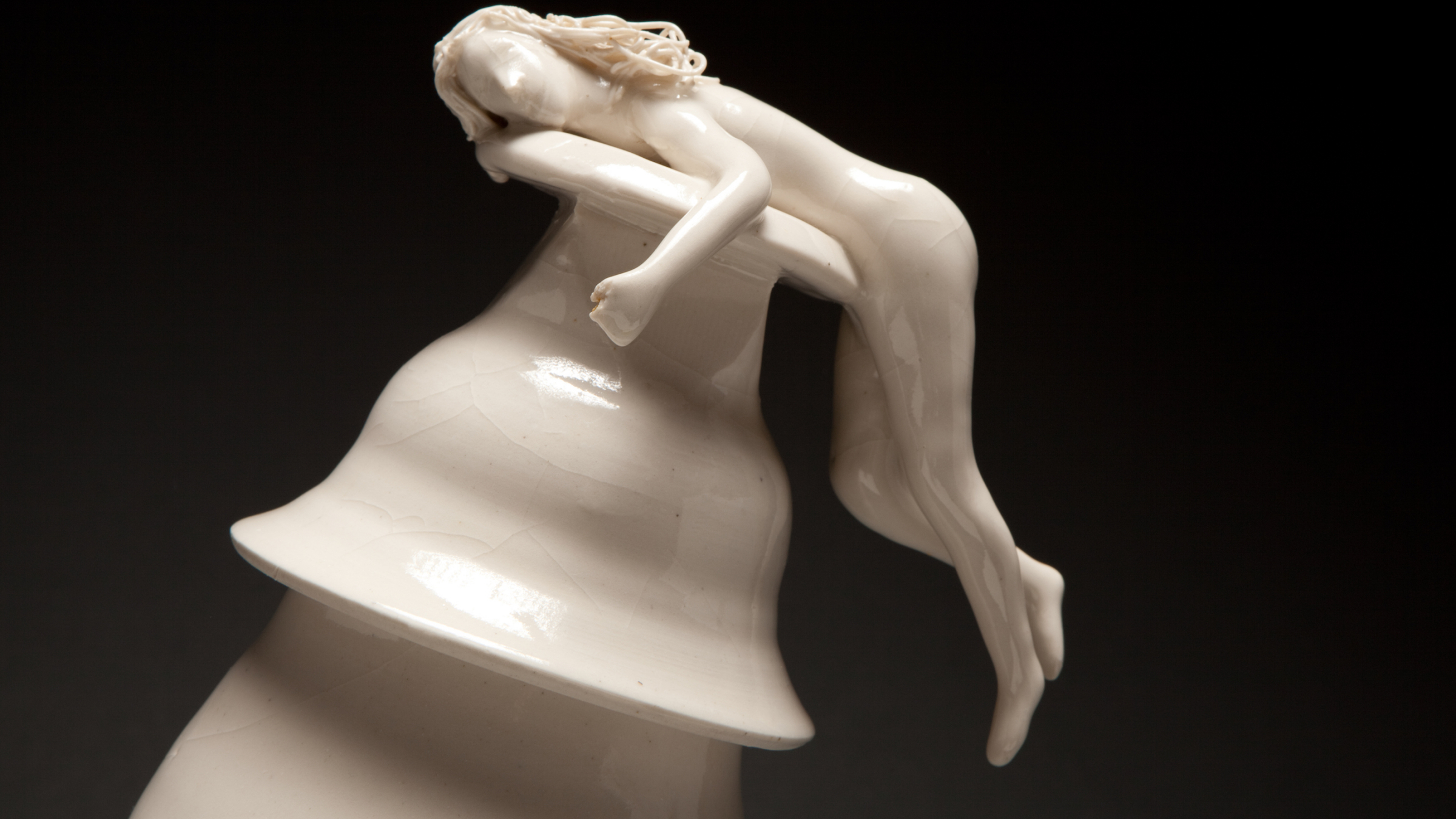 For over fifty years, Coille Hooven has been working in porcelain and creating psychologically charged sculpture that explores domestic-centered narratives from the kitchen to the bedroom. One of the first ceramists to bring feminist content to clay, Hooven uses porcelain to honor the history of women's work, confront gendered inequality, and depict the pleasures, fears, and failures of partnering and parenting.
Hooven's sculptures range from teapots and vessels to figurative busts and dioramas, and they mine the domestic psyche to produce vignettes that resonate with familiarity despite an undisguised use of the fantastical. Developing her own vocabulary of archetypes, she regularly revisits certain creatures and forms: a domestic palette of aprons, pillows, shoes, and pies, as well as a cast of characters that includes mermaids, fish, snakes, and anthropomorphic beasts that appear part-dog, part-horse, and part-human. While these creatures may appear familiar and amiable at first, tension lurks underneath. Recalling fairy tales, fables, and myths, Hooven's sculptures conjure a vision of the unconscious—both the joy and buoyancy of dreams, as well as the discomfort and despair of anxiety and doubt.
Coille Hooven: Tell It By Heart assembles more than thirty years of Hooven's work. Hooven studied with David Shaner at the University of Illinois at Urbana-Champaign, and later relocated to Berkeley, California, with her two children. Citing Peter Voulkos and Robert Arneson as influential in her decision to move west, Hooven became part of the Bay Area clay community, where she worked independently from academia and forged a career making both functional pottery and ceramic sculpture. In 1979 she became only the second woman to be in residence at the Kohler Co.'s plant in Kohler, Wisconsin, as part of their renowned Arts/Industry residency program.
Coille Hooven: Tell It By Heart is curated by Shannon R. Stratton, William and Mildred Lasdon Chief Curator, with the support of Curatorial Assistant and Project Manager Angelik Vizcarrondo-Laboy.
Support for Coille Hooven: Tell It By Heart is generously provided by Michele and Marty Cohen, Marge Levy, and Friends of Coille Hooven.
Coille Hooven: Tell It By Heart is part of MAD Transformations, a series of six exhibitions presented this fall that address artists who have transformed and continue to transform our perceptions of traditional craft mediums. Building upon the exhibition Voulkos: The Breakthrough Years, which celebrates the work of an artist known for drastically changing the way clay is categorized as an art material and discipline, the MAD Transformations exhibitions consider fiber, clay, and jewelry and metals—disciplines (along with glass and wood) that compose the bedrock of the Museum of Arts and Design's founding mission and collection, and that continue to morph in the hands of contemporary artists today.