Posthaste Perennial Patterns: Talk and Screening with Jodie Mack
Post-screening Q&A moderated by Ekrem Serdar, Media Arts Curator for Squeaky Wheel Film and Media Art Center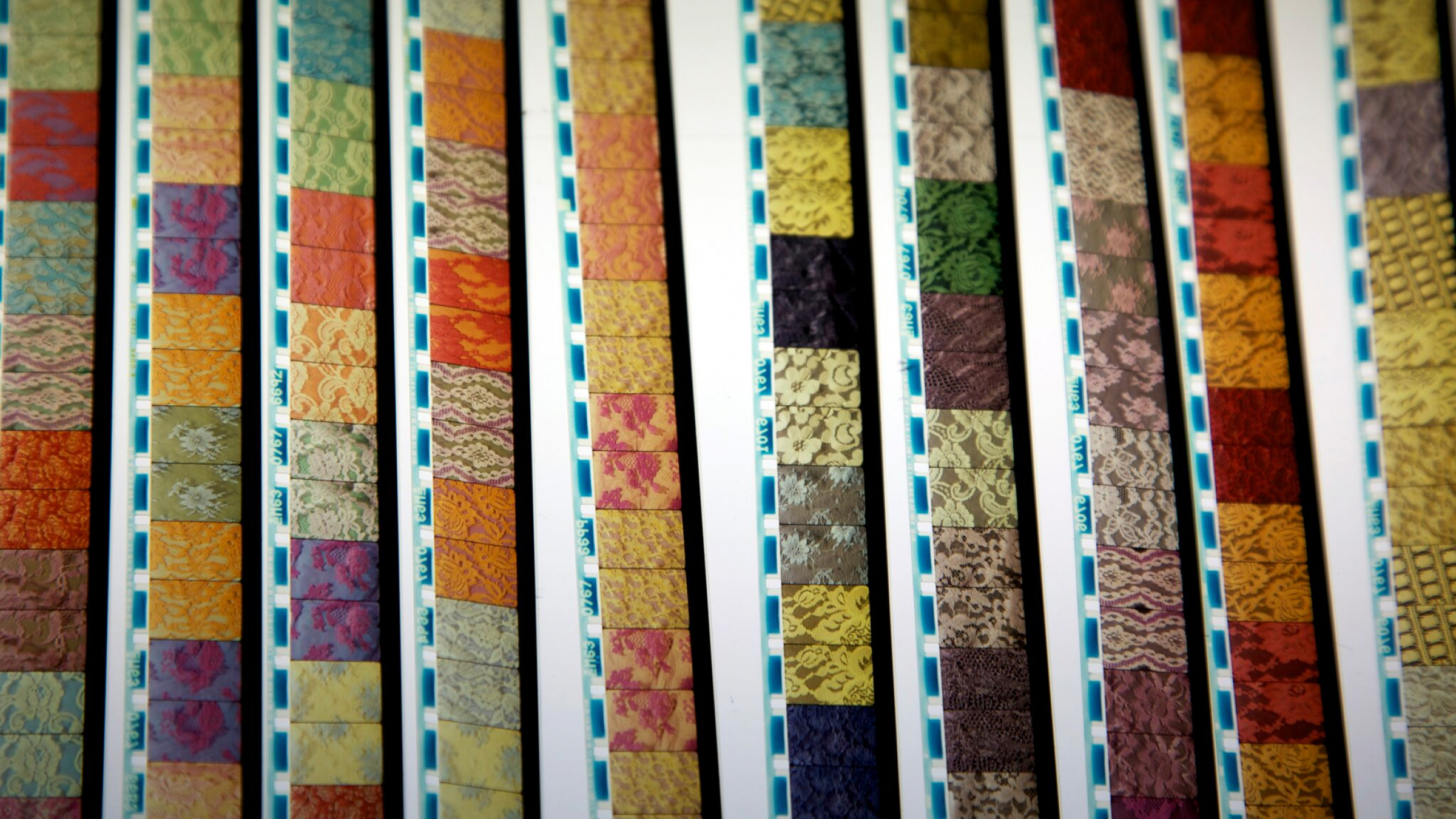 60 min, 16mm Projection
"Posthaste Perennial Pattern" (Jodie Mack, 2010, 3.5 min)
"Point de Gaze" (Jodie Mack, 2012, 4.5 min)
"Persian Pickles" (Jodie Mack, 2012, 3 min)
"Blanket Statement #1: Home is Where the Heart is" (Jodie Mack, 2012, 3 min)
"Blanket Statement #2: It's All or Nothing" (Jodie Mack, 2013, 5 min)
"Razzle Dazzle" (Jodie Mack, 2014, 5 min)
"The Florestine Collection" (Helen Hill/Paul Gailiunas, 2011, 31 min)
Centering on the use of domestic and recycled materials, this program of short films illuminates formal and cursory elements shared between fine-art abstraction and mass-produced graphic design. The works presented—six shorts by Jodie Mack and "The Florestine Collection," by Helen Hill and Paul Gailiunas—question the role of decoration in daily life, and unleash the kinetic energy of overlooked and wasted objects. The program will feature a brief talk by Mack, whose artwork is featured in Surface/Depth: The Decorative After Miriam Schapiro. Mack will also take part in a post-screening Q&A moderated by Ekrem Serdar, Media Arts Curator for Squeaky Wheel Film and Media Art Center.
Expanding upon notions of anti-animation set forth by experimental practitioners like Paul Sharits and Robert Breer, the films in this program apply formal principles of abstract cinema while pursuing an interest in found materials, evolving modes of production, and forms of labor. The works extend the temporal concerns of the Structural film, a simplified form of cinema that is driven by critical formalism rather than narrative content. By reflexively activating the referential properties of objects, the films refute abstraction, foregrounding questions of Romanticism surrounding metaphor and exchanging lyrical and mythopoeic modes for those of economic observation.
In Mack's "Persian Pickles" (2012), a study of paisley patterns traces the motif from its origins in Persian weavings to appearances in Irish quilting and American counterculture. Her ongoing "Blanket Statement" series uses quilts to evoke issues of domestic security, citing appearances of quilts in the fine arts from Michelangelo Pistoletto to Beryl Korot. "Point de Gaze" (2012) and "Razzle Dazzle" (2014) employ handmade and machine-produced laces, tattings, and intricate weavings to meditate upon the industry of desire and the phenomenology of cinema.
Mack's films are screened in concert with "The Florestine Collection" (2011), directed by Helen Hill and Paul Gailiunas. After discovering more than a hundred handmade dresses in a trash pile during Mardi Gras in New Orleans, Hill set out to make a film about the dressmaker, an elderly seamstress who had recently passed away. Hill's husband, Paul Gailiunas, completed the film after Hill's death.
Jodie Mack prints courtesy the artist.
"The Florestine Collection" courtesy Harvard Film Archive.
About the Artists
Jodie Mack is an experimental animator who received her MFA in Film, Video, and New Media from the School of the Art Institute of Chicago. Combining the formal techniques and structures of abstract/absolute animation with those of cinematic genres, her handmade films use collage to explore the relationship between graphic cinema and storytelling, the tension between form and meaning. Mack's 16mm films have been screened at a variety of venues, including the Ann Arbor Film Festival, the Edinburgh International Film Festival, Images Festival, Projections at the New York Film Festival, and the Vienna International Film Festival. She has presented solo programs internationally at institutions including the 25 FPS Festival, Anthology Film Archives, the BFI London Film Festival, the Harvard Film Archive, REDCAT, and the International Film Festival Rotterdam. Her work has been featured in publications like Artforum, Cinema Scope, Senses of Cinema, and the New York Times. An Associate Professor of Animation at Dartmouth College, where she co-organizes the experimental media series EYEWASH, Mack is a 2017–2018 Film Study Center Fellow/Roberta and David Logie Fellow at the Radcliffe Institute for Advanced Study at Harvard University.
Helen Hill (1970–2007) was an American animation filmmaker and social activist who lived in New Orleans. On December 30, 2009, the Librarian of Congress named Hill's short film "Scratch and Crow" (1995) to the National Film Registry, a list of aesthetically, historically, and culturally significant American motion pictures.
Moderator
Ekrem Serdar is the curator at Squeaky Wheel Film & Media Art Center, where he is responsible for the organization's exhibitions, public programming, and artist residencies. He is the recipient of a Curatorial Fellowship from the Andy Warhol Foundation for the Visual Arts (2017). His writing has appeared in The Brooklyn Rail, 5harfliler, among others. He is currently working on an exhibition titled Punctures: Textiles in Digital and Material Time that will open in Buffalo in Fall 2019. He is from Ankara, Turkey.