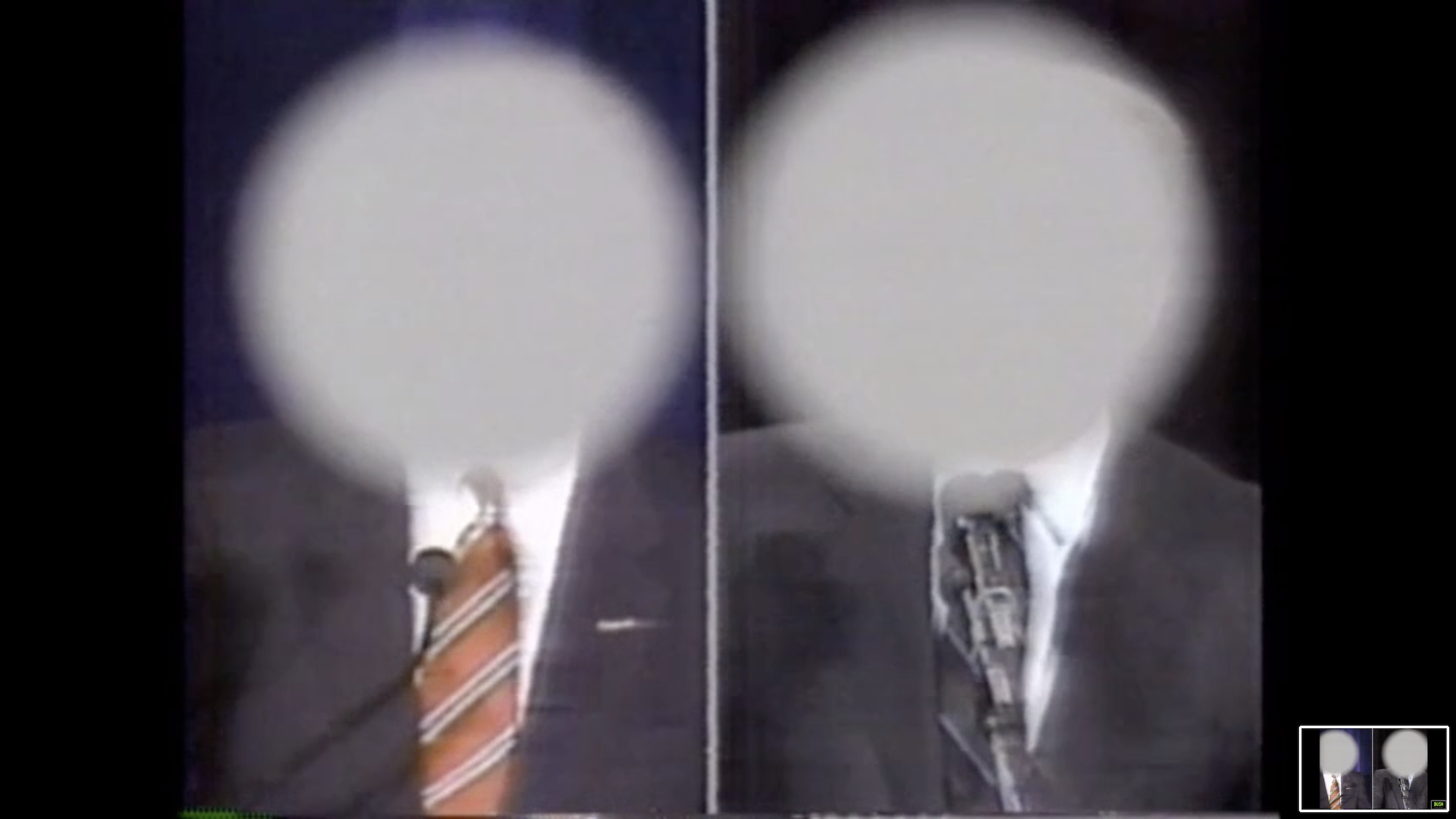 Political Advertisement is a personal vision of how politics and politicians are presented through the moving image. For 36 years, artists Antoni Muntadas and Marshall Reese have compiled a history of presidential campaign spots; capturing the evolution of political advertising from its beginnings in 1952 to the present. Over nine general election cycles, the artists have shared the latest version of their compilation with the public and hosted a discussion about the impact of campaign advertising. Premiering during the final week of this year's historic Presidential race, the tenth edition of Political Advertisement offers a timely and important outlet for discussion just before Election Day. Join Muntadas and Reese for the film's national release and conversation with filmmaker and scholar Rick Prelinger.
96 minutes.
Conversation via Zoom, screening via Vimeo.
A private Vimeo link will be sent to all ticket holders to view the project asynchronously beginning 48 hours before the talk and closing one day after.
Please note: After you purchase your ticket you will receive a link to Zoom to complete your registration.
If you are a Trustee, Patron, or Luminaries member, please contact Catherine Farrell at catherine.farrell@madmuseum.org to receive instructions for joining this program.
About the artists
Antoni Muntadas was born in Barcelona in 1942 and has lived in New York since 1971. His work addresses social, political, and communications issues, the relationship between public and private space within social frameworks, as well as channels of information and the ways they may be used to censor central information or promulgate ideas. He works on projects in different media such as photography, video, publications, Internet and multi-media installations. Since 1995, Muntadas has grouped together a set of works and projects titled On Translation emphasizing issues of interpretation, transcription, and cultural translation. Their content, dimensions, and materials are variable, and focus on the author's personal experience and artistic activity in numerous countries over forty years. His most recent project Asian Protocols explores similarities, differences and conflicts between Korea, Japan, and China.
Marshall Reese is a Brooklyn-based artist working in various media including video, information networks, custom hardware and software, editions, and temporary public art events. Since the mid-eighties he has collaborated with Nora Ligorano as LigoranoReese Their work is an ongoing investigation into the impact of technology on society and the rhetoric of politics and visual culture in the media. LigoranoReese have presented seven site-specific public works at the U.S. political conventions focusing on climate and political issues. In June of this year, they launched their most ambitious public art work yet: The School of Good Citizenship in Charlotte, North Carolina coinciding with the Republican Convention. Over 200 artists, photographers, singers, poets, and filmmakers have participated in exhibitions, workshops, drive-in film screenings, and live streamed performances.
Professor of Film & Digital Media at UC Santa Cruz, Rick Prelinger is an archivist, writer, filmmaker, and educator. His archival feature Panorama Ephemera (2004) played in venues around the world, and his feature project No More Road Trips? received a Creative Capital grant in 2012. His 27 Lost Landscapes live urban history projects have played to tens of thousands of viewers in San Francisco, Detroit, Oakland, Los Angeles, and elsewhere. He co-founded an experimental research library in San Francisco in 2004, which serves over a thousand artists, researchers, and activists each year.