Open Studio Visits: LJ Roberts and Sarah Zapata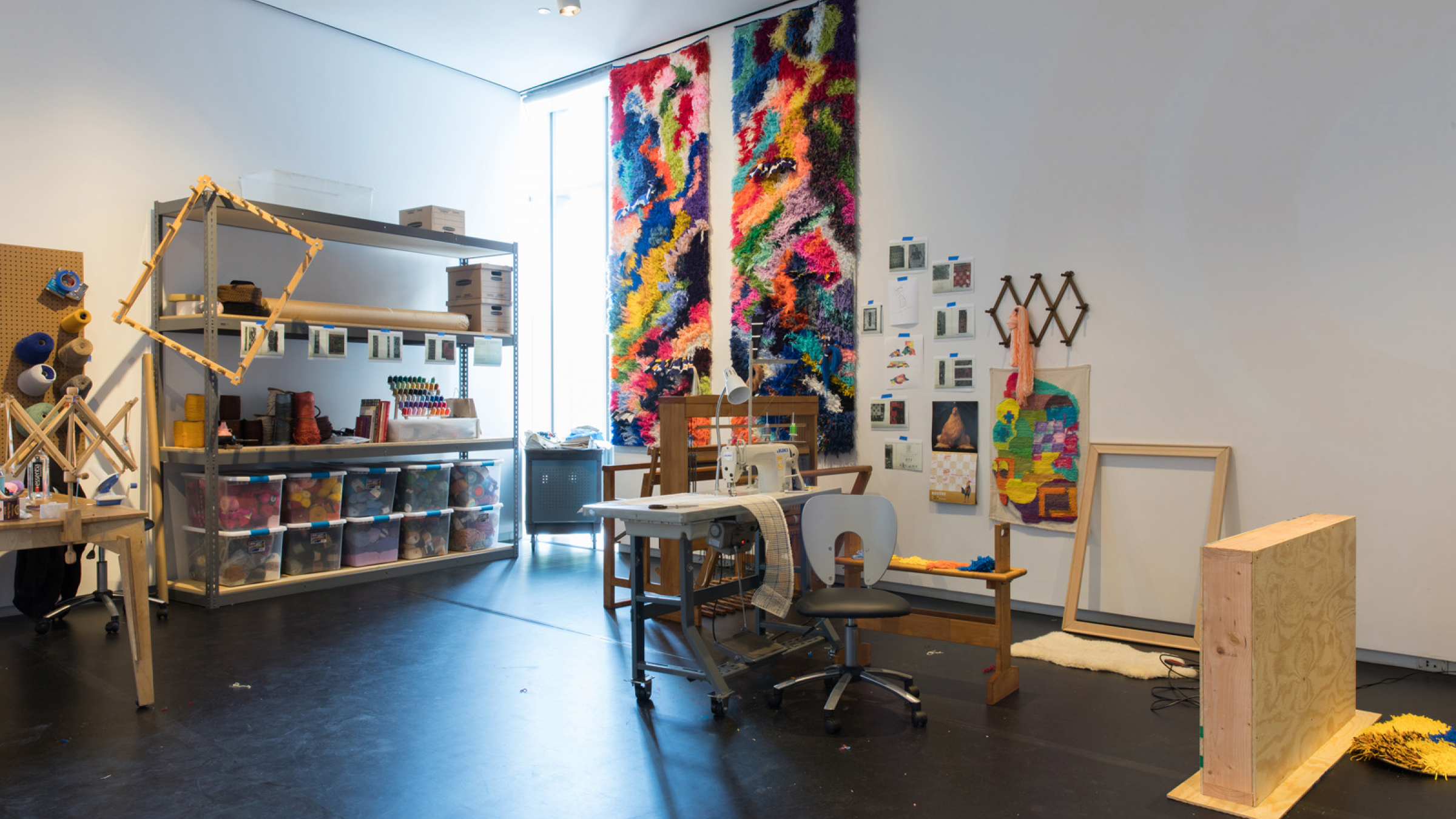 Receiving critical feedback from trusted peers and professionals is essential to any artist's studio practice. Join experts in the fields of contemporary art as they lead public discussions in the gallery-situated studios of LJ Roberts and Sarah Zapata, both currently featured as artists-in-residence in Studio Views: Craft in the Expanded Field.
Working on site to complete large-scale new artworks and installations, Roberts and Zapata have each invited two guests to the Museum to discuss their works in progress. Visiting Roberts will be artists and authors Avram Finkelstein and Ariel Goldberg, and visiting Zapata will be art columnist Jennifer Krasinski. These trusted advisors will lead hour-long public discussions with the artists about the conceptual and historical underpinnings of their respective artworks, while also exploring the works' formal, technical, and material dimensions.
Beginning in the studio of LJ Roberts at 6:15 pm and returning after a short intermission to the studio of Sarah Zapata at 7:30 pm, visitors are invited to observe the conversations and participate in a short Q&A at the conclusion of each studio visit.
About the Panelists
Avram Finkelstein is a founding member of the Silence=Death and Gran Fury collectives. He has work in the permanent collections of MoMA, The Whitney, The New Museum and The Brooklyn Museum. He is featured in the artist oral history project at the Smithsonian's Archives of American Art, and his book for UC Press, After Silence: A History of AIDS Through its Images is out in November 2017.
Ariel Goldberg's publications include The Estrangement Principle (Nightboat Books, 2016) and The Photographer (Roof Books, 2015). Goldberg's work has been supported by the New York Public Library, the Franklin Furnace Fund, SOMA in Mexico City, and Smith College. From 2014-2017, they organized readings at The Poetry Project. Goldberg currently teaches at Pratt Institute and Parsons, The New School. They are working on their next book, Heavy Equipment: Prophetic Gestures in Photography's Recent Past.
Jennifer Krasinski is an art columnist for The Village Voice, and writes on performance for Artforum online. She is a contributing editor to Yale University's Theater Magazine, and is a faculty member in the MFA Art Writing department at The School of Visual Arts. She is the recipient of a 2013 Creative Capital/Warhol Foundation Arts Writers Grant, and a 2016 Lower Manhattan Cultural Council's Process Space artist residency. In addition, she is the author of Prop Tragedies, a short collection of short short stories recently reprinted by Remedial Press.
About the Artists
LJ Roberts approaches working in textiles with political urgency. They are interested in materialities that mark political histories and enable future speculations. The promises and problematics of queer and alternative kinship structures, nomadism, landlessness, and concepts of time inform their current explorations. Roberts' work has been shown at venues including the Victoria and Albert Museum, the Brooklyn Museum, the Orange County Museum of Art, the Leslie-Lohman Museum of Gay and Lesbian Art, the Powerhouse Museum, the Oakland Museum of California, the DePaul Art Museum, and the Smithsonian American Art Museum, where their work is in the permanent collection. Roberts is a past recipient of the White House Champions of Change Award for LGBTQ artists, a MacDowell Colony fellowship, the Fountainhead Fellowship, and residencies at Ox-Bow School of Art, ACRE, and the Bag Factory in Johannesburg, South Africa. Roberts was an artist-in-residence at the Museum of Arts and Design in 2009.
Sarah Zapata uses materials that are common: yarn, ubiquitous objects, fabrics, paper, the kitchen sink. As a woman employing traditional craft techniques, Zapata appropriates value within processes and materials. By making work with meditative, mechanical means, Zapata produces pieces that are time-consuming and labor-intensive, dealing with imagery of the feminine, the fetishized, the handmade. Zapata's work has been exhibited at El Museo del Barrio, the New Museum, LA><ART, Deli Gallery, Chamber, and Hudson Valley LGBTQ Community Center. Zapata has also completed residencies at MASS MoCA, A-Z West, and Wave Hill, and is the recent recipient of an NFA Project Grant from the National Association of Latino Arts and Cultures and an Emergency Grant from the Foundation for Contemporary Arts. Zapata was an artist-in-residence at the Museum of Arts and Design in 2016.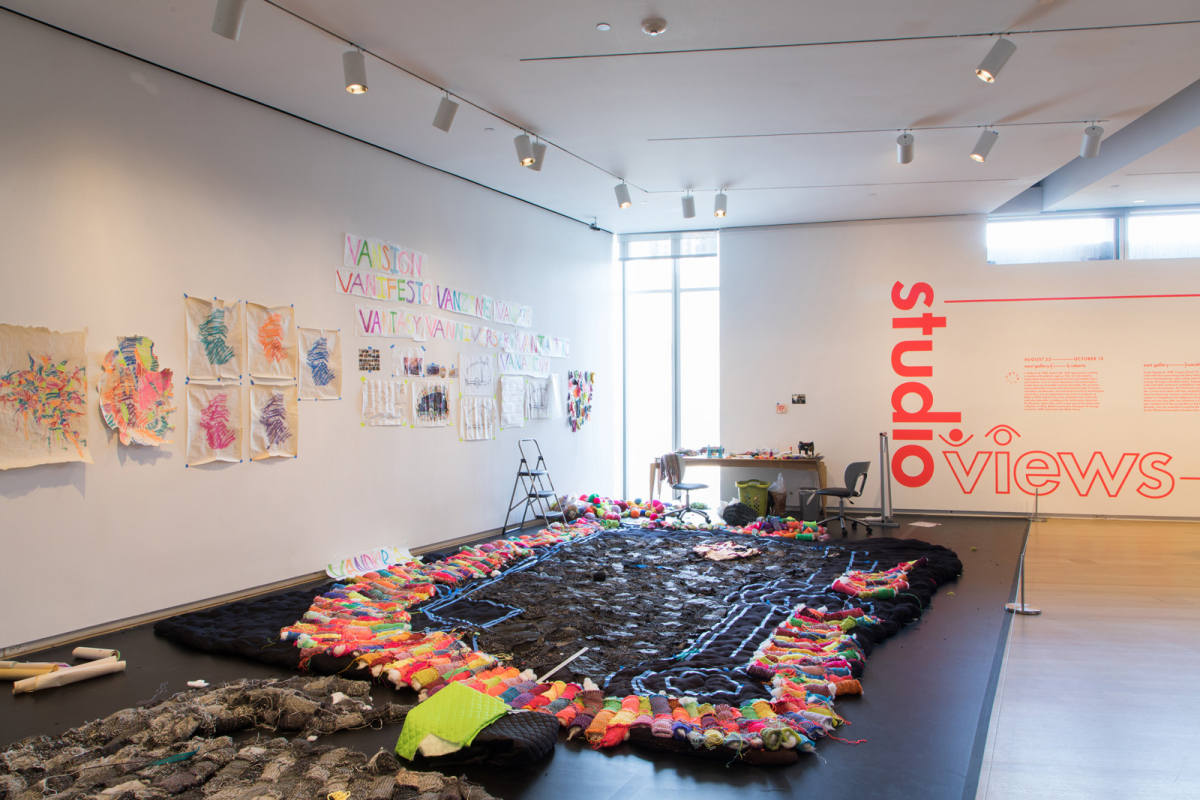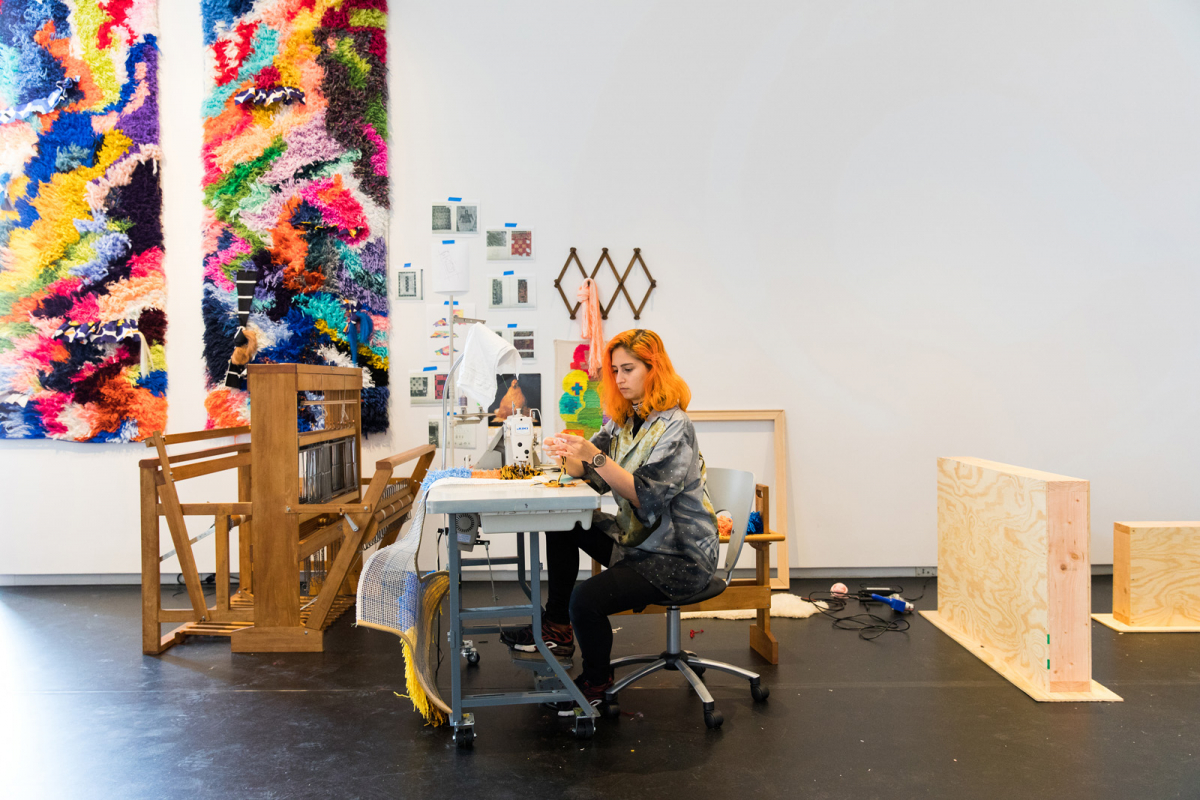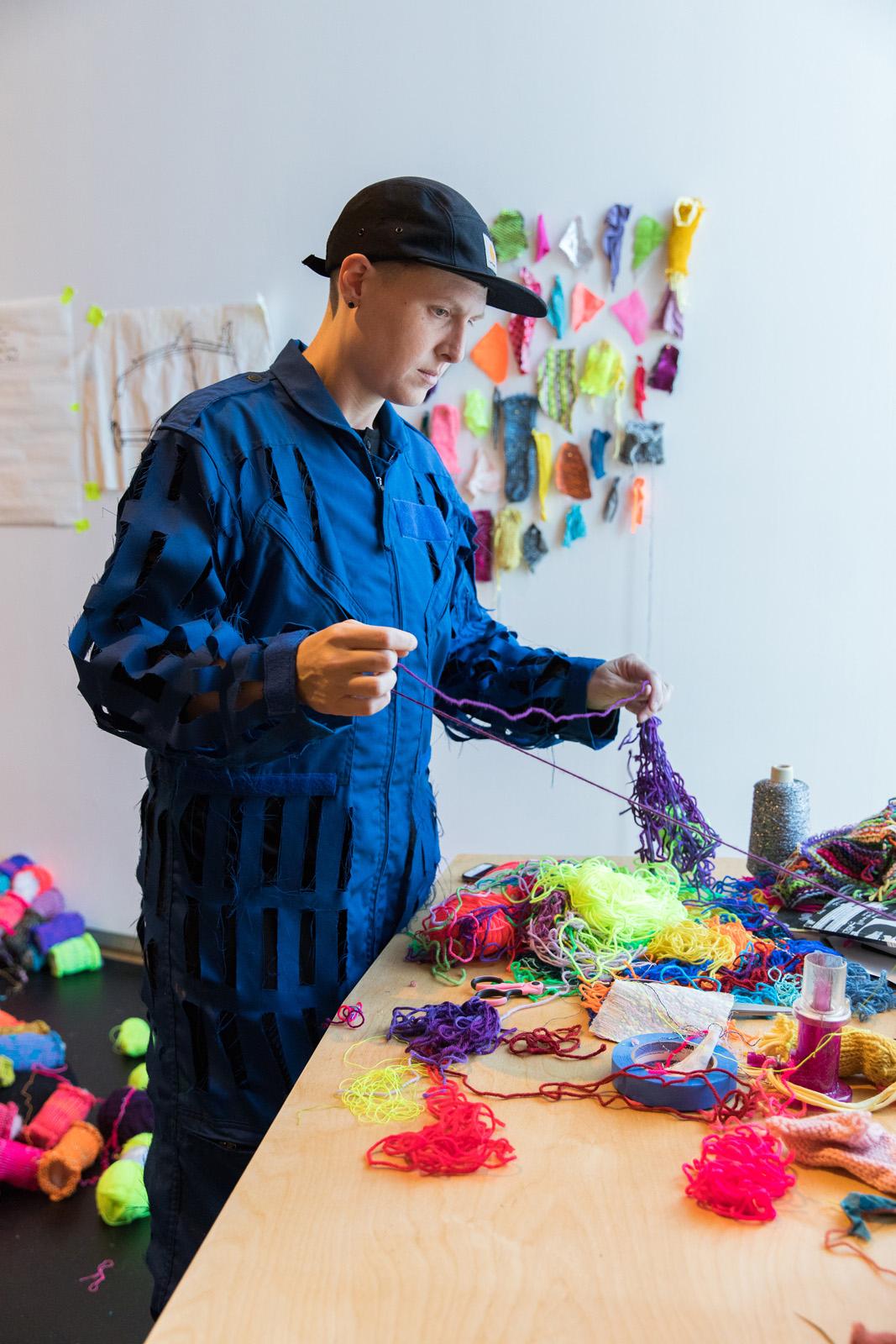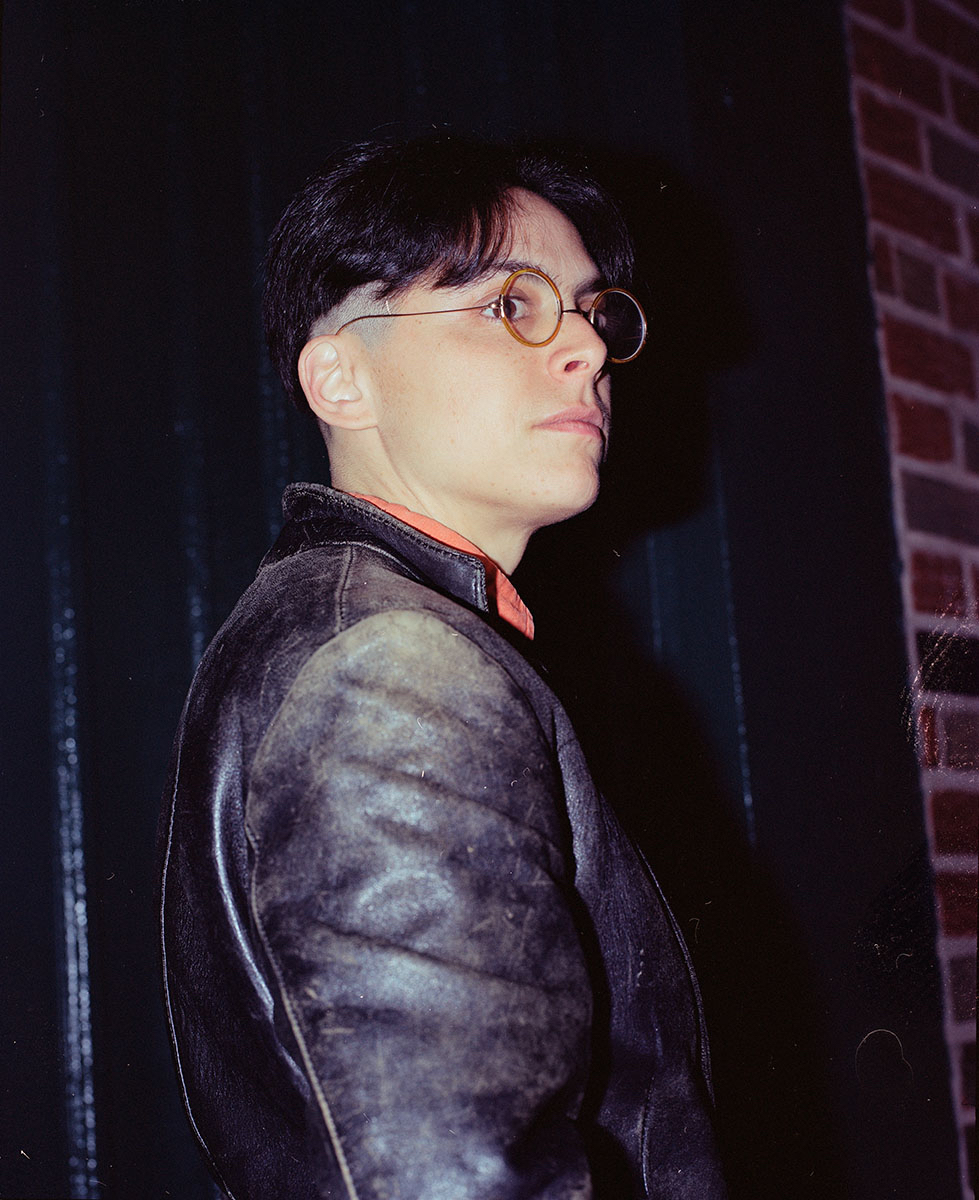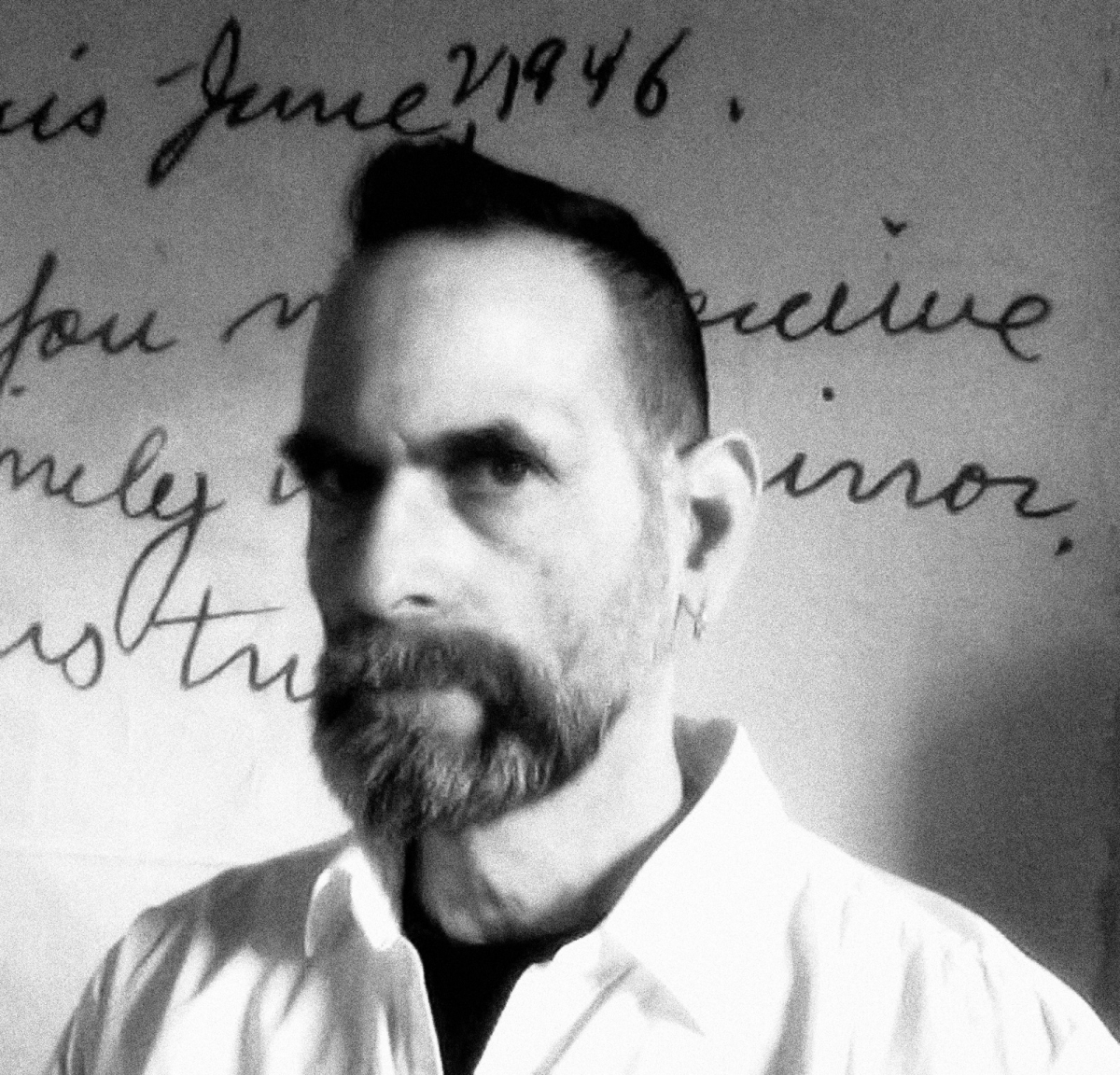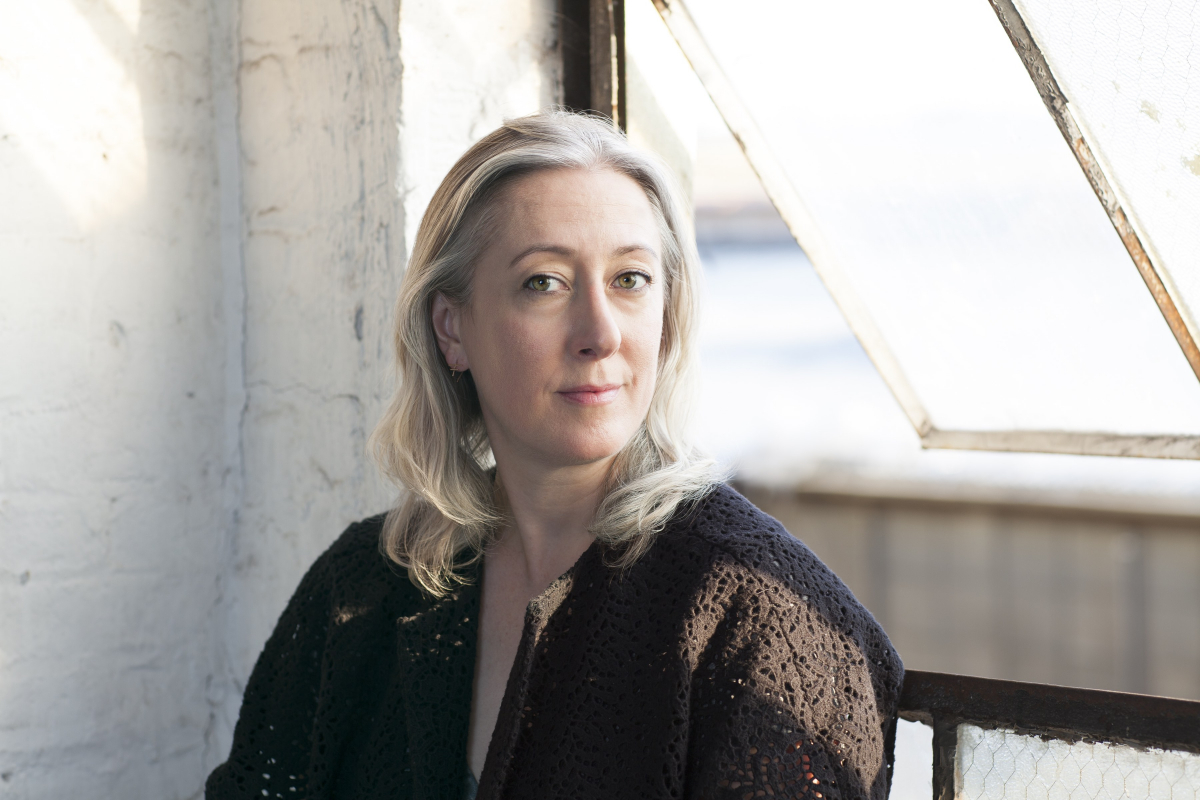 Free with Pay-What-You-Wish Admission
3rd floor galleries at MAD