Making It: Queer Art in the 90s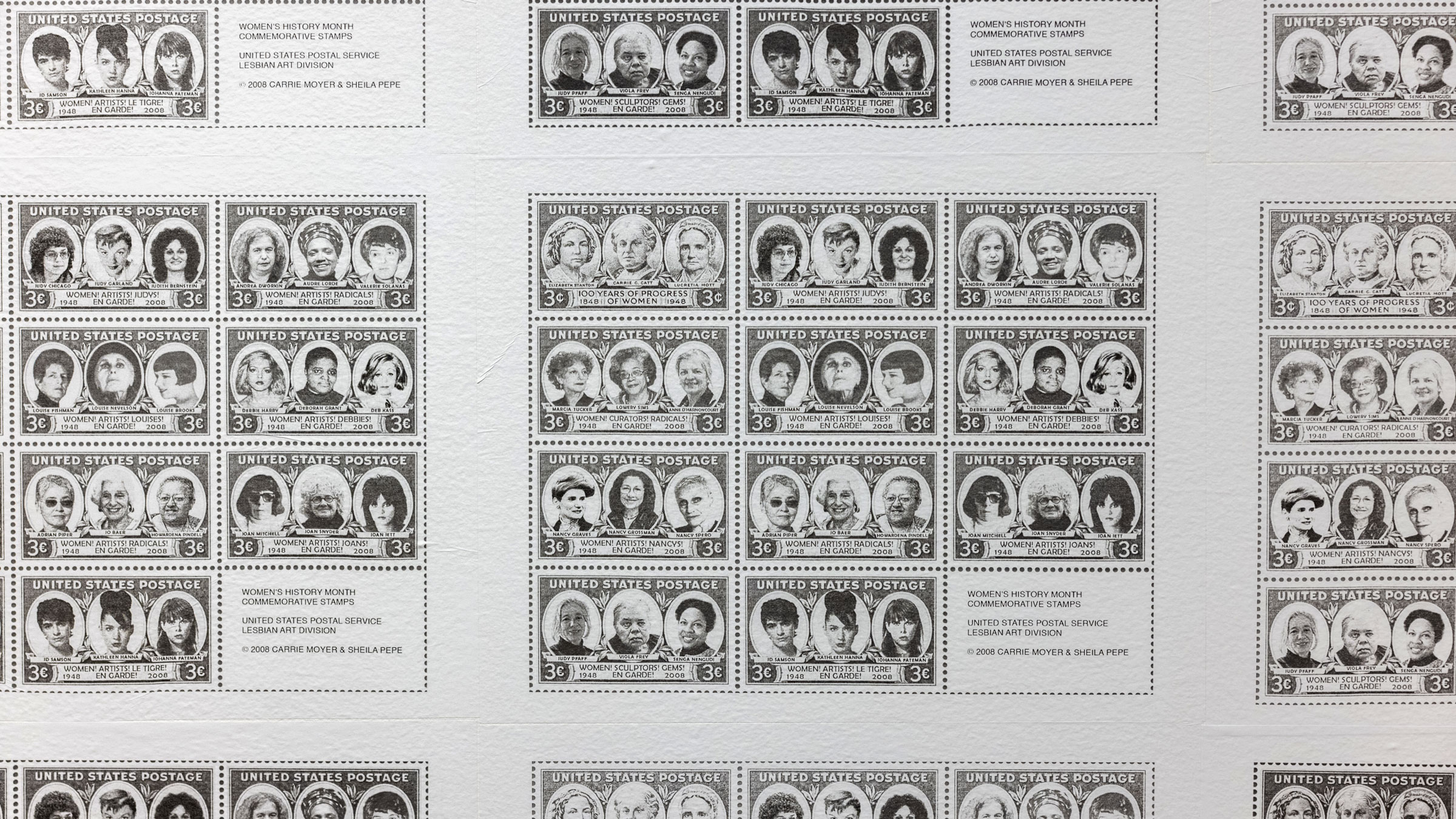 Hosted in Parlor for the People, a site-specific installation at the center of Carrie Moyer and Sheila Pepe: Tabernacles for Trying Times, this panel brings together artists, curators, and scholars to discuss the rich history of queer art in New York and Boston during the 1990s. The conversation will examine how Carrie Moyer and Sheila Pepe's practices, along with a tight-knit creative community operating at the margins of mainstream narratives, challenged oppressive norms in the art world. By centering their queer subjectivity, Moyer and Pepe brought themes of otherness and identity to the front of their artistic formal explorations and continue to influence the creation of a more expansive, inclusive, and culturally specific art language.
Before 6 pm, attendees are welcome to visit the museum with the program's ticket.
To make this event as accessible as possible, it will also be live-streamed.
Panelists
Maureen Angelos is a theatre artist and writer. She works with The Builders Association making large-scale, media-infused performances that tour the universe and are accessible to non-billionaires. She is one of the OBIE-Award winning Five Lesbian Brothers and has been a member of the Wow Café Theater since 1981. Angelos has collaborated with many downtown New York City luminaries, including Lisa Kron, Jess Dobkin, Anne Bogart, Lois Weaver, Kate Stafford, Carmelita Tropicana, Brooke O'Harra, Half Straddle, New Georges, and The Ridiculous Theatrical Company. Angelos has been a longtime mentor with Queer/Art/Mentorship and in Toronto, and her work has been produced by FADO Centre for Performance Art and Buddies in Bad Times Theatre. She is currently developing I Agree to the Terms, an online/live project about click workers.
Lia Gangitano founded PARTICIPANT INC, presenting exhibitions by Greer Lankton, Ellen Cantor, Baseera Khan, and Narcissister, among others. As curator of Thread Waxing Space, exhibitions included Spectacular Optical (1998), and Luther Price (1999). She is editor of Blood and Guts in Hollywood: Two Screenplays by Laura Parnes and M Lamar: Negrogothic. She co-curated Boston School (1995) for The ICA, Boston, and edited New Histories (with Steven Nelson, 1997). She contributed to publications Carol Rama: Space Even More than Time and Renée Green, Endless Dreams and Time-based Streams. For MoMA PS1, her exhibitions include Lovett/Codagnone and Lutz Bacher (2009). She teaches at CCS Bard, where she co-curated The Conditions of Being Art, Pat Hearn Gallery and American Fine Arts, Co. She received a Skowhegan Governors' Award for Outstanding Service to Artists (2015), the inaugural White Columns/Shoot the Lobster Award (2016), and the Audrey Irmas Award for Curatorial Excellence (2018).
Carrie Moyer creates sumptuous paintings on canvas, exploring and extending the legacy of American Abstraction while paying homage to figures such as Helen Frankenthaler, Elizabeth Murray, and Georgia O'Keeffe. Rife with visual precedents, Moyer's compositions reference Color Field, Pop Art, and 1970s Feminist art while proposing a new approach to fusing history and experimentation in painting. Moyer co-founded one of the first lesbian public art projects, Dyke Action Machine! (DAM!). DAM! blitzed the streets of New York City with posters to dissect mainstream media by inserting lesbian images into recognizably commercial contexts, revealing how lesbians are depicted in American popular culture.
Sheila Pepe is best known for her fiber-based, site-specific installations that challenge notions of domestic crafts and "women's work." These web-like structures intervene in architectural spaces and galleries, creating volumes, lines, and shadows that are subject to the changing conditions of the environments they occupy. Part of Pepe's commitment to feminist politics is her long-standing engagement with collective making. In 2007 she undertook several ambitious collaborative projects, including Liquid Sky at MoMA PS1. Pepe's other collaborations have reversed the terms of making and invited collective unmaking. In her Common Sense series, participants are encouraged to unravel her textile installations and use the materials for their own purposes.
Moderator
Kay Turner is an artist and scholar working across performance, writing, music, folklore, and lesbian-feminist advocacy. Her most recent performance works are centered on an exploration of the witch figure in folklore and history. This series, What a Witch, includes Healing Persephone's Wounds, with Elizabeth Insogna (2021), As the crow flies.... (2019), Muses of Malta: Witch, Goddess, Madonna (2018), Night Hags: Visitation (2018), and Spurning Fertility/ Smashing Tchotchkes (2016-ongoing). Other performance works include When Gertrude Met Susan: A Literary Love Fest, Otherwise: Queer Scholarship into Song, and Lesbopalooza. Turner's books include I Dream of Madonna, Beautiful Necessity: The Art and Meaning of Women's Altars; Transgressive Tales: Queering the Grimms (with Pauline Greenhill); and Before and After: What the Witch's Nose Knows That Andy Warhol's Nose Doesn't Know (with Zini Lardieri, 2021). Turner holds a Ph.D. in folklore and has been an adjunct professor in the Performance Studies Department at NYU since 2002.
Image:
Carrie Moyer & Sheila Pepe, Women's History Month Commemorative Stamps
United States Postal Service, Lesbian Art Division, 2008
Courtesy of the artists
Please review our health and safety protocols before you arrive. MAD strongly recommends all visitors five and up are vaccinated against Covid-19 and visitors ages two and up wear face coverings, even if vaccinated. Thank you for your cooperation.