Special Events | LOOT: MAD About Jewelry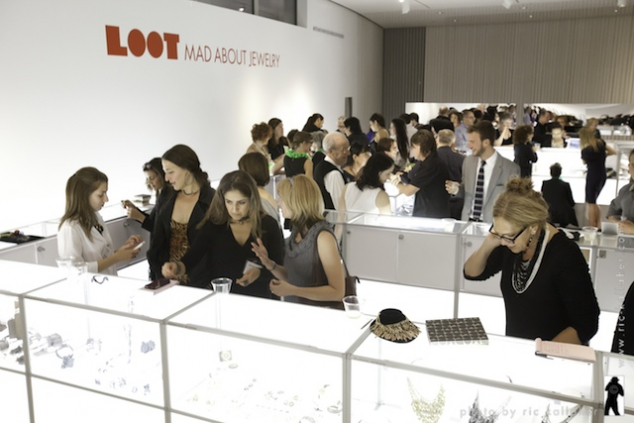 Program Details
Tuesday, September 11, 2012 to Saturday, September 15, 2012
all day, each day
2nd floor galleries, MAD
Tuesday, September 11, 2012 - 4:30 pm
Program Description
LOOT: MAD About Jewelry is MAD's annual exhibition and sale of one-of-a-kind contemporary jewelry. Please save-the-date: Tuesday, September 11, 2012 and plan to join us as we kick off this year's five day sale with a benefit to support MAD's exhibitions, jewelry gallery and public programs. This event provides insiders with many benefits including an exclusive private viewing, and opportunity to meet the artists, a dinner honoring legendary jeweler Axel Russmeyer and to be the first to buy the jewelry on display.
Each year LOOT celebrates the work of fifty international jewelry artists whose collections we deem inspiring, creative and wearable. You will see inventively modern pieces in gold, sterling silver and semiprecious stones alongside jewelry made of unexpected materials such as titanium, stainless steel, glass, wood, rubber, fabric, and found objects.  We're confident that every single jeweler we discover and invite to LOOT meets our three-fold criteria of excellence in design originality, artistic expressiveness, and outstanding craftsmanship.  Most of these artists have never before shown their jewelry in New York and will be at the Museum to meet you and discuss their work.
Wednesday, September 12 through Saturday, September 15, entrance to LOOT with Museum admission. Please visit http://madaboutjewelry.tumblr.com/ to learn more about the artists, the selling exhibition, the jewelry study day and to order benefit tickets online.  Please contact Rebekka Grossman with any questions at 212-299-7712 or rebekka.grossman@madmuseum.org. 
We hope to see you there!
made possible by
LOOT 2012 is made possible in part through the generosity of the Silver Institute: Silver Promotion Service. In appreciation of efforts to develop, innovate, and inspire the field of jewelry design, Van Cleef & Arpels is proud to support MAD's Jewelry Study Day on September 15, 2012.