Invisible Sculptures on Wheels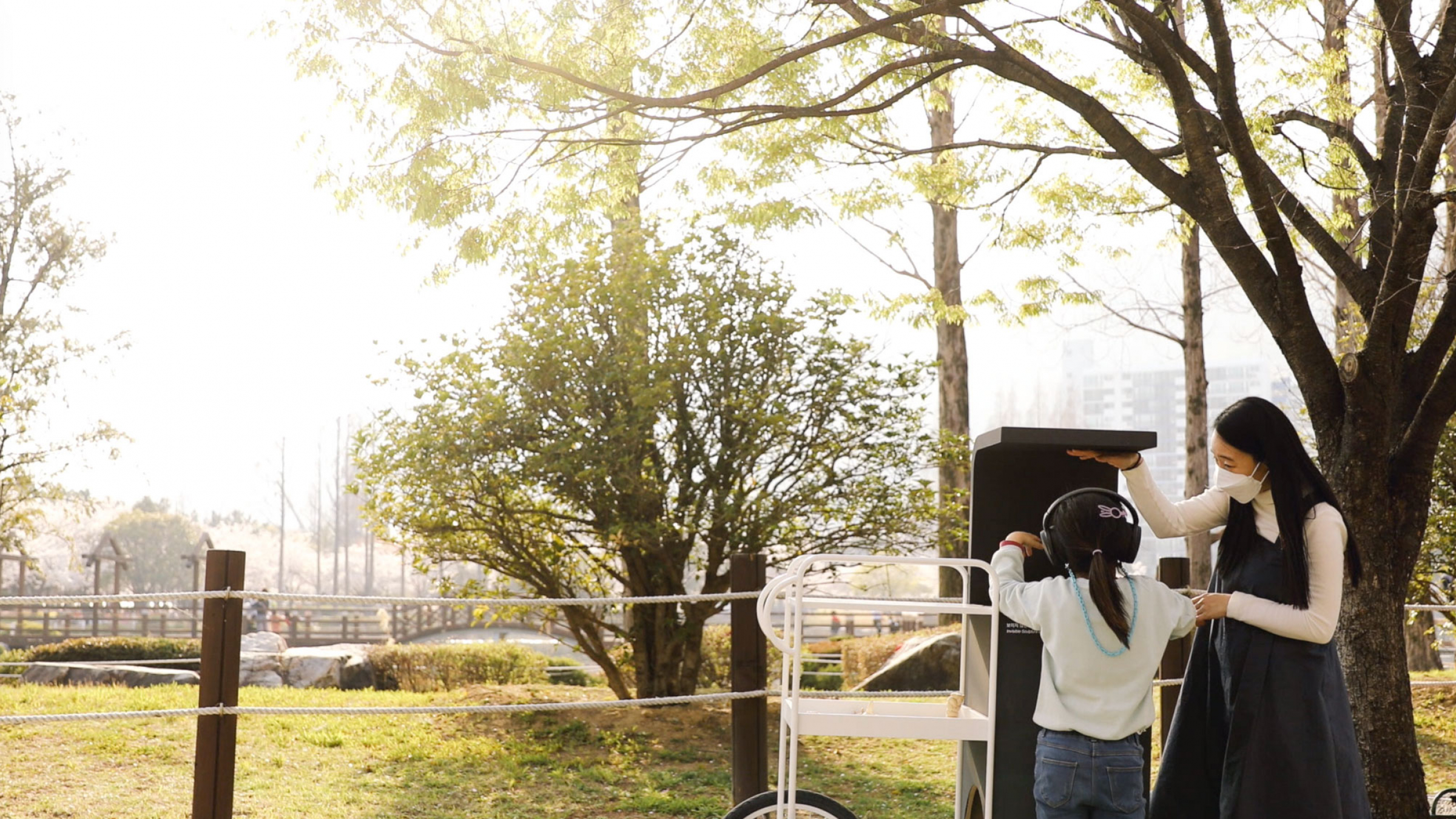 Can an art object be "seen" by senses other than vision? Join us at Central Park's Maine Monument and discover the surprising ways all of our senses contribute to our experience and understanding of art during an interactive demonstration of Yeseul Song's Invisible Sculpture on Wheels.
Invisible Sculpture on Wheels is an experiential, multi-sensory sculpture that isn't visually discernible, yet has a spatial form and occupies space. Visitors can perceive the sculpture through sound feedback that responds to their hand gestures and movement. As the sound changes, visitors sense the boundaries of the sculpture's form.
Participants also will be invited to make clay versions of the sculpture. The "visible" sculptures made by the participants will become a collective perception of the invisible sculpture, celebrating individual differences and diversity of human perceptions while questioning the idea of "normal" and "truth." Will everyone see the same sculpture?
ARTIST STATEMENT: INVISIBLE SCULPTURES
Invisible Sculptures is a series of sculptures that are invisible to the eye and can only be "seen" by engaging senses other than vision. During the pandemic, it became challenging to show work in indoor spaces. The Internet was not an alternative space for my work because of its highly experiential nature. I decided to bring my work to public spaces by myself. I put together a cart that can carry the sculpture. I brought this cart out to the streets and my neighborhood parks. I invited the public to engage with the sculpture and met a lot of people that I wouldn't have met if my work was in traditional gallery or museum spaces.
ABOUT THE ARTIST
MAD 2021 Artist Studios resident Yeseul Song creates experimental sculptures, interactive installations, digital sketches, and performances that examine the fluid nature of human perception and its relationship to society, culture, and the environment. Her work combines computational technologies and the organic nature of craft materials to create unique aesthetics and experiences. During her MAD residency, she will expand upon her ongoing project, Invisible Sculptures, which suggests more inclusive and creative views of the world through non-visual experiences that activate olfactory, auditory, and tactile senses.
Song is currently a member of the New Museum's NEW INC program and teaches at the Interactive Telecommunications Program (ITP) at New York University's Tisch School of the Arts. She has received Tisch's Future Imagination Collaboratory Fellowship, Mana Contemporary's New Media Program residency, ITP's Research and Teaching Fellowships, Engelberg Center's Arts Fellowship, and iF Design Concept Award. She earned a MPS from NYU's ITP program, a BA from Yonsei University, and is an alum of the School for Poetic Computation.
Project credit: Sound design collaboration with Jesse Simpson
Image credit:
Photography by Seungyong Jung, courtesy of Clayarch Museum
:
Please review our health and safety protocols before you arrive. MAD strongly recommends all visitors six months and older are vaccinated against Covid-19 and visitors ages two and up wear face coverings, even if vaccinated. Thank you for your cooperation.