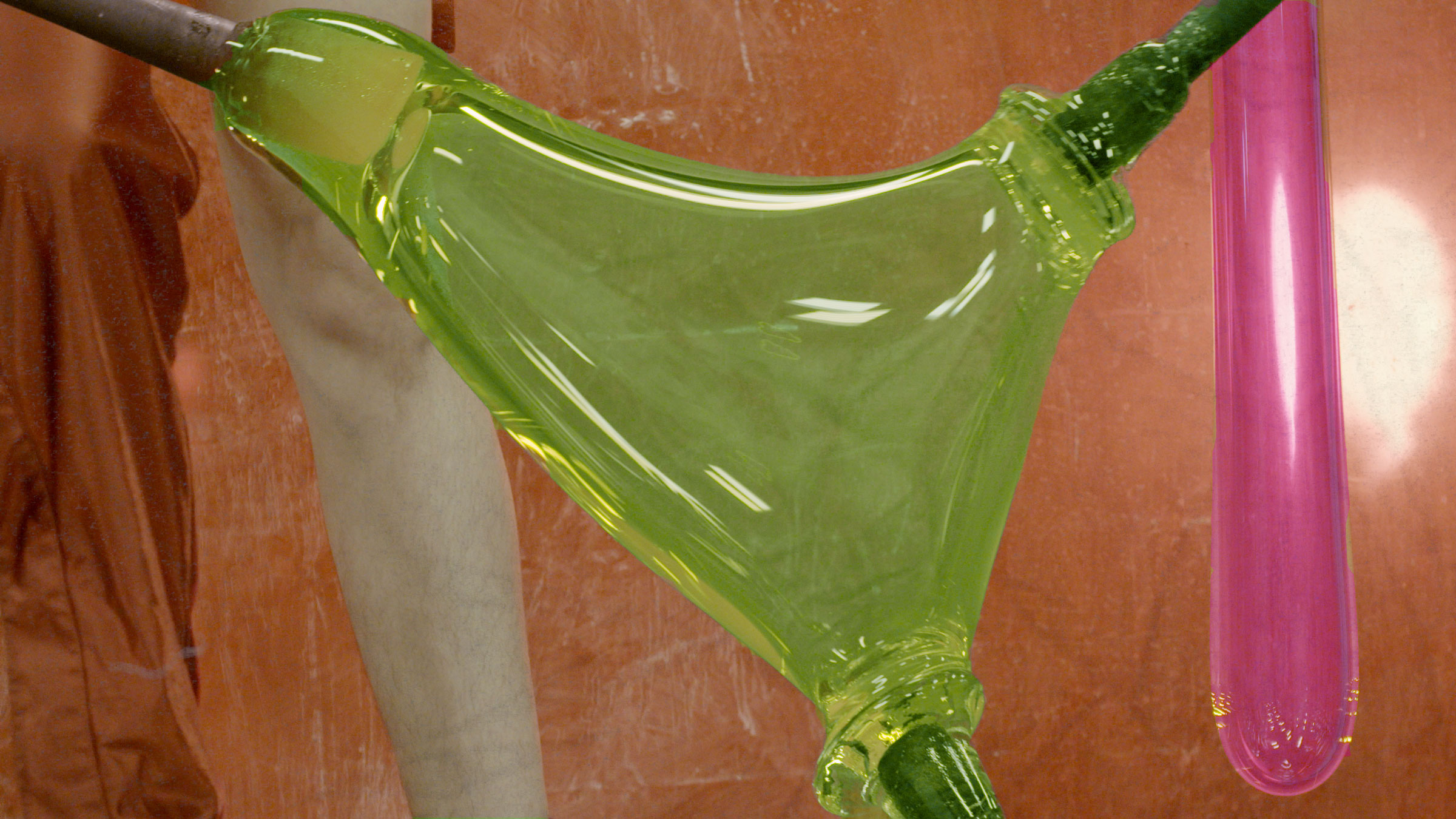 An interdisciplinary artist, Grace Whiteside will present their latest project, Homosilica, an experimental theatre piece investigating the fluidity of glass through the lens of queer identity. Using footage of a hot-glass performance that references the popular TV series How It's Made alongside an on-stage narration in the style of BBC broadcaster David Attenborough, Homosilica will showcase the nonbinary properties of glass and its capacity to represent the gender spectrum. In this coming-out story, pseudo-science, naturalistic documentary, and hot glass become tools for satire and absurdity, taking the audience on a journey of self-questioning and humorous discovery.
Homosilica is an ongoing project and the culminating event of the Museum's Glass in Flux series. Hosted by Samantha De Tillio, Glass in Flux explores interdisciplinary practices in contemporary glass. Access to this program is always free for members and patrons. Please contact members@madmuseum.org to become a part of the MAD family today.
A small reception in the Theater lobby will follow the event.  
This special edition of Glass in Flux is organized by Gabriela López Dena with assistance by Angelica Pomar. The event is supported by a partnership with UrbanGlass.
ABOUT THE ARTIST
Grace Whiteside is a New York City based artist, glassmaker, and founder of an interdisciplinary collaborative design line called Sticky Glass. They received two BFA's from Virginia Commonwealth University in 2017 in Sculpture and Craft and since then has exhibited work at venues such as Black Iris gallery (Richmond, VA), Recess (Brooklyn, NY), Westbeth Gallery (NYC), Present Company (Brooklyn, NY), Established Gallery (Brooklyn, NY) and UrbanGlass's Agnes Varis Art Center (Brooklyn, NY). Their work has been featured in the Corning Museum of Glass's New Glass Review, InStyle Magazine, Harper's BAZAAR, MILK Décor, Glass Quarterly Magazine, and Page Six. Whiteside was also a participating artist in the 2018 Art In Odd Places performance festival, the GenderFail Archive Project, and North Lands Creative's 2021 Glass, and Meet Future film festival. They have been an Artist in Residence at Vermont Studio Center (Johnson, VT), is an upcoming 2022 Fellow at Wheaton Arts, (Milleville, NJ), and has an upcoming solo performance at the Chrysler Museum of Glass (Norfolk, VA) in 2022.
About our partner
UrbanGlass is a leading resource for both aspiring and established artists wishing to create with glass. Founded in 1977, UrbanGlass was the first artist-access glass center in the United States and is now the largest with 17,000 square feet of state-of-the-art studio space and ground-floor retail and exhibition space in Fort Greene, Brooklyn. Its mission is to foster experimentation and advance the use and critical understanding of glass as a creative medium. UrbanGlass.org
Image—Grace Whiteside, Homosilica Screen Test, 2021. Video still by Carissa Henderson.
Please review our health and safety protocols before you arrive. MAD strongly recommends all visitors six months and older are vaccinated against Covid-19 and visitors ages two and up wear face coverings, even if vaccinated. Thank you for your cooperation.