Workshops | Feminine Presence: Biology as Craft
With Jes Fan and Dr. Lauren Silbert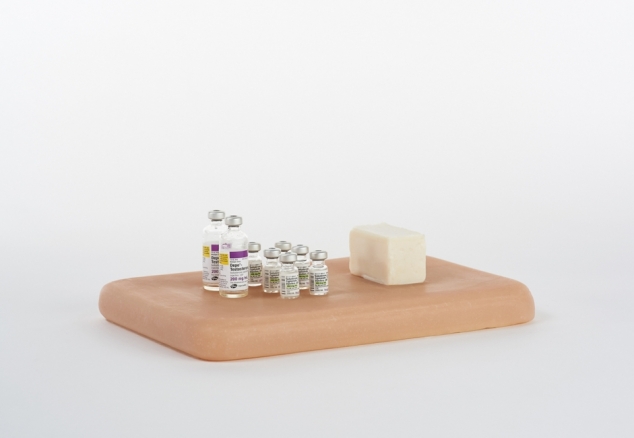 Jes Fan
click image to enlarge
Jes Fan

click image to enlarge

Dr. Lauren Silbert

click image to enlarge
Program Details
Saturday, April 22, 2017 - 1:00 pm to 4:00 pm
$20 general / $10 members and students
6th floor - classroom, MAD
Saturday, April 22, 2017 - 1:00 pm
Program Description
What is the chemistry of gender? How do hormones affect behavior and identity?
These questions will be explored during Feminine Presence: Biology as Craft, a lecture, scientific demonstration, and zine-making workshop exploring the effects of hormones (estrogen and testosterone) on the human body. Co-organized by artist Jes Fan and neuroscientist Dr. Lauren Silbert, this program is held in conjunction with Jes Fan: No Clearance in Niche, currently on view in the Project Space as part of MAD's Fellow Focus series.
Beginning with a brief lecture on the biological mechanisms of hormone action and synthesis within the brain, Dr. Silbert will explore the concept and role of biology as craft. Under consideration will be the effects of estrogen on memory and learning, as well as the differences between naturally occurring (endogenous) estrogen production in the body and manufactured estrogen consumption by way of pharmaceuticals.
To better apprehend the effects and potentials of hormones on the body and behavior, Dr. Silbert will then lead two scientific demonstrations. First, she will use the clinical method of gel electrophoresis (commonly used to visualize DNA) to conduct a "hormone race" between cells composed of different ratios of estrogen and testosterone. Then, she will demonstrate the CRISPR-Cas9 method of genetic manipulation, showcasing the scientific process by which human genomes can be altered.
At the conclusion of the program, attendees will be invited to compile a "hormone research packet" based on Fan's research into the chemistry and cultural ramification of (trans)gender identity, composed of various readings and interviews Fan has preprinted on a Risograph machine.
Jes Fan is a Brooklyn-based artist born in Canada and raised in Hong Kong, whose transdisciplinary practice is based on a material inquiry into otherness as it relates to identity politics. The recipient of a BFA in Glass from Rhode Island School of Design, they have been awarded various fellowships and residencies, including the Edward and Sally Van Lier Fellowship at the Museum of Arts and Design; the Pioneer Works visual arts residency; the CGCA Fellowship at Wheaton Arts; and the John A. Chironna Memorial Scholarship at RISD. Fan has exhibited in the United States and internationally; exhibitions include Whereabouts at the GlazenHuis, Lommel, Belgium; Material Location at Agnes Varis Gallery, New York; Ot(her) at Brown University's Sarah Doyle Gallery, Providence, Rhode Island; and Remembering Something That Doesn't Have a Name at Chrysler Museum of Art, Norfolk, Virginia. 
Lauren Silbert, PhD, is a neuroscientist, biologist, and educator. Her work focuses on interactive neuroscience, and she has developed new technology and analytical tools to study the interaction between brains and the neurobiology that facilitates communication. Dr. Silbert has been published in multiple scientific journals, including Proceedings of the National Academy of Sciences, Journal of Neuroscience, and Neuron, and has been featured on radio programming such as NPR's Radiolab and Voice of America. She has a PhD in Neuroscience from Princeton University, a Master's in Neuroscience from Mount Sinai School of Medicine, a Master's in Psychology from New York University, and a Bachelor's in Biology and Photography from the University of Pennsylvania.