In Conversation: Tanya Aguiñiga and Art Made Between Opposite Sides
Moderated by Shannon R. Stratton, William and Mildred Ladson Chief Curator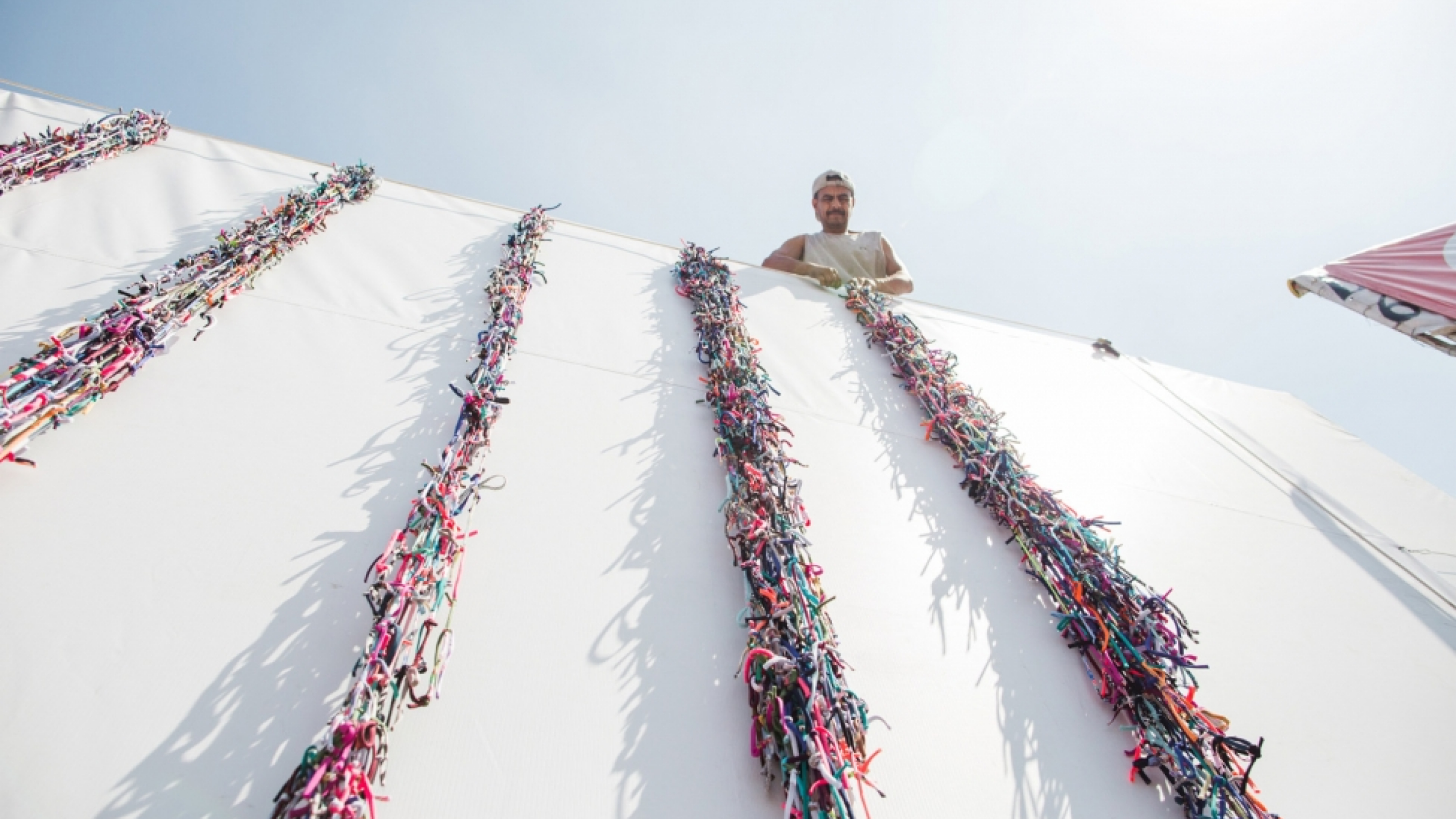 Join artist, designer and activist Tanya Aguiñiga and Shannon R. Stratton, MAD's William and Mildred Ladson Chief Curator, for a conversation exploring the ongoing community-art and interventionist activities of the bi-national artist initiative AMBOS: Art Made Between Opposite Sides, featured in the exhibition Tanya Aguiñiga: Craft and Care. Participating AMBOS members include Jackie Amezquita, Cecilia Brawley, Gina Clyne, Natalie Godinez, and Diana Ryoo.
Founded by Aguiñiga and launched in 2015, AMBOS is a long-term initiative that activates sites along the US–Mexico border through collaborative art-making and storytelling projects. Started as a month-long activation at the San Ysidro border crossing in Tijuana, it has evolved its focus to record and paint a picture of life along the length of the border. To date, AMBOS, in collaboration with artists and community organizations working with border issues/themes, has produced programs along the border between the United States and Mexico, stopping at thirteen US/Mexico ports of entry, and crossing a total of forty times. In 2018 Aguiñiga will complete the project, activating the remainder of the border from where she left off at El Paso/Ciudad Juárez.
About the Artist
Tanya Aguiñiga (b. 1978) is a Los Angeles based artist/designer/craftsperson who was raised in Tijuana, Mexico. She holds an MFA in furniture design from Rhode Island School of Design and a BA from San Diego State University. In her formative years she created various collaborative installations with the Border Arts Workshop, an artists' group that engages the languages of activism and community-based public art. Her current work uses craft as a performative medium to generate dialogues about identity, culture and gender while creating community. This approach has helped Museums and non-profits in the United States and Mexico diversify their audiences by connecting marginalized communities through collaboration.
Aguiñiga is a United States Artists Target Fellow in the field of Crafts and Traditional Arts, a National Association of Latino Arts and Culture and Creative Capital 2016 Grant awardee. She has been the subject of a cover article for American Craft Magazine and has been featured in PBS's "Craft in America" series. Aguiñiga is the founder and director of AMBOS (Art Made Between Opposite Sides), an ongoing series of artist interventions and commuter collaborations that address bi-national transition and identity in the US/Mexico border regions. AMBOS seeks to create a greater sense of interconnectedness while simultaneously documenting the border.
This program is presented as part of NYCXDESIGN 2018.

$10 general
$5 members and students