Changing Hands
Art Without Reservation 3
June 26, 2012 through October 21, 2012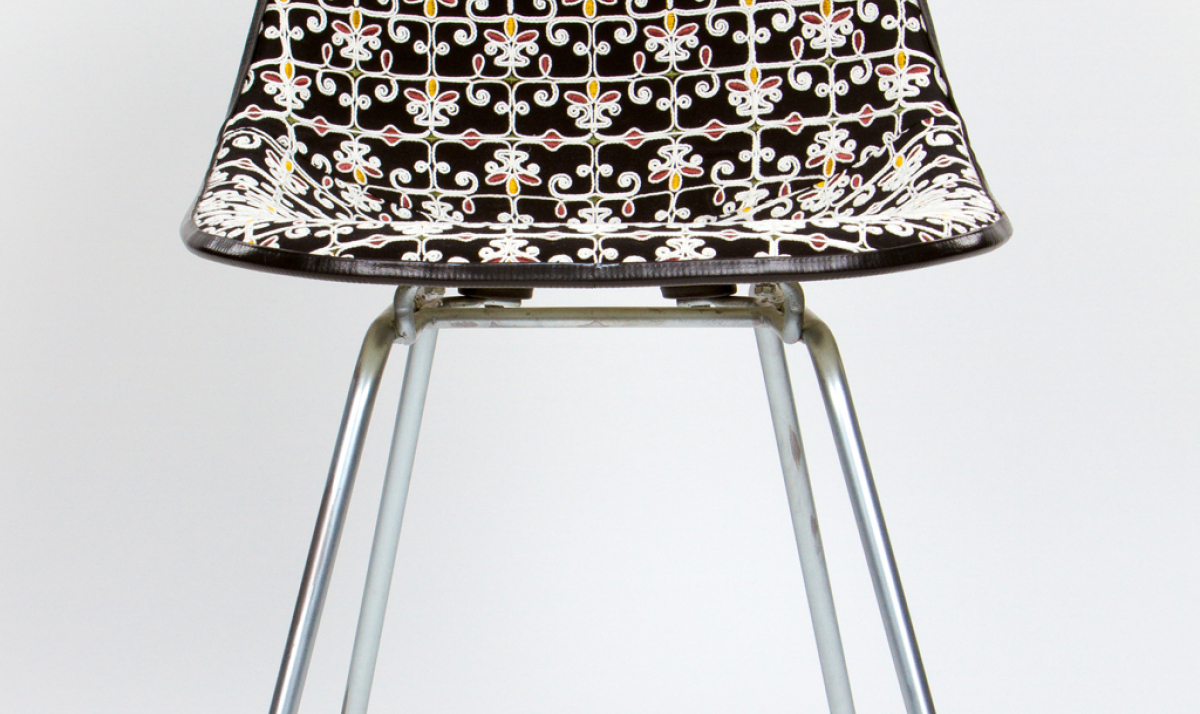 Mindy Laureen
Magyar Chair, 2012
click image to enlarge
Tom Jones

Disney, 2011

click image to enlarge

Floyd Kuptana

Bear-Man Shaman Mask, 2011

click image to enlarge

Frank Shebageget

Cell, 2010

click image to enlarge

Samuel Thomal

Prophecy II, 2012

click image to enlarge

Gail Tremblay

It Was Never About Playing Cowboys and Indians, 2011

click image to enlarge

Marie Watt

Ledger: Generations, 2011

click image to enlarge

G. Peter Jemison

Crow in the Stadow, 2011

click image to enlarge

Billy Gauthier

Northern Fridgidaire Diet, 2012

click image to enlarge

Alan Michelson

Phoenix, 2012

click image to enlarge

Kent Monkman

Dreamcatcher Bra (worn by Miss Chief Eagle in various performances),...

click image to enlarge

Janet Nungnik

Changes, 2004

click image to enlarge

Floyd Kuptana

Bear Spirit Dance, 2000

click image to enlarge

Jutai Toonoo

Two Guys Growing Apart, 2011

click image to enlarge

Jamasie Pitseolak

High Heel Shoe, 2011

click image to enlarge

George Longfish

Buffalo Grass 1, 2, 3, 2012

click image to enlarge

Teresa marshall

Walk a Smile in My Shoes, aka Bitch Bark Shoes, 2012

click image to enlarge
About the Exhibition
Changing Hands: Art Without Reservation 3/Contemporary Native North American Art from the Northeast and Southeast concludes a cycle of exhibitions organized over the past decade by the Museum of Arts and Design. Curated by Ellen Taubman and David McFadden, these exhibitions have presented a diverse panoply of new work by Native American, First Nations, Métís and Inuit artists from the continental United States, the Pacific rim, and Canada. Representing both established and emerging artists, the series has laid bare the new vitality and spirit of experimentation that has come to the forefront among the art practices of Native artists working today. All three Changing Hands exhibitions have focused on art that points toward the future, presenting works by contemporary artists who embrace and take inspiration from cultural traditions while also expressing contemporary creativity and innovation. They have sought to transcend ethnographic and anthropological interpretations, challenge preconceived notions and stereotypes of Indigenous art and artists, and ultimately to effect a reevaluation of present-day Native art in an international arena.
Collections
Click here to see more about this exhibition.
Did you know that over 95% of MAD's permanent collections is accessible online with high resolution images? Click here to see the collection.